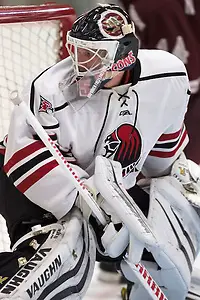 Tanner Milliron will tell you that one of the most instrumental things to the success of Wisconsin-River Falls' early-season success can't be found in the box score or on a stat sheet.
It goes far beyond any of that as far as the junior goalie of the Falcons is concerned.
"Everyone trusts each other, and that trust on the team translates into success," Milliron said. "We all play for each other and when you do that, it makes easier to win games."
So far, Milliron and the Falcons have been racking up the wins. River Falls is 7-0 after a thrilling 4-3 overtime win against Augsburg on Tuesday night. It was the fourth road win of the season.
While trust has certainly driven the Falcons in this early part of the year, so has motivation.
Last season, the Falcons won the WIAC regular-season championship, but lost a semifinal series to Wisconsin-Superior in the conference tournament.
"We felt like we missed out on an opportunity after winning the regular-season title," Milliron said. "We were motivated to be better this year. We all worked hard in the offseason."
Milliron spent a lot of time working on his game in the offseason, striving to make himself the best goalie possible.
He played in two games as a freshman and then played in nine games a year ago.
This season, Milliron has started all seven games and has given up only 14 goals, recording one shutout.
"I spent a lot of time in the ice over the summer trying to eliminate the deficiencies in my game," Milliron said. "I also worked a lot with our goalie coach. It has made a difference. I continue to work hard every week and stay as focused as possible."
Milliron has had plenty of support from the offense, which is has put up 30 goals.
Alex Murphy has paved the way with five goals while Mike Fazio, Blake Huppert, Ryan Doner and Christian George have come through with three goals apiece. Terry Leabo leads the team with seven assists.
Although the Falcons have started strong, they know there is still a lot more to accomplish. Bringing an intense effort to the rink night in and night out will be the key to achieving their goals.
"Our league is very good and we know that on any given night we can be beat if we don't play our best," Milliron said. "We understand that we have to come in focused and play every game like it's our last."
Building Momentum
After winning once in its first four games, St. Thomas has started to turn things around, winning two of its last three, including a 4-1 win over St. Olaf on Friday. The Tommies missed out on a sweep of the series as they lost the finale 2-1.
Drew Fielding made 19 saves in the victory over the Oles and has come through with 186 saves on the season. The veteran goalie has allowed only 12 goals and owns a 1.48 goals against average for the Tommies (3-3-2, 2-1-1).
St. Thomas has scored only 17 goals this season but has scored four in each of its last two wins. The Tommies have been led by Alex Altenbernd and Willie Faust. Both players have four goals apiece.
Knight Time
Defending national champion St. Norbert has yet to lose a game and will return to action this weekend against Buffalo State after a 10-day layoff.
The top-ranked Green Knights last played on Nov. 18th when they knocked off Wisconsin-Eau Claire 3-2 in a battle between the last two national champions.
St. Norbert (6-0-1, 5-0-1) has thrived offensively, racking up 36 goals. It has scored at least two goals in every game, tallying three or more six times and the balance has been tremendous.
Eleven players have scored two or more goals, with Erik Cooper, Michael Hill and Ross Pavek tallying four goals apiece to lead the way.
Hill, Pavek and Blake Thompson lead the team in power play goals with two apiece. The Green Knights, who average 39 shots per game, have seven power play goals in all.
Tough Stretch
Eau Claire won three of its first four games but has struggled as of late, dropping two of its last three. It skated to a 1-1 tie against Lake Forest at home on Saturday despite holding a 44-28 advantage in shots.
The Blugolds (3-2-2) haven't been able to score more than two goals in each of their last three games after putting up three or more in their first four. But to Eau Claire's credit, it has played tremendous competition lately. Eau Claire lost just 3-2 to St. Norbert before falling 5-2 to Adrian, which features one of the top offenses in the nation.
Eau Claire has the talent and ability to get back on track, though, especially with Ethan Nauman pacing the offense with five goals. Ross Andersen has scored four goals. Eau Claire has scored 22 goals on the season.
Jay Deo and Tyler Green have split time in goal. Deo has made 107 saves while Green has come up with 77 saves. The two have combined to give up 17 goals.
In the Poll
St. Norbert is still the No. 1 team in the nation, receiving 19 first-place votes in the most recent poll. Adrian is fourth this week while River Falls is up to seventh. Wisconsin-Stevens Point is ninth, while St. Scholastica is tied for 11th. Eau Claire is 13th and St. John's is 14th.