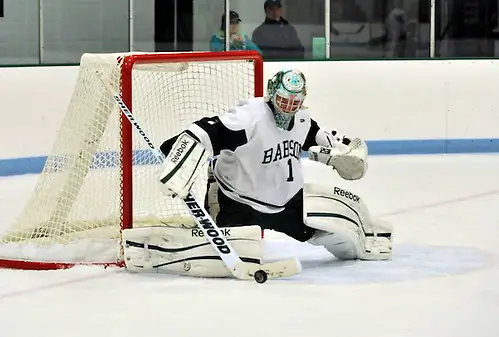 Hope everyone had a great Thanksgiving and that everyone is thankful for another weekend of college hockey.
Our two columnists take a look at this weekend's top games and weigh in with their predictions.
BRIAN LESTER
Concordia (Minn.) is certainly thankful to be playing and for its early-season success. It will be tested this weekend as it heads out to the prestigious PrimeLink Great Northern Shootout at Middlebury.
The Cobbers take on the host team on Friday and will look to build on their early-season success. Concordia is tied for second in the MIAC at the moment, sitting at 4-3-1 overall and 2-1-1 in the league.
Concordia has won its last two and has gotten a huge lift from Andrew Deters, who has tallied five goals. Jon Grebosky has come through with four goals. The Cobbers have scored 25 goals in all.
The Panthers have played just four games and are 1-1-2 on the season. Mike Najjar and Vincent Gosonti have scored two goals apiece. Although this is a road game for Concordia, I think the Cobbers are more than capable of getting the job done and advancing to the tournament title game. Concordia, 4-3.
Wisconsin-Stevens Point (5-2) vs. Adrian (8-0): The ninth-ranked Pointers and No. 4 Bulldogs face off in a pivotal non-conference matchup. Stevens Point has won three of its last four and is looking avenge a 6-4 loss to Adrian last weekend. The Pointers held a 37-21 edge in shots in the last meeting. But they gave up three goals in the second period and they have to avoid the flurry of goals that Adrian is capable of coming through with in a game. Defense will be key. Brandon Jaeger has tallied 143 saves on the year.
Adrian's high-powered offense is tough to contain. The Bulldogs are averaging six goals per outing and are extremely difficult to defend. Matthew Thompson leads the attack with five goals. He has also dished out eight assists. Taylor McCloy is the assist leader with 13 on the season. If this were on the road, I might give the Pointers the edge. The Bulldogs get the edge being at home. Adrian, 5-4.
Wisconsin-Eau Claire (3-2-2) vs. Augsburg (5-3): The Auggies will look to get back on track after a tough overtime loss to Wisconsin-River Falls. Mark Ohnstead has paced Augsburg with six goals and Dylan Meier has come through with five goals. The Auggies need to be able to cash in on scoring opportunities when they get them and take advantage of being at home.
The No. 13 Blugolds hit the road looking to end a three-game winless streak. Jay Deo and Tyler Green have split time and goal and there is no question the defense will need to shine for Eau Claire to get the win.
Scoring off the power play will be key as well. Eau Claire is 0-for-30 in those situations, and if it can generate goals off of it this weekend, it could go a long way toward a win. I think Eau Claire gets back on track. Eau Claire, 4-3.
Lake Forest (2-3-2, 1-2-1) vs. Finlandia (1-6, 1-3): The Foresters are hoping to break out of a funk where they have gone five games without a win. They have managed to score only two goals in a game only twice during the stretch. Luke Swardenski has led Lake Forest with four goals. This is a NCHA series the Foresters need to take care of business in, especially with the expectations they have for the season.
Finlandia is capable of beating anyone on any given night. It proved as much with its upset win over St. Scholastica. The Lions have dropped three in a row and have managed to score only nine goals all year. They have given up 44. The odds favor Lake Forest and my guess is the Foresters get the job done. Lake Forest, 4-1, 5-2.
DAN HICKLING
FRIDAY
Manhattanville (1-3-1) vs. Castleton (3-4-0) at Rutland Herald Invitational – Castleton 2, Manhattanville 1
Both squads are looking for a jump start. The view here is that Castleton finds one.
No. 3 Plattsburgh (7-0-0) vs. #2 Norwich (6-0-0) at Primelink Tourney – Plattsburgh 3, Norwich 2
Would you be surprised to see these two squaring off for the national championship in three months? Didn't think so.
SATURDAY
University of New England (3-4-0) vs. Cortland (2-5-1) at PAL Stovepipe – UNE 6, Cortland 5
Like a full-tilt 200-foot contest? Get to this one. These teams can score and score some more. Should be highly entertaining for everyone – except the goalies, that is.
Nazareth (4-2-1) @ No. 6 Babson (6-0-0) – Babson 3, Nazareth 1
Nazareth has pulled off enough upsets over ranked teams that another one here wouldn't be such a shock. Still, Babson's Jamie Murray is playing as well as any goalie in the country, and the eager Beavers in front of him are very protective of him.
SUNDAY
No. 10 Massachusetts-Boston (6-0-0) @ No. 8 Trinity (3-0-1) – Trinity 4 UMB 2
Two quality teams who play in tough conferences, eager (and capable) of entering the national conversation. What do they say? Nothing to lose and everything to gain?