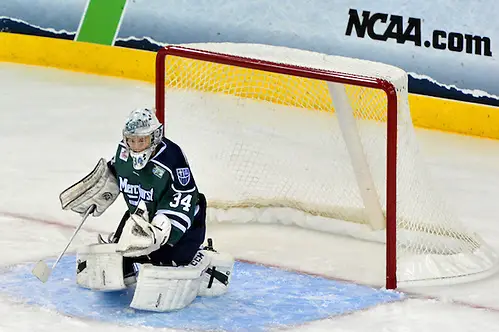 On Tuesday, Nov. 25, Mercyhurst defeated Colgate, 3-0. The win was the 400th in the history of the program, and the Lakers have added three more since then.
Michael Sisti has been the head coach for all of them, dating back to the first one on Oct. 30, 1999, a 5-2 victory over Findlay. He has been involved with Lakers hockey even longer.
"I was associate head coach of the men's team," Sisti said. "The school decided, the administration, that they were definitely going to start women's hockey and they really wanted me. I was already here six years working with the men's team, and they really thought I'd be a great candidate and wanted me to take the position."
While his coaching experience to that point included three years at Canisius, his alma mater, coaching women would be something new.
"A lot of summer camps would have boys and girls in them," Sisti said. "As far as teaching them different sports or working with younger kids, both male and female, I'd done that, and obviously, some hockey camps, but not a team, per se, in the past."
So it made sense that there would be at least some hesitation before switching to the game of the other gender.
"Like anything, I looked at all sides of it and talked to some people," Sisti said. "I wanted to make sure if I did take the position, it was something I was really excited about and could jump in with both feet and not look back and have no regrets. I researched it well. I wanted to make sure that the school was going to make a first-class commitment to the program. After doing all my research, I felt really good that this would be a great opportunity, and I'd have a chance to build something special. I took the position, and it's obviously proven to be a great decision and things have gone awesome with it."
Sisti truly has built something special. The Lakers have won CHA regular season titles in all 12 years of the league, and they've added the tournament championship in 10 of those years. While it's true that the CHA is a small conference — this is just its third season of having six teams — Mercyhurst has fared well nationally.
The Lakers have advanced to the NCAA Tournament 10 straight times, the longest string for any program, and that streak is still active.
"There's already been probably five or six times where we had what people would think should be rebuilding years," Sisti said. "The group came in, coupled with the players that were coming back, were able to quickly come together and help us to continue to win or even move forward with a stronger season. I think that's been pretty incredible over the years. No matter how many people we lost or who we lost or how many points, we've been able to find a way to mix everyone together and still be successful."
Critics might claim that the success has been due, at least in part, to the Lakers playing in a weaker conference. There is some validity to that; no other CHA member has ever reached the national tournament.
However, once on the national stage, Mercyhurst has never failed to prove it belongs. The Lakers lost their first four NCAA tourney games, but all were by a single goal, three of them in overtime, including losses in double overtime and triple overtime.
That competitive spirit was formed with the first Lakers roster.
"When we got them together, we explained that we wanted to do something special, and even though we were a first-year program, we didn't want to be one of those teams that people just run over for a couple of years," Sisti said. "We wanted to instantly earn people's respect with the way we played and handled ourselves and our work ethic. I told them, 'I'm going to treat you like hockey players that want to be successful on and off the ice. If at any time it gets too tough or too challenging and I need to back off, let me know. If you act differently, and I got to treat you differently and less competitive, I will, but my goal is to treat you like elite athletes that want to do something special and respect the game and respect the importance of behaving properly on and off the ice.'
"Then that class did an amazing job of even though they were extremely young to be very mature, to do well in school, and play with great pride and passion, and earn a lot of early victories that helped put our program on the map. If nothing else, they were always extremely competitive, and I think that clearly helped us get started on the right foot."
In their inaugural season, the Lakers lost their first four games, but the opponents in those series were a New Hampshire team that had played in the national championship game that March and a St. Lawrence squad that would go on to play in the first NCAA title game a season later. So it was a credit to the fledgling program that the worst loss in that stretch was only by six goals.
"The first year, we had C.J. Ireland, who was a four-year captain for us, which is a pretty unusual feat," Sisti said. "I think that first group and how prideful they were, that helped put us on the map, because we had some early success. Those players, even as we got more scholarships and maybe brought in more talented players, those players for four years were still mainstays and leaders. They got us going, and they helped us build the proper work ethic, pride level, and winning attitude."
That first season, Mercyhurst finished 23-6-0, mainly against opponents that were a mixture of other new programs and D-III teams. In year two, the scheduled consisted entirely of D-I opposition, and the Lakers finished a respectable 14-16-3, without any blowout losses of more than three goals. By the third season, the record was back up to 24-8-1, and Mercyhurst has won more than 20 games every year since.
"In the early years, people obviously didn't know much about us, who we were," Sisti said. "As a matter of fact, that first recruiting class, as we were starting to recruit, it was also late in the process. The school, I think officially decided in March or April that they were going to have this team and got me on board in early April. We put the team together from April to that September. It was amazing we were able to have a team, but when we were recruiting those kids, we didn't have a locker room yet, jerseys or uniforms, or even a schedule. They came here loving the school and loving an opportunity to play D-I hockey and just excited about what we thought we could build here with them helping us get it started. I think that was key."
Sisti says it has been a step-by-step process. Slowly, the passion and work ethic were combined with greater talent, and the success snowballed.
"We have now had some of the best players to ever play women's college hockey that played here," he said. "We've got our Patty Kazmaier Award winner in Vicki Bendus, three-time gold medalist Meghan Agosta, and our team and our players have some individual and team awards that we've won along the way, too. Certainly when it comes to recruiting, the kids do know a lot more about us. They love the school when they get here and they see it, but they also are well aware of the success we've had over the years and the consistency we've been able to do it with."
Mercyhurst finally cleared the obstacle of that NCAA quarterfinal in 2009, reaching the championship game. The Lakers have returned to the Frozen Four three more times, including each of the last two seasons.
That run of NCAA success was accomplished without a conference automatic bid, which the CHA champion will receive for the first time this season. It would be ironic if that should prove to be a curse rather than a blessing to the Lakers and bump them from a tournament field that they otherwise would have reached.
It could happen. The CHA has quickly developed into a league where anything can happen.
"The other thing that I think has been helpful is we respect all our opponents and we never count the wins until we have them," Sisti said.
At the end of the day, however, Sisti and company almost always had those wins. Coming into the season, only two of the CHA members owned wins over the Lakers: Robert Morris and RIT.
After years of frustration, Syracuse finally got its first triumph at Mercyhurst's expense with a 4-1 win on Nov. 8. This past weekend, Penn State swept a series from the Lakers, a result made more surprising by the fact that the Nittany Lions scored only one time in four one-sided losses a year ago.
Perhaps it is another validation of what Sisti has accomplished that we view it as a huge upset when Mercyhurst, a school with an enrollment of just over 4,000, falls to mighty Penn State, whose enrollment is over 98,000.
"Everybody wants to win hockey games, and that's the fun part," Sisti said. "You've got to go out and earn them one at a time. That's why they say that in every sport, 'That's why you play the game.' Because anything can happen on a given day."
This isn't Sisti's most dominant team by any stretch, but it went into the games at Penn State with a No. 6 ranking and a 16-2-2 record.
"We've had all different types of teams over the years," Sisti said. "This year's team is more of a team where we've got to rely on everybody playing well and playing together and playing our systems to be successful. When we do that, we think we can play with anyone. When we don't, we're obviously vulnerable."
Offense was a question coming into the year after the graduation of Christine Bestland, whose 226 career points were second only to Agosta in program history. A trio of forwards, juniors Emily Janiga and Jenna Dingeldein and newcomer Sarah Robello, has filled much of that void.
"What is nice is I know Emily has gotten some looks from USA Hockey, and I think they're well-deserved," Sisti said. "She's getting better all the time, and she's having a real nice season for us. Sarah is a freshman, is putting up points, has amazing hands, and just has to learn the game a little better, but think she's going to really, hopefully, benefit by learning her first half and have a big second half. And obviously Dingeldein has put up points for us."
Those three have combined for 34 goals and 78 points, but others have come through as well.
"[Junior] Hannah Bale doesn't score a lot of goals, but usually when she does, it's an important goal at an important time," Sisti said.
The Lakers rank 14th in scoring offense, but that has been enough because of the strong play in goal of senior Amanda Makela.
"I thought Makela has played as good as any goalie we've ever had," Sisti said. "This past weekend was kind of a lost weekend for our whole team, but 22 games is a lot to play in the first half. I thought before then, she was having and is having a remarkable season and has played really well for us, too."
Makela ranks at or near the top in all categories. She has seven shutouts, one shy of the lead. She's in the top six in winning percentage, save percentage, and goals-against average. The only number that is at all troubling is she leads the country in minutes played by a wide margin, having taken all of the team's 1,322 minutes in goal.
"That's my fault," Sisti said. "Julia DiTondo and Jess Convery, they're looking really good, and I probably should have gotten them some minutes somewhere along the way, but Makela was playing so good. That's probably on me, because 22 games and all those minutes is a lot."
Now the whole team gets a month off to rest and recharge.
"The hockey season, I think to next to maybe bowling, is the longest season out there, and it is a long stretch," Sisti said. "There's a lot of obstacles, there's a lot of injuries you've got to battle, or illnesses and ups and downs. I think that's one of the big challenges, navigating through that."
Once again, the Lakers are positioned to contend and have a three-point lead in the CHA standings. If the past is any predictor of the future, they'll find a way to increase their run of NCAA appearances to 11.
"I think the league race is definitely going to be interesting, but it's our job to get our players in the right frame of mind and find ways to win hockey games," Sisti said. "It's certainly not easy. I think that's one of the things when we're sitting back thinking is it half-full or half-empty. We're really proud of the longevity of our success, because we've done it all different ways with all different staffs, all different types of players, offensive teams, defensive teams, sometimes the star players, the no-name players. I think that's just a credit of being prideful and trying to solve the problems and never giving up."