This first-half wrap-up lists the five things in Hockey East that have stood out the most for me.
First, though, a few caveats.
For Massachusetts-Lowell fans, your team didn't make the list, but it came close. I'm surprised at how the River Hawks haven't missed a beat — heck, they haven't lost a league game yet — despite the attrition. And yes, your singing of the national anthem on opening night after the PA system went out was truly awesome.
Similarly, Connecticut didn't quite make the cut, but I'm impressed at how competitive the Huskies have been. Defeating Boston College and tying Boston University in the span of just four days stunned me.
Onward, then, with the fabulous (and not-so-fabulous) five.
1. Jack Eichel
OK, I know those of you who dislike Boston University are sick already of hearing about Eichel. And those of you who hate the Terriers are well into loathing territory when it comes to the scarlet-and-white superstar.
Sorry, but the fact is that freshmen who lead the country in scoring don't come along very often. Eichel is a special talent and it's a pleasure to watch him play.
I'm not yet ready to call him Paul Kariya. That's a very, very high hurdle to clear. But he looks like the best freshman I've seen since Maine's No. 9.
2. BU's reemergence as a power
Forgive me if this seems like Terriers double-dipping, but the focus on Commonwealth Ave. is warranted.
BU haters had a fun time last season when the Terriers finished a distant ninth in the league, posting a 5-12-3 Hockey East record and 10-21-4 overall. Some wondered whether new coach Dave Quinn was in trouble, the guy who was unlucky enough to replace a legend and, in comparison, would always be found wanting.
Well, the Terriers are back and in a big way: 7-1-2 in league play and 11-3-2 overall.
Oh yeah, they're also first in the country.
3. The struggles of three of last year's winning teams
Ups and downs from year to year are inevitable. But three of last year's winning teams have struggled mightily.
Perhaps mighty is overstating it a bit with Maine, but 4-13-1 overall after finishing a game above .500 last season is quite a tumble.
Last year, Northeastern finished five games over .500 overall; this year, the Huskies didn't record their first win until Nov. 15. Ouch! Fortunately, they've won five games since that point so there is hope, but what a tough start.
Topping them all, however, is perennial power New Hampshire, which secured home ice last year, finishing fourth, but now sits in next-to-last place with a 1-5-1 Hockey East record and 5-10-1 overall. Can coach Dick Umile rally his troops in the second half? We'll find out.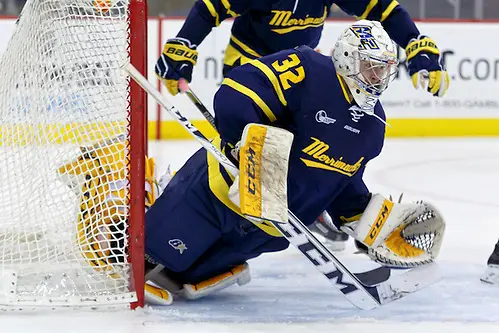 4. Merrimack's bounce-back year
It got ugly last season: 3-15-2 in Hockey East and 8-22-3 overall. Longtime fans might have wondered if the bad old days of cellar-dwelling were back.
Fuhgedaboudit!
The Warriors are .500 inside Hockey East and 10-5-2 overall. There'll be no cellar for this club; in fact, Merrimack is nationally ranked.
Freshman Brett Seney leads the scoring. Senior Rasmus Tirronen is posting unconscious numbers in the net: a 1.73 GAA and a .929 save percentage.
The special teams have been really special: the second-best penalty kill in Hockey East and the fourth-best power play.
"Goaltending and special teams" has been a common mantra in hockey locker rooms. It works in North Andover.
5. Vermont has joined the elite
Last year, the Catamounts were a .500 team within the league but used a strong nonconference record to secure an NCAA berth.
This year?
Talk about making the huge step to the next level. The Cats trail only Lowell and BU. As noted in a recent blog post, Vermont ranks as the top defensive team in the country. It also has earned a No. 10 ranking nationally.
The Catamounts admittedly still have the toughest part of their league schedule remaining, so they could topple off their current lofty perch.
But so far, this team looks very much for real.
And finally, not that it has anything to do with anything, but …
My latest sports-related novel, "Offside," is hot off the presses in ebook formats. (It won't be available in paper until early January.)
If you liked "Cracking the Ice," you'll like "Offside" even though it only has a smidgen of hockey. It's primary sport is football with a bit of baseball (and the 1967 Red Sox) mixed in.
Here's the description:
"Rabbit" Labelle loves football, but the tiny, rural Maine town where he lives isn't big enough to support a team. After his father moves the family to the big, bad city, Rabbit finally gets his chance to play the sport he loves the most, but he must also confront the dangers of "Lynn, Lynn, City of Sin."
It's 1967 and cities torn by racial turmoil, this includes his father's greatest fear: "the Negroes."
Rabbit, who'd been the most popular kid in Plainfield, Maine, struggles to make friends and wonders if he'll even survive. Only football can save him.
"David H. Hendrickson is one of my favorite writers."
— USA Today best-selling author Kristine Kathryn Rusch
Click here for the Kindle, NOOK, Kobo, or Smashwords.