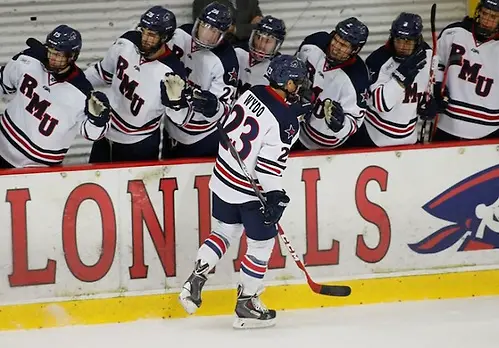 In recapping the first half of the season, here are five things of note:
Bobby Mo-mentum
Robert Morris finished strong last season and won the Atlantic Hockey title, so it's not a surprise to see the Colonials picking up where they left off, considering Derek Schooley's squad returned almost intact. But they have exceeded even high expectations, sitting at the break at 9-2-3 in conference play and 11-2-3 overall.
The Colonials are No. 19 in the USCHO.com Division I Men's Poll, reaching as high as No. 17 a couple of weeks ago.
Schooley has stuck with the goaltending tandem of Dalton Izyk (6-1, 2.30 GAA, .931 save percentage) and Terry Shafer (5-1-2, 2.21 GAA, .919 save percentage), and they've given him no reason to change course.
Senior Cody Wydo was expected to be near the national leaders in scoring again after a 31-goal season in 2013-14, and he's third in the nation in points (11-14–25). Junior David Friedmann is on a pace for a career year (8-6–14) and freshman Brady Ferguson is off to a great start with 16 points.
The Colonials next square off against No. 20 Penn State in the first round of the Three Rivers Classic on Dec. 29. No. 17 Colgate and Western Michigan are the other participants.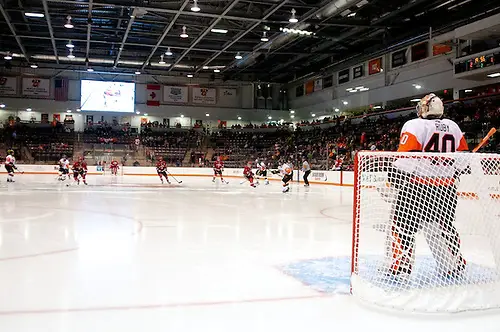 New homes and some home cooking
It's been a banner year for the league in terms of new facilities. Canisius and Rochester Institute of Technology both opened new barns this season: HarborCenter and the Gene Polisseni Center, respectively.
Canisius is 2-3-4 in its new digs, while RIT is 3-3-1 in its.
Attendance is up for both: The Golden Griffins are averaging 1,314 fans through nine games at HarborCenter; last season's average attendance was 733 in 16 games at Buffalo State.
The Tigers are up almost 1,200 fans per game. They have averaged 2,753 fans through seven games at the Polisseni Center versus 1,592 per game in the final season at Frank Ritter Arena. Both figures exclude the 10,600 RIT draws each year for its game at Blue Cross Arena.
Overall, the league has seen an increase in home conference games thanks to other leagues needing to fill more nonleague slots as well as an incentive to play more road games through changes in the NCAA tournament selection criteria.
This season, AHA teams will host 25 nonconference games compared to 18 last season. So far, the league is a decent 7-12-2 at home in nonleague games; it's a dismal 4-22 on the road.
Prime time guys
It's the natural ebb and flow of college hockey, be it in leagues or on individual teams: Some years are "goalie years" and others are "scoring years."
Atlantic Hockey has had its share of both, but recently, with some notable exceptions, goalies have led the way and the number of players able to put up 30-point seasons has decreased.
But a glance at national statistics shows Atlantic Hockey standing out in terms of offense so far. Four of the top five players in total points and points per game are from the AHA:
• Bentley's Andrew Gladiuk (tied for second in the nation with 27 points; third in PPG with 1.42)
• Wydo (third in points with 25; second in PPG with 1.56)
• Max French from Bentley (fourth in points with 24; fifth in PPG with 1.41)
• RIT's Matt Garbowsky (fifth in points with 23; second in PPG with 1.44).
Garbowsky and Gladiuk are tied for the national lead in goals with 14 each at the break.
Wydo and Gladiuk are no surprise — each put up big numbers last season. But French and Garbowsky are having career years so far.
French had an excellent freshman campaign last season, notching 11 goals and 12 assists. But he has already surpassed his point total from 2013-14.
Garbowsky, a senior, was out of the lineup the majority of last season with a hand injury, appearing in only 13 games and scoring just seven points. He did have 33 points his sophomore year but he's well on the way to exceeding that this season.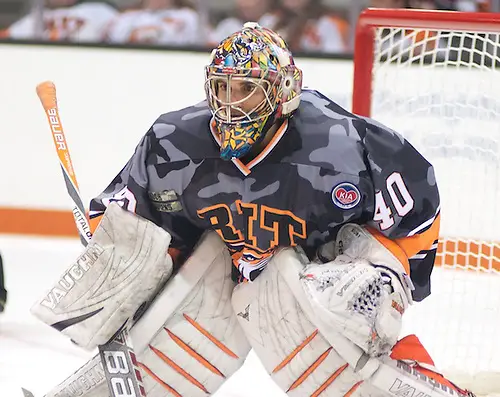 Goaltending: The usual suspects and some surprises
That's not to say this has been a really down year for goaltending. Mercyhurst's Jimmy Sarjeant, the reigning Atlantic Hockey player of the year, has two shutouts this season and is carrying a .918 save percentage.
As mentioned earlier, Izyk and Shafer are big reasons Robert Morris is leading the pack so far this season. Matt Ginn is closing out his career at Holy Cross with his best season to date (a league-best .931 save percentage and a 2.08 GAA).
The surprise so far is RIT's Jordan Ruby. The senior has been up and down in previous seasons for the Tigers, but since early November Ruby has strung together the most consistent stretch of his career, allowing a total of five goals in his last six outings. He leads the league in GAA (1.87) and is third in save percentage (.930).
Also turning heads is Bentley rookie goaltender Jason Argue. He's played in just five games so far (so isn't eligible for statistical rankings), but has a .934 save percentage and a 1.97 GAA in those contests. He'll be near the top of the leader board if he can keep it up.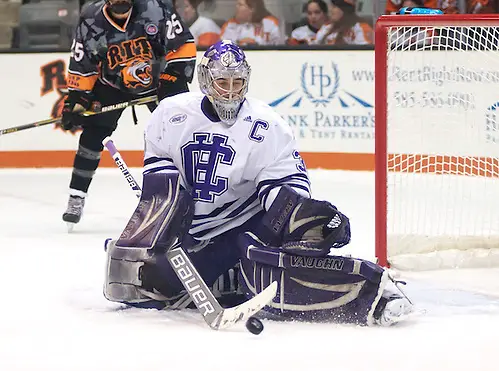 Midseason all-stars
Midterm grades are out, and here's who's on the Dean's List, in our opinion:
Midseason all-conference
F Matt Garbowsky, sr., RIT
F Andrew Gladiuk, jr., Bentley
F Cody Wydo, sr., Robert Morris
D Steve Weinstein, sr., Bentley
D Chase Golightly, jr., Robert Morris
G Matt Ginn, sr., Holy Cross
Midseason all-rookie
F Brady Ferguson, Robert Morris
F TJ Moore, Holy Cross
F Tyler Pham, Army
D Phil Boje, Air Force
D Brady Norrish, RIT
G Jason Argue, Bentley
Midseason MVP: Matt Ginn, Holy Cross