In ECAC Hockey's preseason coaches conference call with the media, Rensselaer's Seth Appert jokingly said there weren't a lot of things you could count on, but one of them was the coaches and media whiffing when picking the preseason polls.
That's the case as ECAC Hockey heads into the semester break with Harvard (ninth in the coaches poll; 10th in the media poll) tied for first place with Quinnipiac, which was picked fifth in the coaches poll and third in the media poll.
The Bobcats have been one of the league's best over the last few years, but this appears to be a breakout season for the Crimson. Here's a look at that and several other notable developments over the first three months.
Biggest surprise: Harvard
It's a familiar narrative that's been repeated many times this fall: A Crimson team loaded with NHL draft picks has finally turned its talent into wins. What might be getting left out is just how dominant Harvard has been.
At 9-1-2, the Crimson are in the top 10 in the country in offense, defense, power play and penalty kill. They've also outscored their opponents by an average of 1.92 goals per game, which is the best in the nation.
The top line of Jimmy Vesey, Alexander Kerfoot and Kyle Criscuolo, as well as defenseman Patrick McNally, are each averaging a point per game. McNally and goalie Steve Michalek, both seniors, look to be fulfilling the potential each showed earlier in their career. Both missed most of their sophomore years following an alleged involvement in a school-wide academic scandal. The Crimson might slow down a bit in the second half, but there's no reason not to expect them to contend for the regular season title.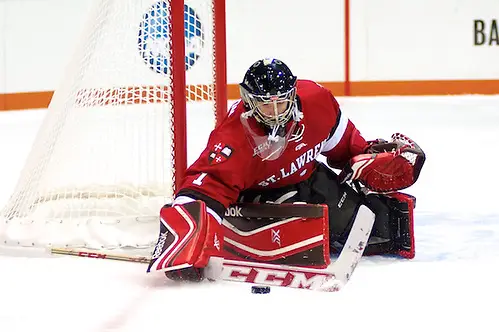 Biggest surprise, player: Kyle Hayton
It's always tough to project how rookies will adjust to college hockey. But St. Lawrence freshman goaltender Kyle Hayton has made an impact right away, helping turn around a Saints defense that was among the worst in Division I last year.
Hayton has a .932 save percentage and is sixth in the nation in minutes played and second in saves. He set the school record for shutouts in a season with four in his first 13 games.
St. Lawrence enters the break on a four-game losing streak to drop its record to 8-8, but that shouldn't take away from Hayton's first-half performance.
Biggest disappointment: Brown
It seems hard to believe that the Bears made it to the ECAC title game just two years ago. Even though the Bears faded last year and graduated several important defenseman in the offseason, they returned forwards Matt Lorito, Nick Lappin and Mark Naclerio. That trio formed one of the better lines in the conference last season.
Add newcomers and NHL draft picks Sam Lafferty, Tyler Bird and Max Willman, and it appeared the Bears should have had enough offense to challenge for a home-ice spot. That hasn't been the case.
Lorito has five goals in nine games, but Naclerio and Willman are the only players of the aforementioned group to have scored a goal entering the break — and they've combined for only three.
It's not all the offense's fault. Brown is allowing nearly four goals per game, thanks to a .889 team save percentage and a penalty kill that is last in Division I at 67.4 percent. That all adds up to a disappointing 3-8 record, including a 1-7 mark in league play, with the lone win coming in the Bears' final game before the break.
It doesn't get any easier, as Brown opens the second half playing Boston College and Denver, followed by two games each against Providence and Yale.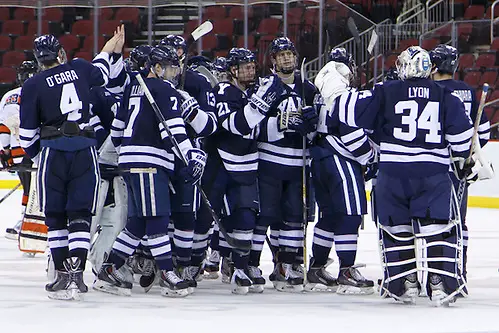 A different Yale team
At 4-3-1 in the ECAC and 6-3-2 overall, Yale is off to a solid start. But this seems to be a different Bulldogs team from years past — one built around defense and goaltending.
Yale is 43rd in the country in scoring, but is sixth in goals allowed. That's something that would have been nearly unfathomable several years ago, but credit sophomore goalie Alex Lyon and a veteran Bulldogs defense for the turnaround.
Lyon has a .927 save percentage, while backup Patrick Spano had a shutout in his only start of the season. Yale also has plenty of talent on the back end with senior Tommy Fallen and juniors Rob O'Gara and Ryan Obuchowski leading the way.
Currently in fourth place, Yale should in the running for a first-round bye come March.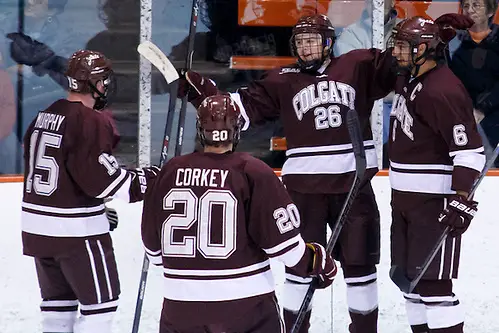 Second half outlook: Union and Colgate should pick it up
It's hard to criticize the Dutchmen or Raiders too much, given that each team enters the break with a 9-6-1 record. But it feels like the second half could have better things coming for each team.
Union endured a brutal six-game winless stretch from the end of October to mid-November. The Dutchmen are 4-1 since then, albeit the one loss was an 8-2 blowout to Western Michigan. The defending national champions have plenty of youth in the lineup but still have goalie Colin Stevens and plenty of dangerous forwards.
As for the Raiders, they've been steady most of the fall but dropped three straight to end the first half. Injuries played a part, as Colgate lost forward Mike Borkowski for the season in November, and Tylor Spink, last year's second-leading scorer, saw his first action of the year Dec. 9 against Providence.
Throw in a one-game suspension for top-six forward Darcy Murphy, and head coach Don Vaughan has had to do some lineup shuffling in the first half.
Look for both the Dutchmen and Raiders to make a mark in the second half.