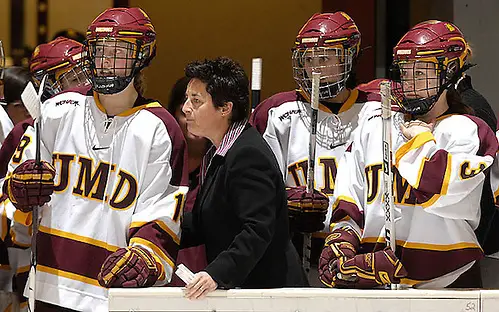 With the announcement on Dec. 15 that Minnesota-Duluth will not renew the contract of head coach Shannon Miller after this season, one has to wonder what this means for women's Division-I hockey going forward.
In the sports world, coaches come and go all the time. Miller is halfway through her 16th season running the Bulldogs' program. Like her, Michael Sisti at Mercyhurst has been in place since the 1999-2000 season. After taking 2013-2014 off to direct the United States Olympic Team, Katey Stone is in her 20th campaign at Harvard, although she started her tenure five years earlier than Miller. Miller has seen everyone else arrive and many of them leave. In her league, Mark Johnson is second in tenure, as he took over in 2002-2003. On the other end of the league stability spectrum, Jim Scanlan is the fifth different Bemidji State coach to match wits with Miller.
The map looked far different in terms of the programs that existed when Miller started. The majority of the teams played in a 13-member ECAC Division-I league. UMD was one of seven squads that comprised the WCHA in its inaugural season, and Mercyhurst was one of three D-I independents.
Fourteen new programs that compete at D-I on a full-time basis have been added, while three others have dissolved: Findlay, Wayne State, and Niagara. Change is very much a part of the environment, and everyone realizes that.
What makes the change at Minnesota-Duluth most surprising is that not only is the length of her tenure second only to Stone, Miller has been the game's most successful coach over it. In her first year, she guided the Bulldogs to season and playoff championships in the WCHA. The NCAA began sponsoring the national tournament the following season, and Miller and UMD won half of the first 10, including the first three. In addition to those five NCAA titles, Miller's teams hold three WCHA regular-season crowns and five league tournament championships, and they've posted a composite record of 375-137-48.
However, the wins have slowed in recent years. Last year's seniors were only the second of Miller's recruiting classes to graduate without an NCAA championship during their careers. Nobody on her current roster has even competed in the NCAA tournament, unexpected given the Bulldogs were participants in all but one of the first 11. Two years ago, the team had its first losing season, and a .500 record last year made it two straight with fewer than 20 wins, a milestone she reached or surpassed in her first 13 campaigns. Her current squad has rebounded and heads into the break with a 12-5-3 mark and ranked in a tie for sixth in the latest poll.
Miller has long been a polarizing figure. She gets louder cheers from fans in Duluth during pregame introductions than do her players. Many of those current and former players speak of her in glowing terms, describing her as everything from the best coach they've ever had to the best coach in the world. She's also had a couple of seasons end with players leaving the program while having eligibility remaining, with rumors that it was more a case of Miller cleaning house than players choosing to leave.
She's also been a lightning rod for controversy. On two separate occasions, she's been suspended by the WCHA for her actions resulting from disagreements with on-ice or league officials. Even when a rival coach was suspended, Miller figured prominently in the backstory. UMD would also own the 2007-2008 WCHA season title, but it was vacated as a result of the agreement reached with the NCAA after it was determined that her team used an ineligible player for a portion of that season.
In many sports, the conventional wisdom is that to keep their jobs, coaches need to continue to win in order to draw paying customers. That is seldom much of a factor in women's hockey, because most teams don't attract enough fans to generate a substantial amount of revenue. Minnesota-Duluth does better in that regard, and the Bulldogs have averaged over 1,000 fans per game in each of the last three seasons for the first time in their history. Factoring into that statistic is the opening of the AMSOIL Arena in December 2010. While the facility brings a few more fans to games, it also likely introduces greater costs to the budget.
The climate is also likely different in Duluth than it was when Miller was hired. No, not the lake effect and all that. Miller's NCAA Championship in 2001 was the first for the school in any sport. Since then, the Bulldogs have won NCAA Division-II football championships in 2008 and 2010. The men's hockey team won its first NCAA Championship in 2011, so the last two national titles won at UMD came from other teams. Former UMD chancellor Kathryn A. Martin was one of the women's hockey team's biggest supporters. Miller's contract has been extended several times during her tenure, and in the wake of the Bulldogs' success, Martin was willing to pay to retain her services. Martin retired in July 2010, and neither new chancellor Dr. Lendley C. Black, nor athletic director Josh Berlo, dates back to the Bulldogs' last championship in women's hockey.
The reason given by Berlo for not renewing Miller's contract, as well as those of her assistants, was that the salaries did not fit within the current budget constraints of the university and its athletic department. That is entirely probable. She is reported to be the highest-paid NCAA women's hockey coach in the country, and a primarily Division-II athletic department like that of UMD typically doesn't spend at the same level that those in the power conferences do.
According to Miller, she would have been amenable to accepting a contract at a lower salary in light of the school's budget difficulties. As quoted by Matt Wellens of the Duluth News Tribune, Berlo was not interested in pursuing that option. Instead, he and Black have decided to thank Miller for her service and move on with a new coaching regime after this season ends.
I know nothing of Berlo's relationship with Miller, but she has been outspoken over the years in her belief that the women's program should be funded and equipped in a manner similar to that of UMD's men's hockey team. Purely speculation, but perhaps cuts will need to be made in other areas of the program beyond staff salaries, and Berlo was reluctant to enter a new contract phase with Miller having fewer resources at her disposal than in the past.
How this change will alter the national picture in future seasons depends to a large extent on where Miller goes next. She has been very active in growing the international game. Miller could accept an opportunity in her home country of Canada or overseas, and it will be simply a case of subtracting her from the NCAA equation.
I don't believe that the WCHA would have risen to prominence as rapidly as it did had someone other than Miller started the UMD program. Her international contacts gave her access to new talent pools, and her coaching ability allowed her to hone it to a championship level. Miller's personality helped spark rivalries with league opponents. Programs like Minnesota and Wisconsin were forced to invest in their own programs to keep up or face the possibility of getting dominated.
Occasionally over the years, there would be rumors floating around that Miller was leaving UMD to move to another program. Perhaps the rumor that looked most likely to occur had her leaving Duluth in early 2008 to start the new program at Syracuse. Instead, she got a contract extension and a raise, and Paul Flanagan moved to Syracuse.
I think that the WCHA is less top-heavy than it was in 2008, so if Miller leaves the conference entirely, it is unlikely to become all Wisconsin and Minnesota. Programs like North Dakota and Bemidji State in particular are much stronger now than they were then.
How does it scramble the landscape if she moves to another program? Obviously, an opening has to exist, and right now, there aren't any. I find it a little unseemly a week before Christmas to be speculating about what program might be interested in dumping its current coach and attempting to lure Miller to assume command. I expect that it would have to be a program that is fully committed to winning; I don't think she would be content to making do with scraps.
If she does land in another NCAA job, I expect that it will quickly become a contender. Not as rapidly as the Bulldogs did, but depending on its current situation, quicker than with most hires. Miller told me a year ago that building a team was similar to fitting pieces in a puzzle. Of late, even in her established program at UMD, those pieces have been harder to find, because the competition for picking them has gotten more intense.
So what becomes of the Bulldogs, both in the short and long term? The future beyond the current season will depend on what current UMD players and recruits decide to do, who is hired to succeed Miller, and what resources that coach is allotted. I don't expect that there will be a lot of recruiting happening on UMD's behalf over the next few months. Part of the penalties imposed on the program by the NCAA back in 2009 was a two-week ban on recruiting. While programs might be targeting younger recruits now than they did then, I would still expect that several months without active recruiting would be detrimental. Some regression of the program, temporary or not, appears likely.
For the rest of this season, I expect that Miller will make every attempt to go down in a blaze of glory at Minnesota-Duluth. Her interview process for her next job effectively begins now, and this is her chance to showcase her coaching abilities. The players chose to become Bulldogs in the hope of being taught and coached by Miller. That opportunity is just shrunk down to a shorter window for most of them.
Finally, what will change for NCAA hockey fans like you and I? If this is her last coaching gig in our game, then we're less likely to see certain things, such as shiny jackets behind the bench, impromptu refresher courses for officials, flying water bottles, and quotes that few other coaches would say. We'll also miss out on some excellent hockey, played with speed and finesse.
Even her detractors would concede that Shannon Miller's teams are entertaining. After nearly 16 seasons of observing her in action, I'd say that she is as well. She just has a wider repertoire of performances than most of her peers.