The two teams that were predicted to finish first and second in the Big Ten this season will meet this weekend at Yost Ice Arena.
Had this series take place a couple weeks earlier, it would have been another example of how little weight preseason predictions carry, but recently the team that was predicted to finish second, Michigan, has started to finally live up to the hype.
After a lackluster start to the season Michigan has won eight of its last 10 contests, including two wins at the Great Lakes Invitational. The Wolverines were granted the good fortune of having a string of games at home to end the season's first half, and they cashed in on that opportunity.
"We've been a little better on special teams and our goals against has come down a little bit," coach Red Berenson said. "We took advantage of a good home schedule. We had seven games in a row at home, and we won six of them."
The momentum from those home wins carried over to the 50th annual GLI, where Michigan upset then-No. 5 Michigan Tech 2-1 in its first game and defeated Michigan State by the same score to win the trophy.
"There's four teams here and you walk out with the trophy and I think our team really needed something like that," Berenson said of winning the GLI. "[The team] felt a lot better about themselves individually and collectively. Those teams were good teams. Michigan Tech might have been the best team there and we were lucky to win that game. Ferris [State] might have been the next-best team and then didn't win a game at the GLI.
"Michigan State was good and we were probably the weakest team going into the weekend and we end up winning it. That gave our team a lot of confidence."
Berenson likened winning the GLI to winning an NCAA regional, saying that "it's not an NCAA championship, but it's still significant."
The most impressive part about the Wolverines' performance at the GLI was that despite missing a lot of key players because of the World Junior Championship, they held two teams to one goal in consecutive games. That's a feat considering that Michigan frequently gave up three or more goals per game during the season's first month.
"[Steve] Racine came in and played the last two games and played pretty well and our team played pretty well in front of him," Berenson said. "We didn't score a lot of goals, but we didn't give up much so we felt better about our goal keeping in the last couple games and our overall team defense. It's not always about the goalie, it's your team defense. We played a little better in the last two months than we did the first month."
Racine, the junior backstop, played both games at the GLI but Berenson said that he still doesn't consider him or sophomore Zach Nagelvoort the starter.
"Either one of them can play, that's the one good thing about this," he said. "Three weeks ago I would have told you that Nagelvoort was our starting goalie. He'd played eight games in a row and we had won six of them. But we still weren't happy with the goals against. You're going to have goals against but we had some just bad goals that were stoppable.
"That's been my challenge for our goalies: stop the shots that are stoppable," Berenson added. "You're going to get beat by good shots. But nevertheless, Racine came in and he put himself back on the map so now I'm feeling better about the depth of our goalkeeping than we were in the first half."
An argument can be made that the Gophers are reeling as they come into Yost this weekend. Minnesota is 3-4-1 in its last eight contests and needed overtime to defeat Rochester Institute of Technology at home last Saturday.
Berenson, however, isn't taking the team that went 3-1 against his squad last year lightly.
"We're going to really have to play our best games against them," he said. "Whether it's offensively, defensively or special teams, the little details of the games like faceoffs and so on."
Michigan has improved enough to back up the claim that it has a shot to win the Big Ten this year, but that doesn't mean that the all is well in Ann Arbor. The Wolverines have a 1-5 record away from home this season and this weekend's series will be their last time at home until late February.
Berenson said that he hopes that the team can take the confidence from playing so many recent games at home onto its next road trip and, hopefully, put the early-season road woes in the rear-view mirror.
"The one thing about home ice is that it's familiar territory and you've got a little bit of confidence and momentum and that's what you need from your home games," he said. "We've always said you've got to win your home games and be at least .500 on the road, and we're not bad at home, but we haven't been good on the road. We've got to get better at home and hopefully we'll take some honest confidence on the road."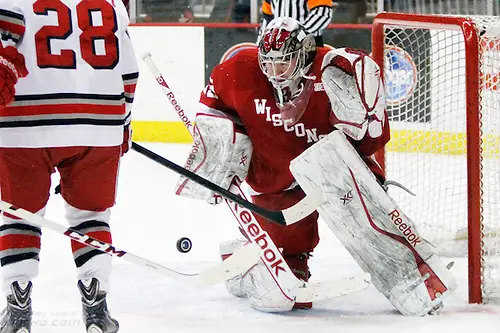 Badgers to host Sun Devils
Even though Wisconsin picked up a win last weekend, it could be said that its play up until now is leaving many fans looking forward to next year. Now said fans have something to look forward to.
The Wisconsin State Journal's Andy Baggot reported Tuesday that Wisconsin will host the nation's newest Division I hockey program, Arizona State, in October at the Kohl Center. The reported agreement calls for the Badgers to travel to Tempe, Ariz., at a later date.
Three stars of the week
First star — Ohio State senior forward Matt Johnson: Johnson's four-goal weekend helped Ohio State to a win and tie at Mercyhurst. The Stillwater, Minn., native recorded his first career hat trick in Friday's 6-3 victory. He extended his point streak to five games and has registered six goals and one assist in that span. This is his first career Big Ten weekly award.
Second star — Minnesota senior forward Kyle Rau: The Gophers found themselves in overtime and in danger of dropping both games at the Mariucci Classic on Saturday. Rau bailed them out with the overtime winner against RIT. He also tallied an assist against RIT and had another in the previous game against Merrimack. The Gophers are 37-3 when Rau registers multiple points in a game. This is his second career Big Ten weekly award.
Third star — Wisconsin senior goaltender Joel Rumpel: Rumpel posted a 47-save shutout of Michigan Tech in the Badgers' second win of the season on Saturday, the second-most in a shutout in Wisconsin history. The shutout was the 10th of his collegiate career, which moves him into second place in school history.
B1G in the poll
Minnesota slipped one spot to No. 9 in this week's USCHO.com Division I Men's Poll. The Gophers are once again the Big Ten's lone representative in the poll with Michigan and Penn State receiving votes.
My ballot
1. North Dakota
2. Minnesota State
3. Boston University
4. Harvard
5. Massachusetts-Lowell
6. Minnesota-Duluth
7. Miami
8. Denver
9. Minnesota
10. Michigan Tech
11. Bowling Green
12. Providence
13. Boston College
14. Quinnipiac
15. Colgate
16. Omaha
17. Vermont
18. Merrimack
19. Union
20. Michigan
This week's games
Ohio State at Penn State (Friday and Saturday, Pegula Ice Arena)
Minnesota at Michigan (Friday and Saturday, Yost Ice Arena)
Boston University at Wisconsin (Friday and Saturday, Kohl Center)
Exhibition — U.S. Under-18 Team at Michigan State (Friday, Munn Ice Arena)