Entering the season, Union coach Rick Bennett and his staff knew they would need to be patient with their team.
After all, the defending national champions had lost several important players from last year and entered the season needing to work plenty of new faces into the lineup.
"I guess it's easy to say at the beginning of the year, but going through each practice kind of tests your patience a bit," Bennett said. "For the most part, [we tried] to just really break it down through film and our practices. I think our guys are starting to pick it up a heck of a lot better than in October."
He pointed to Union's 3-2 comeback win against Notre Dame on Nov. 28 and a sweep of Brown and Yale to close out the first half as "bullet points" of the Dutchmen's growth, adding that the Dutchmen's 3-1 win against the Bulldogs on Dec. 6 might have been the team's best game of the season.
Last weekend, Union tied then-No. 1 Boston University 3-3, giving up the game-tying power-play goal at 15:44 in the third period. The Dutchmen played seven freshmen against the Terriers, but Bennett isn't using youth as an excuse.
"I think the 'we're young' and all this other jazz is overblown," he said. "That's just not how we run the culture of our team here. They're not freshmen anymore; we're in the second half of the season and our job as coaches is to make sure they know what the heck they are doing."
Union is 10-7-2 this season, including a 3-4-1 record in league play. The Dutchmen lost three conference games all of last year.
There are several other differences as well. Bennett said the Dutchmen's third and fourth lines need to get going, adding that the coaching staff met with the fourth line on Monday.
"We're going as far as them," Bennett said. "We need a team effort — not just two lines. That's what we've had in our time here."
And in goal, senior Colin Stevens, who was ECAC Hockey's goalie of the year last season, has given way to sophomore Alex Sakellaropoulos for three of the last four games.
"Alex has played well in the games that he has played and Colin Stevens has played well," Bennett said. "People probably thought a lot of expectations were put on Colin — it isn't anything different than what Troy Grosenick went through after he backstopped us to the Frozen Four [in 2012]. He came back and had to deal with a lot more than playing net. Colin has gone through that and will be better for that in the second half."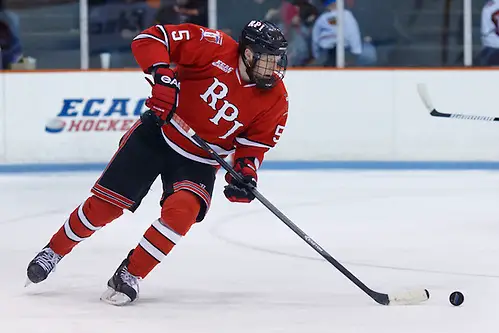 Captains return for Rensselaer
A Rensselaer team that has been depleted by various injuries and illnesses this season took another hit last weekend when coach Seth Appert announced that senior captains Curtis Leonard, Luke Curadi, Matt Neal and Mark McGowan were given indefinite suspensions for violating team rules.
Appert said the timeframe for the players returning to the lineup was at his discretion.
All four players missed both games last weekend against No. 5 Miami before Appert announced Monday that all four were reinstated.
"It was tough," Curadi told the Troy Record, "but we older guys are the captains and we did it to ourselves and took the consequences. What we did was wrong but it was handled the right way and it's over now."
The Engineers enter Friday's game having lost eight in a row. RPI has scored 11 goals over that span.
Around the league
• Yale took a 2-0 lead in its first game at Northeastern since 1994 Tuesday night, but the Huskies scored three unanswered goals for a 3-2 win. It was only the fourth time all season the Bulldogs have given up three or more goals. Yale forward John Hayden skated in his first game since Dec. 6 after playing with the U.S. in the World Junior Championship. The Bulldogs face Harvard at 8 p.m. EST Saturday in the nonconference Rivalry on Ice matchup at Madison Square Garden.
• Rensselaer athletic director Jim Knowlton is leaving for the same position at Air Force, effective March 1, the university announced Tuesday. Knowlton also is chair of the NCAA Division I men's ice hockey committee. It's unclear how the change in schools will impact that appointment.
• Colgate assistant coach has Jason Lefevre has resigned to accept a position in the private sector, the school announced Monday. A 2002 graduate of Colgate, Lefevre was a four-year member of the Raiders program and was part of the 2000 NCAA tournament team. He was in his ninth season as a member of head coach Don Vaughan's staff and his seventh as an assistant coach.
• Another Colgate alumnus was involved in a coaching move this week, as former Raiders player Steve Spott will assume co-head coaching duties for the Toronto Maple Leafs following Randy Carlyle's firing. Spott, who played at Colgate from 1986 to 1990, was in his first season as an assistant coach for Toronto. He'll share the job with fellow assistant Peter Horachek, although Maple Leafs general manager and senior vice president David Nonis wouldn't reveal how long that arrangement would last.
• Quinnipiac's Tim Clifton was named the league's player of the week, while Clarkson's Kelly Summers and Colgate's Charlie Finn were the rookie and goalie of the week, respectively. Clifton had two goals Saturday against St. Cloud State, while Summers scored his first two collegiate goals Dec. 30 against American International. Finn was named the MVP of the Three Rivers Classic, stopping 56 of 58 shots to help Colgate win the tournament at the Consol Energy Center in Pittsburgh.
• The league announced its awards for December as well, with Union's Daniel Ciampini receiving player of the month and teammate Ryan Scarfo getting rookie of the month. Quinnipiac's Michael Garteig was the goalie of the month.