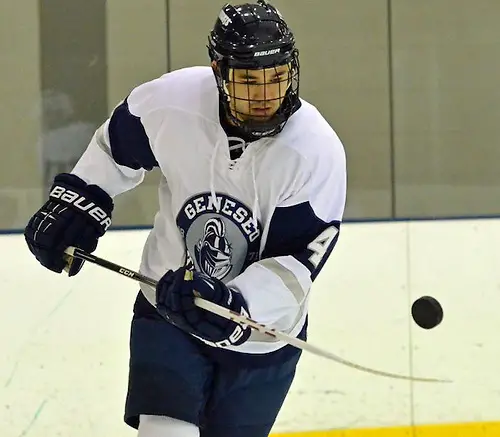 The second half is in full swing and our columnists prognosticate the weekend yet again across Division III.
EAST – DAN HICKLING
Friday
MASCAC – Massachusetts-Dartmouth (2-8-2, 2-2-2) @ Worcester State (2-8-2, 1-4-1) – UMD 5, Worcester 3
The Corsairs, with Casey Shea, Jaret Babych and Shaun Walters, et al, can do a better job of putting pucks in than Worcester can of keeping them out.
ECAC East – No. 8 Massachusetts-Boston (10-1-1, 6-0-0) @ No. 1 Norwich (11-1-0, 7-0-0) – Norwich 3, UMB 1
Each is smarting (at least a little) from sustaining its first (nonconference) loss, but both are still perfect in the ECACE. Something's got to give, there, and the guess is that the top ranked team in the country will prevail at home.
NESCAC – Colby (3-6-2, 0-4-2) @ No. 14 Amherst (7-2-2, 3-2-0) – Amherst 6, Colby 2
The Lord Jeffs are too talented and too motivated to make a run through the NESCAC for Colby to handle.
Saturday
Nonconference – Hobart (8-4-0) @ Geneseo (6-4-2) – Geneseo 4, Hobart 3
This could amount to a tough weekend for the Statesmen, who visit No. 5 Oswego the night before. It's hard to believe, but Genny is just 2-3-0 at the Ira this year. This would be a fine time for the Ice Knights to finally make home ice work to their advantage.
Nonconference – Tufts (4-6-1) @ Suffolk (8-3-1) – Suffolk 2, Tufts 0
The Jumbos have shown they can knock off a top team (just ask No. 10 Bowdoin). And Suffolk, which has dropped three of its last four, needs to find its way again. At least Tufts won't have to endure any perilous bus rides.
WEST – BRIAN LESTER
Another weekend of hockey has arrived, and once again, there are a lot crossover games in the West Region.
One of the marquee matchups features unbeaten and fourth-ranked Wisconsin-River Falls taking its act on the road to play MIAC power St. Thomas.
The Tommies (5-3-3) are unbeaten at home (3-0-2) but are playing their first game since mid-December. Alex Altenbernd leads St. Thomas in goals with six and Jordan Lovick is the leader in assists, tallying eight. Drew Fielding has started nine games in goal this year and owns a 4-3-3 record. His play will be key to success against the Falcons.
River Falls (13-0) won't be easy to stop. They have scored 52 goals, with six players scoring five or more goals. Christian George is healthy again and leads the way with seven. Tanner Milliron has been solid between the pipes as the Falcons have allowed only 22 goals all season. Even though River Falls is on the road, it gets the edge. River Falls 4-2.
No. 6 Wisconsin-Stevens Point (10-2) at Augsburg (6-5): The Auggies have been off for more than a month and will look to start off 2015 right as they host the Pointers. Mark Ohsntead has fueled the Auggies' offensive attack, tallying eight goals and six assists. The Auggies have scored 38 goals in all, including eight off the power play, and they will need a strong offensive performance to have a shot at upsetting the Pointers.
The Pointers have won five consecutive games, including a victory over then No. 1 St. Norbert, and they will be looking to build on their momentum. Their offense has produced 56 goals, with Joe Kalisz leading the way. He has tallied nine goals and five assists. Brandon Jaeger is 10-2 as a starter this year. This one should go the Pointers' way. Stevens Point, 5-2.
No. 2 St. Norbert (10-1-1) at Concordia (Minn.) (6-4-3): The Cobbers are playing their first game of the new year this weekend as well and they will have the advantage of being at home against the defending national champions. Andrew Deters has been phenomenal, scoring seven goals and dishing out seven assists. Jon Grebosky has tallied six goals. Their play will go a long way in determining the Cobbers' success against a St. Norbert team that suffered a rare home loss last weekend.
The Green Knights come in looking for a bounce-back win. Michael Hill leads St. Norbert with 12 goals and Erik Cooper has tallied nine goals. The Green Knights have scored 68 goals in all while David Jacobson has made 10 starts in goal and owns an 8-0-1 record. I think St. Norbert gets the edge. St. Norbert, 4-1.
Lake Forest (7-3-3) at Hamline (4-4-3): This will be a good test for the Pipers, who have certainly made strides since last season. The Pipers have been led by Kevin Novakovich, who has scored six goals. Brandon Zurn has struck for six goals as well. John Sellie Hanson has started eight games in goal and owns a 3-2-1 record. A win in this game would serve as a huge boost of confidence for the Pipers going forward.
The Foresters received seven votes in this week's poll and another win would put them closer to cracking the top 15. Lake Forest has been led by Luke Swardenski, who has come through with eight goals and three assists. Jack Lewis leads the team in assists with 11 and goalie Leo Podolsky has started 12 times, fashioning a 7-2-3 record. If Lake Forest plays up to its potential, it will prevail. Lake Forest, 3-2.