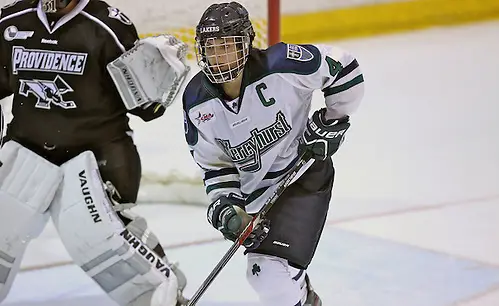 Arlan: Last week, a reader commented that you and I focus too heavily on the top teams and players. To a certain extent, I am guilty of that, because I try to comment on what I've seen, and I live near one top program and am more likely to view higher-ranked teams online or in person.
Recently, I watched ESPN's NBA highlights of Lebron James' return to the line-up against Phoenix. It consisted of Cleveland raining in three-point baskets and James dunking left and right with one Phoenix basket and one Cleveland miss mixed in, all of which did a poor job of documenting that Phoenix had won. I realize this is Lebron, so the ordinary rules of journalism, including those of AP Style, do not apply.
If I'm going that far, then I apologize, but in general in this column, teams and players that enjoy more success will be discussed to a greater extent. When discussing an award like the Patty Kazmaier, it may seem that players on lesser teams are overlooked. Every team has good players. Even weak teams may have some very good players. The truly elite players are in short supply. The reader commented that if these players played on a struggling team, we wouldn't be as impressed by them. What I've observed is that when an elite player joins a struggling team, such as Rebecca Johnston going to Cornell or the Lamoureux sisters transferring to North Dakota a few years back, then suddenly that team doesn't struggle as much. It is a little different when it comes to goaltending, because a goalie can only impact the defensive half of the game, so if her team has offensive woes, she is powerless to solve that problem.
As for this week, several underdogs made a statement on the ice versus ranked opponents. Dartmouth upset Harvard, Bemidji State got a split at Wisconsin, and North Dakota got a road sweep at Ohio State. A couple of other ranked teams had close calls. Robert Morris took Quinnipiac to overtime, and Syracuse tied Mercyhurst one day and had a two-goal lead the next. New Hampshire won back-to-back games for the first time all year. Which of those results was the most surprising to you?
Candace: Before I answer that, I want to chime in on what you said about the focus on good players. I agree with you. I was very surprised by those comments, because it's pretty much something that happens across the board in sports. When you see a superstar, you are more likely to give them coverage. The reader's comment about elite players being on struggling teams seemed off to me. You can't tell me that someone like Alex Carpenter, Hannah Brandt, or Haley Skarupa wouldn't be a standout player no matter where they played.
We've also covered players on teams that might not make it to the Kazmaier list, such as Phoebe Staenz of Yale, Carmen MacDonald of St. Lawrence, Nicole Hensley of Lindenwood, Laura Bowman and Amy Petersen of Penn State, and Kimberly Newell of Princeton.
Having said that, there's a limited amount of space, and of course the elite may get more mention from us. They are the players that are setting a standard that others can try to achieve.
Getting back to your question, I'm torn between Bemidji beating Wisconsin and Dartmouth beating Harvard. Wisconsin had a 57-4 record against the Beavers going into the weekend, and had won eight in a row, including two earlier this year. We knew the Beavers were capable of a lot, and had demonstrated that by beating Minnesota in November, but Bemidji had looked a little off in recent weeks, going back to getting swept by Ohio State, so beating Wisconsin seems to come out of left field.
For the other game, Dartmouth has been solid this year, except for the inexplicable 5-1 loss to Yale to start January, but Harvard had seemed to be getting on a roll, and looked to be the team to beat in the ECAC. It even looked to me that the Crimson would learn from the 10-2 loss to Boston College and might become a team that could go on a streak in the NCAA tournament, so losing to Dartmouth really throws a wrench in things. It also means Harvard no longer controls its chances of winning the ECAC regular season crown.
Which result puzzled you the most?
Arlan: I'm going to hedge a bit and say that for a single result it was Dartmouth storming back to defeat Harvard, but the series in Madison in its entirety may have been more of a surprise. First looking at the two Ivy League teams, the Crimson seemed to have recovered from their unimpressive start and had won 10 straight. Like you, I thought they were building toward something. Twice surrendering third-period leads isn't what one expects from a championship-caliber club. Dartmouth's offense does rank seventh in scoring average, so yes, the Big Green deserve credit, and I have liked them when I've gotten to watch them play. I was expecting to see the Crimson insert themselves into the picture with our current top four, but at present, they appear to be on a lower tier. If the defense can't hold a lead, then I'd expect more than two goals for Harvard, which is less than what Dartmouth's defense usually allows and half of what the Crimson's offense averages. Because of games in hand and a head-to-head matchup remaining with Quinnipiac, Harvard still does control its destiny for the ECAC title, but just barely.
I can definitely see Wisconsin being a little flat in its first game against Bemidji State, coming off an emotional series five days earlier in Minneapolis. Brittni Mowat makes some big saves in her 40 stops, the BSU defense helps her out, and its offense scratches out a couple of goals. Fine, you have a 2-1 upset. But after you get beat on home ice, I'd expect more of a pushback. I know, the Badgers piled up 63 shots on goal, and Erin Deters saved 61 of the first 62. However, that was the fourth straight game coming out of the break where the Badgers scored exactly one goal in regulation. For a team that should have three quality lines up front, no matter how Mark Johnson chooses to configure them, the lack of finish was a bit mystifying.
At the same time, just like in the Harvard/Dartmouth tilt, you have to credit the team wearing green. Bemidji State is refusing to go away. If the Beavers can score a couple of goals in any given contest, then look out, because they are tough to put away. Both Mowat and Deters seem capable of stealing a game, and they'll receive a lot of assistance in doing so.
The games in Erie didn't play out the way that you and I expected either. Mercyhurst had to settle for a 1-1 tie on day one, and then scrambled out of a hole to resuscitate its at-large hopes on Saturday. Do we attribute those games to the Lakers just coming back off of a layoff, are they more vulnerable than we thought, or is Syracuse getting better?
Candace: I don't think you can attribute it to the layoff. Syracuse scored its first win in program history over the Lakers in November, so with that backstory, and the fact that the game was in Erie, Mercyhurst should have had all the motivation and the home ice advantage. Instead, the Lakers barely escaped.
I think the results speak to a combination of Syracuse getting better and Mercyhurst being more vulnerable than in years past, but more the latter. These Lakers are not the Lakers of Meghan Agosta and Vicki Bendus. Mercyhurst only has four losses and three ties on the year in 24 games, but one of the losses was to a Northeastern team that has been middling at best, one was to Syracuse, and two were to Penn State. Time was no one in the CHA beat Mercyhurst. The CHA is getting better and deeper from top to bottom. RIT is having a bad year, but part of that is that Ali Binnington has been hurt. In the last few years, Robert Morris and RIT have won the CHA tournament, which used to be a sleepwalk for Mercyhurst.
The Lakers used to be terrifying at forward. There was a year when they had Agosta, Bendus, Christine Bestland, Jesse Scanzano, and Bailey Bram up front. Four of those players have over 200 points in their Lakers careers, with Agosta over 300 and Bendus at 190. For their careers, Agosta averaged 2.26 points per game, and the rest were around 1.50 points per game.
This year's team is led by Emily Janiga and Jenna Dingeldein up front, both fine players, but Janiga is the only Mercyhurst player averaging close to a points per game average in the vicinity of the aforementioned stars.
Syracuse meanwhile, also beat North Dakota a few weeks ago, and has some promising players in Stephanie Grossi and Alysha Burriss, both freshmen who are leading the team in scoring. Neither averages over a point per game, but it sometimes takes time to adjust to the collegiate game, and these two point a way forward for the Orange, who also have sophomore Jessica Sibley, a solid player. Goalie Jenn Gilligan is a junior and has put up some solid efforts in net. I don't know if Syracuse can win the CHA tournament and the league's first auto bid, but stranger things have happened.
I mentioned Penn State, and the Nittany Lions just swept RIT this weekend. They are just two points back of the Lakers for first in the CHA, an astonishing stat for such a young program. Penn State is the only CHA team besides the Lakers to have a winning record, both in conference and overall. Sophomores Laura Bowman and Amy Petersen pace the offense, and Shannon Yoxheimer is also doing well. A pair of freshmen, Bella Sutton and Caitlin Reilly, are also emerging. Both goalies, junior Celine Whitlinger and Hannah Ehresmann, are putting up good numbers. Penn State plays Mercyhurst in Erie in the second-to-last weekend of the season in a series that might well decide the CHA regular season champion, and since the Nittany Lions are already up two games on the Lakers, they are definitely in striking distance.
Might Penn State become Cinderella?
Arlan: At first glance in the CHA, it is hard to tell which sister is which. As you detailed, the league lacks the traditional Mercyhurst squad that is loaded top to bottom and appears as a wicked obstacle to the other teams. With the gap from the top to the very bottom being smaller than usual, it seems more likely that any of the six teams could possibly emerge.
The math definitely works against a team that finishes fifth or sixth. It is required to win a best-of-three quarterfinal series on the road if it wishes to advance. Penn State and Lindenwood have been in that predicament the prior two seasons, and neither has won a game. Given that, the players on those rosters haven't even experienced playing in the CHA semifinal, where multiple teams play at one site and the event has more of a tournament feel. Typically, success is achieved in increments, although we have seen Wisconsin and Clarkson squads win NCAA titles in their first Frozen Four appearances. Obviously, players are no strangers to tournament hockey at other levels, and the duo of Bowman and Peterson had almost magical postseason success during their high school careers. Even a team finishing third or fourth faces much steeper odds, because it has to survive that quarterfinal series while the top two seeds are resting through a bye week. Before Hockey East changed its playoff format, the top two seeds that received first-round byes had little success, but that was against opponents advancing from a single-game quarterfinal the weekend before, not three-game series. RIT won the championship as the third seed last year, but in most leagues, the results tend to following the seeding.
Playing at home also seems to be important for the Nittany Lions. They are 5-1 on home ice in CHA action, but only 2-3-1 away from Pegula Ice Arena. To win the CHA tournament and the NCAA bid that goes with it, Penn State is going to come up with some big road wins at some point, either to grab the regular season crown so it can host the semifinals and final, or as a road team in the playoffs.
Another item of interest once the postseason begins is how will Robert Morris and RIT fare. They are languishing at the bottom of the standings now, but even if they are unable to improve their positions before the season ends, those rosters contain players who have experienced winning the league tourney. Perhaps one of them may turn it on.
Robert Morris has recently shown signs of getting up off the deck and salvaging something from a season that has been disappointing in large part. The senior class that includes players like Katie Fergus, Rebecca Vint, and Maddie Collias started off their RMU careers as champions, so they may rally the Colonials to one final postseason run. Taking Quinnipiac to overtime on Friday was a very good step in that direction. Now they get a couple more home series in league play hosting Lindenwood and Mercyhurst to try to build some positive momentum.
Northeastern is another team whose season has been more bust than boom thus far. After playing nine games on home ice out of its previous 10, the Huskies only have two home games remaining. Kendall Coyne nearly put the team on her back and carried it to an upset of Boston University, coming up a goal short despite her hat trick. Did you see any of her exploits versus the Terriers? There are precious few players who could score a goal like the one she did to cut BU's lead to 4-3. Chloé Desjardins was more solid in that game than in her previous 2015 appearances. Do you think that duo can get Northeastern back into the hunt?
Candace: It's certainly possible. I've been expecting more from Northeastern, and it's sort of funny that the first signs of life from the Huskies come in a loss. Northeastern hasn't won a game since Nov. 23 against Vermont. Since then, they've lost six and tied once. One of those losses was to Union, and the tie was against Connecticut, two teams I would have expected Northeastern to beat.
If Northeastern is going to get hot, now is the time, because this weekend sees the Huskies traveling to Orono to face Maine for a pair. Maine has four points on Northeastern, and Northeastern has a game in hand. Finishing third would make it more likely that the Huskies could do well in the Hockey East tournament. Northeastern has gotten crushed by Boston College three times this year, so avoiding a semifinal game with the Eagles is in the Huskies' best interests.
I would think Northeastern would want home ice for the playoffs too, and if they don't at least get one win in Orono, they could be sitting in fifth by weekend's end. Providence trails Northeastern by two points, and has a game in hand. Providence got shutout by Maine Sunday, but hosts Connecticut for a pair this weekend, both winnable games. Northeastern also has a road game at Vermont to close out January before facing BC again in the Beanpot in a nonleague game.
If Northeastern is going to move up, it needs Kendall Coyne to be that dominant player and take games over. She's actually doing a fair job of it, with 30 points on the year, averaging 1.57 points per game. Freshman Denisa Krízová is second on the team in scoring, and she's doing well, averaging .842 points a game. Northeastern is very young, with very few upperclassmen. Junior Paige Savage hasn't played for Northeastern since October, though she appeared in the Four Nations Cup; she decided to leave the team for personal reasons and is redshirting. I'm sure Coyne wishes Savage was still on the ice.
Cornell swept the Brown/Yale travel pair this weekend, though the Big Red didn't look particularly overwhelming in doing so. They did however, look good in a convincing win over Boston University last week. The Big Red are two points behind St. Lawrence in the race for the final home ice spot, but have two games in hand. They also have two games in hand on second-place Clarkson, whom they trail by four points.
If Cornell is going to make a move, now is the time, because the Big Red face Harvard in Boston this Saturday, and also face Dartmouth on Friday. Do you think Cornell is poised to move up in the ECAC?
Arlan: I think that the prognosis for Cornell is more encouraging than it was earlier in the season. It's undefeated in its last 10 games while allowing 16 goals, after it yielded 33 goals over its first nine games. While some of that can be explained by the caliber of opposition that the Big Red played early, they've also met some decent offenses of late, such as Clarkson, St. Lawrence, and Boston University. While playing defense is the responsibility of all six players on the ice, Cornell came into the season with some question marks on the back end, having to replace some key graduates in defensemen Hayleigh Cudmore and Alyssa Gagliardi and goaltender Lauren Slebodnick.
For several weeks, Taylor Woods was playing on the blue line in an attempt to bring more depth to that position. I notice that she is back at forward once 2015 arrived, so I take that as a sign that coach Doug Derraugh is more comfortable with how the unit as a whole is progressing, and in particular freshmen Erin O'Connor and Sarah Knee. Along with that, goaltender Paula Voorheis is coming up with some more impressive outings. Clarkson had 41 shots, but only one goal. She limited BU to two goals on 31 shots. This past weekend, she shut out Yale while facing another 41 shots. It's likely that she's getting more help from the defense, but Voorheis is also helping her own cause. Jillian Saulnier did not play in the most recent game versus Brown. If her absence continues, that would up the degree of difficulty in making an upward push at the expense of teams like Harvard and Clarkson, but if Cornell has all hands available, it doesn't have much margin for error, but the pieces are there to still have a say in the ECAC title race, particularly if Harvard isn't firing on all cylinders. There aren't many teams that can put out a top line with more than 480 career points like Derraugh can with Saulnier, Brianne Jenner, and Emily Fulton.
I'm probably not the person to ask about anything to do with the ECAC's future. I had Quinnipiac finishing third in my preseason preview; the Bobcats are currently first. I pegged St. Lawrence seventh; the Saints are fourth in points and fifth in winning percentage. Perhaps worst of all, my preview had Dartmouth missing the playoffs entirely, and the Big Green are solidly in seventh and could easily climb a spot. So yeah, I've exhibited a pattern of cluelessness. But it is shaping up like the team that finishes sixth in the ECAC will be very capable of knocking out the third seed in the playoffs. That may also be true of the seventh seed challenging the second team. We saw that last year with Yale pushing Harvard, but Olympic years often have more parity. It's a good sign for the game if that competition continues in a year where Olympians are returning.
Over the weekend, Chelsea Laden picked up her 12th shutout of the season versus Robert Morris. The NCAA season record is 17. Do you think Laden can challenge that mark?
Candace: I suppose it's possible, but Laden has her work cut out for her if she wants to. Tonight, she faces Boston University and its top snipers of Marie-Philip Poulin and Sarah Lefort, and Saturday, she goes up against Boston College with its top-ranked offense that is paced by Carpenter and Skarupa. Quinnipiac has eight more games after that, with Harvard, Dartmouth, Cornell, St. Lawrence, and Clarkson numbered among those games. There's also a game with Yale, whose offense has come alive of late. Shutting out Colgate and Brown is not just possible, but probable, but of those other eight games, each team has a talent for scoring, and I think Laden would be hard-pressed to match that mark and get three more shutouts in those eight games.
Quinnipiac has managed to keep its momentum so far, though the game Friday against Robert Morris was an eye-opener. Given how vulnerable the Colonials have been, I'm not sure what to make of the fact that they led the Bobcats by one in the third. Perhaps Robert Morris is going to get hot again.
You mentioned being a poor prognosticator for the ECAC, but the WCHA is also certainly a little weird right now in the 3-6 positions. Ohio State is fourth, holding the last home ice spot, and Bemidji is fifth, one point behind the Buckeyes. North Dakota is in sixth, and trails OSU by three points and Bemidji by two, but has two games in hand on each.
From the perspective of Bemidji, the Beavers are probably hoping that either North Dakota moves up to fourth, or the Beavers fall to sixth. It's fascinating in a way. Bemidji is the only team in the WCHA to beat both Minnesota and Wisconsin, yet the Beavers are 0-4 against Ohio State. If the season ended today, the Beavers would be traveling to Columbus to face the Buckeyes in the first round. We know hockey can be about matchups, and perhaps that stat tells it best. I would think that no matter what happens the rest of the year, Bemidji wants to avoid facing OSU in the first round of the WCHA playoffs.
You've seen all the WCHA teams play live; how can you explain OSU versus Bemidji, and do you think North Dakota is likely to move up? I'd say the one thing in UND's favor is closing the season with two against St. Cloud and two against Minnesota State.
Arlan: I haven't seen Ohio State play yet; I will at the end of this month. In the North Dakota press conference last week prior to its series in Columbus, coach Brian Idalski offered up this scouting report on Ohio State:
"They defend well. They're pretty gritty; they're tough. They win a lot of pucks around the net defensively and offensively, and they don't beat themselves. I don't think they're going to be coming up the ice making five, six-pass tap-in goals, but they're going to beat you up. They're going to be physical. They're going to compete all over the ice."
Bemidji State played its first WCHA series under Jim Scanlan in Columbus, and maybe he was a little surprised at just how physical the league in general and the Buckeys in particular can be.
Look at the scores this year from the Ohio State wins versus Bemidji State: 5-1, 1-0, 2-0 (EN), 2-1. Meanwhile, North Dakota has a tie and three wins over the Buckeyes by scores of 2-2, 4-3, 1-0, 1-0. Completing that triangle, where each team has one opponent it has yet to defeat, Bemidji State swept the first series from North Dakota: 4-1 (EN), 2-1. Then you throw Minnesota-Duluth into the mix. The Bulldogs split both series versus BSU: 1-4 (EN), 2-0 (EN), 1-4, 2-1. UMD's scores versus North Dakota are: 1-2 OT, 1-0. Finally, UMD's scores against Ohio State are: 2-2, 4-1 (EN). So overall, the Bulldogs are 4-3-1 versus those three opponents. There isn't much separation. The average margin of victory is 1.61 goals, and if you remove the five empty-net goals, it drops to 1.33. There have only been 61 goals scored in those 18 games; losing teams in a game or shootout only scored 16. So teams overall are averaging 1.69 goals scored per game, and the losing team is only scoring 0.89 goals per game. There isn't a lot of offense, or at least, there isn't a lot of successful offense.
How comfortable will any of those teams be heading into a first-round series against any of those opponents? It's a race to three, or more likely a race to two, and it might just be a single goal scored all night. You hope your team gets it.
North Dakota played Shelby Amsley-Benzie in both games against the Buckeyes, rather than turning to Lexie Shaw in the second game as has been the case more often than not, and she came through with two shutouts. Meanwhile, its top scorer, Becca Kohler, hasn't played in 2015. Idalski said during the Syracuse series that she'll be out for a while for personal reasons. If she comes back later rather than sooner, where does that leave UND in these games where goals are impossible to find? None of these teams have a Poulin, or a Coyne, or a Jenner. Kohler has the highest scoring average out of all of them. I think it is more important to be peaking when the playoffs start than it is to have home ice. So far, home ice hasn't meant all that much, and the road team might just have more to prove.
New Hampshire certainly had something to prove last weekend, and the Wildcats got their third and fourth Hockey East wins at Connecticut. Could this be the start of something for them?
Candace: That depends on how you define "something." New Hampshire is currently sitting in sixth place in Hockey East, one point behind Providence and one point ahead of Connecticut. New Hampshire has played 13 league games; Providence and Connecticut each have a game in hand. New Hampshire also trails fourth-place Northeastern by three points, having played the same number of games.
New Hampshire has eight league games left. The good news for the Wildcats is that they are done with Boston College. They do have one left with Boston University and the two-game set with Maine at the end of January, and close the season with a home-and-home with Northeastern.
UNH loses the head-to-head comparison with Providence. The Wildcats have only played Northeastern once, a 2-0 loss back in October.
The Wildcats struggle to score goals. Jonna Curtis leads the team in scoring, and she has 15 points in 23 games, good for .652 points per game. Nobody else on the team is even above .400 points per game, and most are under .300.
The good news is the Vilma Vaatovaara is in net, and while her goals-against doesn't look good, standing at 3.06, her save percentage is solid, at .901. With her in net, the Wildcats at least have a shot, but I think ultimately they are about as high in the standings as they are going to get. They actually have a pretty good chance of finishing sixth, because even though Connecticut has a game in hand, New Hampshire owns the head-to-head after this weekend, and Connecticut still has a BC game on the docket, as well as the home-and-home with Providence this weekend.