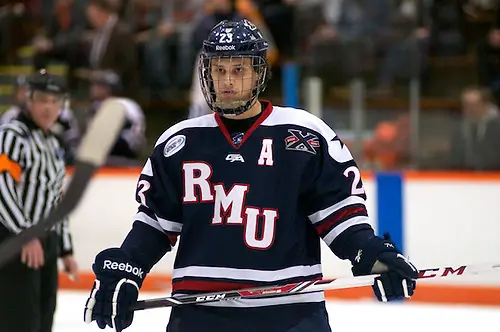 With all the success Robert Morris has had so far this season, it's hard to call the stretch between Dec. 14 and Jan. 10 a "slump."
But the Colonials struggled to score goals and went 2-4-1 over that span, with those losses coming against quality opponents including Bowling Green, Bentley and Mercyhurst.
That stretch knocked Derek Schooley's team out of the USCHO.com Division I Men's Poll, where the Colonials had been ranked as high as 17th.
"We only scored 12 goals in six games," said Schooley. "But with the proven scorers we have, we knew it would come around sooner than later."
Things indeed came around last weekend, when Robert Morris put up 14 goals in a 5-3, 9-4 home sweep of American International.
Leading scorer Cody Wydo, who was uncharacteristically held off the scoreboard over the previous month, had a career game last Saturday, getting a hat trick and adding two assists. The five-point game put the senior into first all-time in points at Robert Morris, his 139th moving him past Nathan Longpre (2007-11).
Wydo's linemates also snapped out of a scoring drought as junior Zac Lynch scored twice and senior Scott Jacklin added a goal and four assists.
"We sat down with that line [before the weekend] and talked about what they could do better to get on track," said Schooley. "The chances have always been there. If the chances weren't there then we would have been concerned but it was a matter of getting them clicking on all cylinders again."
Wydo is again expected to be in the hunt for a Hobey Baker Award finalist spot, something he was denied last season despite a 54-point season that included 31 goals. This season, his points-per-game average is even higher.
"Coming off a 54-point season and having the kind of year he is again puts last year into perspective," said Schooley. "Last season he had more goals than assists and this season he has more assists (18) than goals (14). He's doing it differently but is as effective."
Schooley is sticking with the goaltending tandem of junior Terry Shafer and sophomore Dalton Izyk, who have split time in net evenly so far.
"People have said that we need to pick a guy and stick with him down the stretch," said Schooley. "But they've never given me a reason to do that. They've proven themselves and have worked hard to make this possible. Not all goalies can handle a situation like this."
Up next for Robert Morris are road series at Holy Cross and Air Force as the Colonials look to maintain or extend their four-point lead in the standings.
"Holy Cross and Air Force are difficult places to play and it's going to be a challenge," said Schooley. "We're hoping we're headed in the right direction."
Hobey hopefuls
The Hobey Baker Award fan balloting is underway and Atlantic Hockey fans can choose from one of 11 players representing the AHC:
• Daniel Bahntge, sr., Mercyhurst
• Ralph Cuddemi, jr., Canisius
• Max French, so., Bentley
• Matt Garbowsky, sr., Rochester Institute of Technology
• Matt Ginn, sr., Holy Cross
• Andrew Gladiuk, jr., Bentley
• Alexander MacMillan, sr., AIC
• Ryan Misiak, sr., Mercyhurst
• Austin Orszulak, so., AIC
• Cody Wydo, sr., Robert Morris
• Matt Zay, sr., Mercyhurst
The fan vote will play a small role in the next step, a ballot submitted by each of the 59 Division I coaches listing their picks for the top three players in their conference as well as the top three players nationally.
The coaches' vote will narrow down the list of hopefuls to 10 finalists, who are then turned over to a committee of coaches, media, officials and scouts. The finalists will be announced on March 19.
Another round of fan voting again will play a small role in a committee's selection of the recipient as well as two runners-up, which will comprise the "Hobey Hat Trick." The winner will be announced on April 10 during the Frozen Four in Boston.
The 27-member committee includes a coach, an official and two members of the media representing Atlantic Hockey. Each league has equal representation.
Streaking
If you're keeping tabs on the USCHO.com Division I Men's Poll, you've noted the volatility in the top 20, where winning streaks consisting of even a weekend sweep are rare.
That's been the case in Atlantic Hockey as well. But a few teams have managed to string together some wins (and ties) that have moved them up in the standings, breaking up the logjam we've seen most of the season in positions three through 11.
Canisius' sweep of Holy Cross last weekend extended the Golden Griffins' unbeaten streak to five games, tied for second nationally. The Golden Griffins sit in second place. Air Force has won four in a row after a sweep of Army, and Rochester Institute of Technology got its first four-point weekend of the season at Sacred Heart.
Air Force and RIT's four-game unbeaten streaks are tied for fifth nationally. No. 1 Minnesota State is the hottest team in the land, unbeaten in eight games.
On the flip side, Holy Cross is winless in its last four (0-2-2), Sacred Heart and AIC are each winless in their last five and Niagara is still looking for its first win in 2015, trying to break an 0-8-2 drought.
Making them count
Strange stat of the season so far: Mercyhurst (12-7-3), despite having the eighth-ranked offense in the nation and second-best in the league (3.41 goals per game) has been outshot in 19 of its 22 games. And in two of the games in which the Lakers posted more shots than their opponent, they lost:
• Nov. 8 vs. Army (7-5 win)
• Dec. 13 vs. Robert Morris (7-4 loss)
• Jan. 13 vs. Canisius (5-2 loss)
The Lakers are getting outshot by an average of 35-26 but getting it done on the scoreboard enough to be in third place. They're at Sacred Heart this weekend.
Wordplay
Mercyhurst director of athletic communications David Leisering couldn't resist, and who can blame him? When you're reporting on sophomore goaltender Spencer Bacon, you can have a little fun with headlines like "Bacon Sizzles in Relief."
My favorite so far was Leisering's headline after last Friday's 2-1 win over Holy Cross that saw goals from Kyle Just and Kyle Cook and a 31-save performance by Bacon: "Just Cook Bacon."
Keep them coming, David.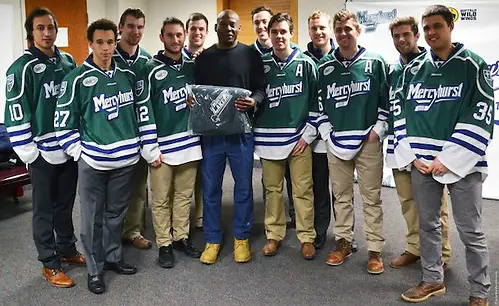 Some warmth in "Snowtown"
Another story out of Mercyhurst deserves some attention. The Lakers made a $2,000 donation to The Warming Center at the Mental Health Association of Northwest Pennsylvania on Monday, the proceeds of their "Snowtown Throwdown," a weekend series with Ohio State played on Jan. 2-3 at the Erie Insurance Arena. They were the first games played by the Lakers in the downtown arena since 1991.
"It was the first time we had ever done something like this, but we all got behind it and were very excited," said Mercyhurst coach Rick Gotkin. "With the Mercyhurst mission, to be able to get behind the Mental Health Association and to donate blankets and, more importantly a check for $2,000, is an honor and a privilege for us."
The school wants to make Snowtown Throwdown an annual event, and is looking to host Colgate next year.
Weekly awards
From the league office in Winthrop, Mass.:
Players of the week — Scott Jacklin, Robert Morris and Cody Wydo, Robert Morris: A pair of teammates share the award after a big weekend for the first-place Colonials. Wydo posted his fifth career hat trick and moved into first all-time at RMU with 139 career points. He added two assists as well in a 5-3, 9-4 sweep of AIC. Jacklin had a pair of goals and five assists.
Goalie of the week — Keegan Asmundson, Canisius: The senior stopped 50 of 52 shots in a win and a tie against Bentley, including an 18-save shutout on Saturday.
Rookie of the week — Connor Girard, Air Force: Girard made good in his first collegiate start in net for the Falcons, making 25 saves in a 3-1 win against Army on Saturday.
Defensive player of the week — Johnny Hrabovsky, Air Force: The sophomore blueliner blocked nine shots in a sweep of Army.