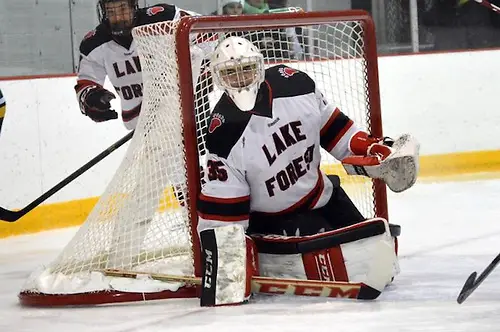 Leo Podolsky has made his share of improvements to his game over the course of his career at Lake Forest.
Yet, the junior goalie's biggest improvement has nothing to do with actual work on the ice.
"From a skill standpoint, I have made a few tweaks here and there, but where I have really improved is the mental arsenal I have put together to keep me focused and ready to go each night," Podolsky said. "I wish I had known it earlier in my career. The mental aspect is a big part of playing the position."
Podolsky is in his third season with the Foresters, who are 9-3-5 overall and 7-2-1 in the NCHA.
A year ago, he started all but nine games and ranked 13th in the nation in winning percentage. He set a team record for victories in a season as he finished 13-4-1 with a goals against average of 2.72.
In 15 games this season, Podolsky has fashioned a 9-2-3 record. His GAA is at 1.72.
"I've been happy with most of my games this year," Podolsky said. "We are a pretty defensive team, and I'm happy about that because that allows me to contribute a lot."
Podolsky played junior hockey before going to Lake Forest and it took time for him to adapt to the faster level of play.
But more importantly, his growth as a goalie has been aided by his mental approach to the game.
"There is a lot more emphasis on each game because there aren't as many during the season," Podolsky said. "I had to get past the pressure of each outcome and just go out there and play and do my best."
While Podolsky has helped anchor a solid Lake Forest defense, the Foresters' offense isn't bad either.
Lake Forest has cranked out 56 goals, including nine by Luke Swardenski. Jack Lewis, Jason McAloon, Billy Kent and and Bobby Barrett have scored five goals apiece. Lewis and Certo are tied for the team lead in assists with 12 apiece.
Lake Forest entered the week in good shape in the NCHA standings, sitting in third place. A year ago, the Foresters finished fourth and saw their conference tourney run end in a 6-0 loss to St. Norbert, which went on to win the national championship.
Podolsky said the team learned a lot from that experience and has used it as motivation for this year.
The Foresters are in the midst of an 11-game unbeaten streak, which includes seven wins. They want to keep that momentum going forward through the remainder of the regular season and be at their best come tournament time.
Lake Forest won nine consecutive games late last year and finished with only four losses in their final 15.
"You can't ever predict that kind of success, but we want to have that same kind of success down the stretch," Podolsky said. "We have to stay hungry. We still have a lot of hockey left and we have to make sure we avoid becoming complacent."
Tough season
Bethel has struggled through a tough year, having not won a game since the MIAC Showcase at the beginning of the season.
The Royals beat Gustavus 4-2 in their opener and topped St. Olaf 2-1 the next day. But they have lost 12 of 14 since and are 2-12-2 overall. The Royals own an 0-7-1 mark in conference play.
Eleven times this year the Royals have allowed four or more goals, including in back-to-back 5-2 losses to St. Mary's this past weekend. They have given up 69 goals on the season.
But there have been bright spots for the Royals despite their struggles this season.
Mitch Hughes is the team's top scorer with six goals and 11 assists, while Brock Raffaele has come through with five goals and 10 assists.
Travis Payne and J.T. Walter have also scored five goals apiece for the Royals, who have tallied 39 goals in all.
The road doesn't get any easier for Bethel going forward, although four of their final nine games are at home. They face St. Olaf in a two-game series this weekend before a road game against Stevens Point and two-game sets with St. Thomas and St. John's.
Although this season has been a tough one, the good thing for Bethel is that the future is bright as there are only two seniors on the roster.
Staying in the hunt
Lawrence came out of the weekend with a split in its series against the Milwaukee School of Engineering. After a 5-2 loss to the Raiders on Friday, the Vikings bounced back with a 3-2 win the following night.
The Vikings improved to 6-10-1 overall and to 5-5 in the NCHA as they snapped a six-game losing streak. Lawrence is currently in a tie with MSOE for fifth place in the standings.
Five players have scored at least five goals for the Vikings, including Jake Kreutzer, who has also tallied eight assists to lead the team in points.
Ryan Rumble, Brendan Vetter and Matt Moore have all scored five goals on the season as well. The Vikings have scored 42 goals in all but have allowed 72. In five of their six losses during the streak, they gave up four or more goals. Three of the opponents during that stretch were St. Norbert, Wisconsin-Eau Claire and St. John's.
Goalie Mattias Soderqvist has played in 15 games and won his sixth game of the season on Saturday. He is 6-8-1 on the year.
Playing well on the road will be key for the Vikings going forward. They are 2-7-1 away from home this year but will have to change that trend as five of their final eight games are on the road.
Building momentum
Stout swept Superior over the weekend to put itself a game behind conference co-leaders Wisconsin-River Falls and Wisconsin-Stevens Point.
The Blue Devils, at 5-8-1 overall and 2-2 in the WIAC, beat the Yellowjackets 2-0 and 3-2 as they stretched their win streak to three games.
Chase Hollander was the winning goalie in both games, raising his record to 2-2 on the season. He owns a goals-against average of 4.17.
Justin Moody leads the offensive attack with eight goals and five assists. Jake Useldinger has tallied five goals and seven assists.
The Blue Devils seem to have momentum on their side after a rugged start to the year where they lost their first five games. They have lost only three games since mid-November, but have a tough schedule ahead.
The good thing is their final four games of the year are at home, which could help fuel added momentum prior to the start of the conference tournament. The Blue Devils are 4-3 at home this season.
In the poll
St. Norbert is still the No. 1 team in the country and one of seven teams from the west region nationally ranked this week. River Falls is in the top five as well, checking in at No. 3 in the country. Stevens Point is sixth and Adrian is eighth in the nation. St. Thomas and Eau Claire are 13th and 14th, respectively, while Lake Forest moved into the poll this week at No. 15.