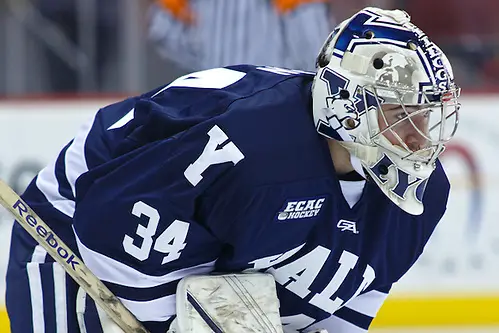 The top defensive team in the country is in ECAC Hockey. But it's not who you'd expect.
After allowing one goal in two wins against Brown last weekend, Yale's defense is tops in Division I. The Bulldogs allow 1.53 goals per game, a mark that's just ahead of league rival Cornell for the top spot.
It's a change of pace for a team that's typically been known for its high-flying offenses. That's not the case this season; the Bulldogs are tied for 35th in the country in scoring and have only one player with more than five goals. But Yale (11-4-2) has won five of its last six games and is 10th in the PairWise Rankings. The Bulldogs have allowed one or fewer goals in each of those five wins.
"There's been a pretty big transition from a high-scoring offense to a very close defensive team," said senior defender Tommy Fallen. "We pride ourselves on the back end on keeping everything to the outside and making it easy for our goalie."
Part of that transition is due to the forwards Yale has lost in recent years. Kenny Agostino, Jesse Root, Andrew Miller, Antoine Laganiere and Brian O'Neill all have graduated during the last three offseasons, meaning the Bulldogs have to adjust and work with what they have — namely a strong defensive group and goalie in sophomore Alex Lyon.
Don't misinterpret the Bulldogs' defensive prowess as a passive style of play. Yale protects its zone by chasing down the puck and using its speed to take away opponents' chances.
"When the other team has the puck we have to play like hell to get it back," Bulldogs coach Keith Allain said. "That's what defense is all about."
Speed and skill has always been a part of Yale's game, and that carries over to its defense, where the Bulldogs have a strong group of skaters.
"Everyone on the team is capable of skating out of the zone," said Fallen, the lone senior on the blue line. Fallen and four other defenseman — juniors Rob O'Gara, Mitch Witek and Ryan Obuchowski along with freshman Adam Larkin — have played in all 17 of Yale's games this season.
That group isn't afraid to jump into the play on offense as well. O'Gara scored two goals last weekend, including the lone goal in Yale's 1-0 win at Brown on Friday, while freshman Nate Repensky scored his first collegiate goal Saturday.
"We like our speed, we like our footwork," Fallen said. "We can get up in the play and we can absolutely beat guys on the rush and minimize their chances."
And if the Bulldogs do leave their own zone vulnerable, Lyon is there. He took a hold of the starting job early last year and has been a steadying influence for Yale since then.
"He's been unbelievable since the first day he walked on campus," Fallen said. "He came in with the mentality that he was going to take the starting job. Every now and then he'll bail us out. He's grown so much mentally and physically."
While Lyon and the defense have done their part, Allain said Yale has been getting strong defensive play through the whole lineup.
"It's our team; it's not just our defense," he said. "It's the way we play team defense. We do a good job putting the puck carrier under a lot of pressure and take away some of his options."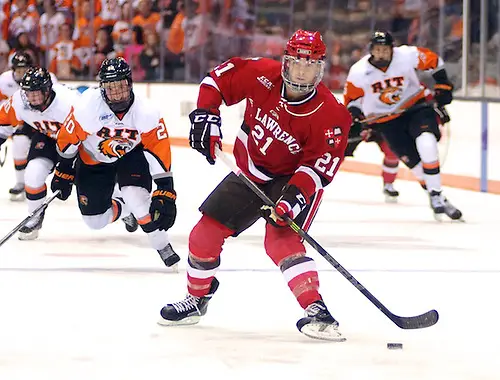 Saints post big road sweep
Entering the weekend, Harvard was 11-0-2 against teams other than Yale. But that changed Saturday night in Cambridge, as St. Lawrence rolled to a 5-1 win over the Crimson. The five goals were the most that Harvard has allowed all season, and goalie Steve Michalek was pulled for the first time this year, giving way to freshman Merrick Madsen in the first period.
Saints freshman Kyle Hayton finished with 46 saves. He's tied for the national lead with four shutouts, leads the country in saves and ranks fifth with a .937 save percentage. St. Lawrence swept the Crimson and Dartmouth on the road last weekend and has won three of its last four games following a six-game winless stretch.
Cornell, Rensselaer pile up the goals
It was an interesting weekend for several of the league's offensively challenged teams. Cornell entered Friday's game at Union with 25 goals in 15 games. The Big Red scored five goals against the Dutchmen, the most they've scored since Nov. 22, 2013.
And how did Cornell follow up that offensive outburst? By getting shut out 3-0 the next night at Rensselaer, another team that has struggled to score this season. However, the Engineers have scored 12 goals during their three-game winning streak. Before that, RPI had scored 13 times during a nine-game skid that dated to November.
"I think this weekend and the Union weekend [Oct. 31 and Nov. 1] were the best weekend in terms of solidness of play," RPI coach Seth Appert said following Saturday's game. "There weren't a lot of passengers."
Around the league
• Colgate senior captain and defenseman Spiro Goulakos is out four to six weeks with a lower-body injury, the school announced Monday. Goulakos suffered the injury in Saturday's win at Union. The timeframe puts him on pace to return for the end of the regular season or the start of the playoffs. Goulakos is the third significant player to miss a chunk of time this season for the Raiders. Forward Mike Borkowski is out for the year after getting hurt in November, while forward Tylor Spink missed most of the first half with an injury. It's a blow for Colgate, but the Raiders have the depth to remain competitive.
• RPI's Matt Neal and Jason Kasdorf were selected by the league as the player and goalie of the week, respectively. Neal had two goals and two assists in the Engineers' 2-0 weekend, while Kasdorf stopped 43 of 44 shots. The rookie of the week went to Hayton, who stopped 82 of 85 shots he saw in a weekend sweep for St. Lawrence.
• Colleague Brian Sullivan was on The Pipeline Show on TSN Edmonton 1260 over the weekend. Check out the segment here.