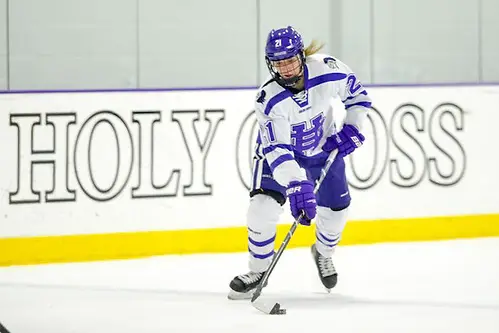 It's not easy to pronounce Mary Klimasewiski's last name, but what is easy is watching the Holy Cross senior on the ice.
Her compete level isn't just limited to the ice, either. She's just as much a go-getter in the classroom as a psychology major with a minor in environmental studies.
In fact, competition is what initially attracted the Cochester, Conn., native to Holy Cross four years ago.
"I was immediately attracted by the competitive spirit of Holy Cross, both in the classroom and on the ice," Klimasewiski said. "I have met the most positive, encouraging and inspirational people here, and I am very thankful for that. The relationships I have made with my teammates, coaches and professors have been the most important aspect of my time here, and I will continue to cherish them after I graduate."
This season, Klimasewiski has helped the Crusaders to a 6-1-0 mark in ECAC East play and an overall mark of 10-4-1. On a personal level, she is having the best season from a stats perspective in her four seasons in Worcester, Mass., with a team-best 10 goals in 15 games.
Last year was Klimasewiski's top goal-scoring season when she posted nine in 27 games. She still has several weeks left this year to add to her totals, too.
However showing her team-first attitude, Klimasewiski doesn't take much credit for her increased numbers.
"My burst of offense this season has come from the hard work of my teammates," Klimasewiski said. "Our coach (Peter VanBuskirk) often likes to reference us to wolves, reminding us that the game is won by the pack and not by a single wolf. I also give a lot of credit to my mom and my dad. They know exactly what to say to me before games and it is because of their support over the past four years that I have been able to be so successful this season."
Klimasewiski added that seeing Holy Cross be in contention this late in the season has been earned the old-fashioned way.
"As a team, we started this season with the intention of working our hardest, playing our best and having fun," she said. "Just like every season, we have had our ups and downs, but as the season continues to progress, we have learned and grown from our past mistakes. The ECAC championship is within reach; however, it will require us to reach our full potential, something I strongly believe we are capable of this year."
Mackenzie Boardman and Kara Violette have been Klimasewiski's linemates for the entire season, further adding to the "playing our best, having fun" motto the Crusaders have gone by all year.
"We are able to work so well together on the ice because of how much fun we have playing the game," Klimasewiski said. "When we are on the ice together, we are very competitive, but never forget to have fun."
She carries that happy-go-lucky attitude to her academics as well.
"Last summer, I had an internship working with a nonprofit environmental agency," explained Klimasewiski. "I was able to gain hands-on experience in this particular field and would love to continue working in this field after graduation."
That said, she isn't ready to rule out hockey once her NCAA career is done.
"Ice hockey will always be a part of my life," boasted Klimasewiski. "I will continue to play whenever possible, may it be in different leagues or on the pond. I also look forward to becoming more involved not just as a player, but as a mentor, referee, and possibly a coach."
NOTEWORTHY
St. Olaf, winners of just one game all year, came close to tripling its win total last weekend in a home-and-home with Hamline, going to overtime in both games. The Oles lost the first game and then tied the second. St. Olaf's first win was back on Jan. 9 against Wisconsin-Eau Claire. … Elmira's Cassidy Delainey and St. Scholastica's Nina Waidacher lead all of Division III with eight power-play goals. Stevenson freshman Chelsea Blackburn has seven. … Jade Walsh from Adrian leads the nation in wins with 12 and has yet to taste a regulation defeat with a 12-0-3 record for the NCHA-leading Bulldogs. … Top-ranked Plattsburgh leads the country with 84 goals scored. The Cardinals have also allowed just 19, including five shutouts and one in the preseason.