Today is Wednesday, Jan. 28. Exactly one month from tonight — on Saturday, the final day of February — ECAC Hockey will conclude its regular season schedule.
My my, how time does fly.
This leaves most teams with 10 remaining league games (Harvard, Rensselaer and the North Country duo have only nine) and everything still at stake. Today we hear from coaches of two of the league's top four teams about ongoing challenges and the five weeks remaining.
Harvard hobbled, but hardened
The Harvard Crimson have been toying with fans and pundits for a while now: They started the season 10-1-2 and at the top of many pollsters' ballots, but are just 2-3 in 2015 and fueling annual doubts about their competitiveness leading up to the Beanpot.
Coach Ted Donato acknowledges the importance of Boston's annual college hockey event but cites a reason for his team's struggles that is far older than the February fete: injuries.
"We haven't had [centers Alex] Kerfoot and [Sean] Malone in at the same time, and they're two difference-makers," he said. "We're hoping to get them both back, but we haven't played a game this year with them both in [the lineup]. The [Jan. 10] Yale game was the first time we didn't have either one of them; that was different. Without both of them, and [senior defenseman Pat] McNally being out for a few weeks, and having [sophomore forward Luke] Esposito go out this weekend, we've certainly had our challenges with health."
Harvard earned a road split last weekend, falling in the final minute at Cornell before rallying for a blowout victory at Colgate.
"Against Colgate [last Saturday], we basically had eight players out of the lineup," Donato said. "We played without Kerfoot, without Malone, without [junior forward Colin] Blackwell, without McNally, without [junior forward Brayden] Jaw, without [sophomore defenseman Kevin] Guiltinan, without [senior forward Ryan] McGregor, without Esposito.
"When you're out one or two guys, you can sit there and say, 'Hey, everybody's got injuries.' But when you're without that many guys, it's not an excuse, it's a hurdle just to go out and play the best hockey you can.
"This weekend, without all those difference-makers, we came out and had two really strong efforts. We lose with 40 seconds to go against Cornell in a game where we carried the play in the third period on the road with a pretty short bench. Saturday, we came out with a very gutsy effort against a good Colgate team on the road. The resilience of the group has been great, and I'm not sure we've come anywhere close to where we could be or where we hope to be if we can get a lot more healthy bodies in the mix. Quite frankly, I'm not sure that will ever happen, so we'll see how it plays out."
Donato said that he is obviously hoping Kerfoot and Malone can return "very soon," but as of yet there is no set date. He would be "very comfortable" reuniting Kerfoot with top-line wingers Jimmy Vesey and Kyle Criscuolo, a combination that wreaked havoc on opponents for much of the fall. He also added that at this moment, no one has been definitively lost for the year.
Harvard faces Union in Boston on Friday night before relocating to the TD Garden for Monday's Beanpot matinee against Boston University. Despite the Crimson's recent woes, many are still expecting this year's tournament to be among the most competitive and evenly matched in over a decade.
For his part, Donato is simply happy to be working with a team that takes no shortcuts and seeks no excuses.
"I would say, minus the game at Madison Square Garden, I've been happy with the effort pretty much every night," he said, referencing a 4-1 loss to Yale on Jan. 10. "Consistently working hard, getting off to good starts in games, and they've really rallied around their work ethic and perseverance and resilience. It's been a very fun group to work with."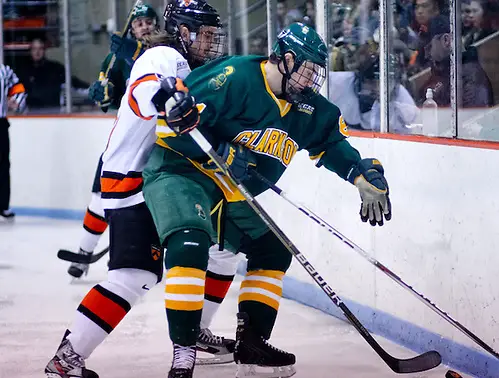 Golden Knights shining down the stretch
Winning three games in a row is kind of like finding a five-dollar bill on the ground: Neither will generate much buzz, but wouldn't you rather win those three — or have that fin — than not?
Clarkson is especially happy to be those three wins richer. The Golden Knights' 5-2 win over Dartmouth, 6-0 win over Brown and 1-0 nail-biter over Yale secured the program three consecutive W's — and its most goals (12) over a three-game stretch — for the first time since November 2013.
"Our vision is to be competitive and really difficult to play against, and to play a fast, up-tempo style of hockey, and I think it's been a good stretch. We played some good hockey over the weekend, and we were fortunate to find the two W's," coach Casey Jones said.
"Some young guys have stepped up since we've come back from Christmas. We have a lot of freshmen playing in some key spots: We're really young down the middle, with three freshmen playing center, which sometimes takes some time to get used to. Usually with younger kids, consistency is the biggest issue: Consistency with production, consistency with execution, stuff like that, and they are becoming more and more consistent on a nightly basis. That's where the change is, in that we're generating a few more quality chances."
Oddly enough, Clarkson's top scorer is sophomore defenseman (and Detroit Red Wings draft pick) James de Haas. His six goals place him just one off the team lead (held by senior forward Joe Zarbo), and his 14 overall points pace the pack.
"It's not surprising" that de Haas is the top scorer, according to Jones, given his great offensive ability. Furthermore, Jones said he knew going into the season that the defense would have to contribute offensively in order for the Knights to be successful.
Beyond an unproven (albeit improving) offense, Clarkson's greatest area of concern appeared to be in net, where sophomore Steve Perry's five-game absence left some big skates to fill. Before his lower-body injury against Colgate on Jan. 9, Perry boasted a .960 save percentage in league play.
Up stepped junior Greg Lewis. Seizing the spotlight, Lewis pitched consecutive shutouts last weekend and stopped 86 of 88 shots in his last three games.
"When you face adversity, it can go one of two ways: You can come out the other end stronger and better for it, or it can really affect you," said Jones. "And I think for Greg he's fought through some adversity in the first half with a lack of playing time, but he's competed at a high level and now an opportunity has presented itself and kudos to him for being ready and competing hard … so that he could take advantage of it."
Lewis, Jones, de Haas and the rest of the Knights are ready for this weekend's one-game rubber match against neighboring rival St. Lawrence. The teams have split three contests so far this season (1-1-1), but Clarkson took the only league points on the table with a 2-1 win on Dec. 6.
The Knights are 4-2 in ECAC play at Cheel Arena this season and dream about drawing even with the Saints in the standings. Saturday's game marks the midpoint of Clarkson's season-long five-game home stand; it also represents a whole lot more in terms of the Route 11 Rivalry, and a major opportunity to further strengthen a top-four spot in the league.
"If you're going to be a good team, you've got to win home games; that's the bottom line," Jones said. "We want Cheel to be a difficult place to play, with our fans coming in, and we want to be able to jump on teams. It's difficult to get here. We want to be able to take advantage of those things. We've looked at these five games as a very important home stand for us."