Does Michigan really need more confidence? And what does a confident Wolverines team mean for the rest of the Big Ten?
Bad things, man. Bad things.
"We've got a long way to go, but right now in recent weeks, we're starting to look like the team we had in '97, but we've got a long way to go," Michigan coach Red Berenson said after the Wolverines swept Wisconsin on the road last weekend. "But right now it's good. It's good to see our guys getting some confidence."
Getting some confidence. As though that implies a process.
Disclaimer: I'm not at all suggesting that the Wolverines are a cocky bunch. On the contrary, one of the most entertaining things about this Michigan squad is how down to earth the players seem.
Michigan is the hottest team in the country right now, riding a seven-game winning streak during which the Wolverines have scored 38 goals. That's an average of 5.43 goals per game — and that includes the first two wins in that span, games in which Michigan netted a total of four goals.
In their last five games, the Wolverines have averaged 6.8 goals per game. These insane numbers have inflated Michigan's overall scoring offense to an average of 4.36 goals per game, a nation-leading stat that's 0.87 goals per game ahead of second-place Robert Morris.
Everyone who skates for Michigan can score. Well, maybe everyone is a bit of an exaggeration. Freshman forward Alex Talcott doesn't have a point yet, but he's played in only five games. In fact, every single player except for Talcott who has played for the Wolverines this season outside of the pipes has registered at least one point — and even sophomore goaltender Zach Nagelvoort has two assists.
This powerful offense is led by senior Zach Hyman, who has 16 goals and 19 assists and is third nationally in points per game. If you're wondering why you've never really paid attention to Hyman before this season, it's because his 16 goals in 22 games this season are three more goals than he scored in 114 previous games in his first three seasons with the Wolverines.
In Michigan's road sweep of Wisconsin last weekend, Hyman had three goals and three assists and his line — which includes freshman Dylan Larkin (9-20–29) and junior Justin Selman (5-6–11) — accounted for seven of Michigan's 13 goals.
Selman, who joined the line just the week before, netted his first collegiate hat trick in Friday's 7-4 win. And Selman's five goals in 11 games this season equals the total he scored in his first two years with Michigan in 49 total games.
"Selman just went on the line this past week so it's interesting that he's fit in so well," said Berenson. "Dylan came back from the World Juniors with a ton of confidence. He played well in the first half but he's taken another step from there. Zach Hyman is just every weekend, he's a dominant player, so we've got a little bit of everything on that line."
If those three are a little down, there's junior Andrew Copp, whose 12 goals in 22 games this season are just three shy of his career-high 15 from a year ago, scored in 33 games. Sophomore Alex Kile has 11 goals in 21 games after scoring four in 28 last year. His classmate Tyler Motte (7-16–23) is two short of the number he netted last season in nearly twice as many games.
There are so many Michigan players with more goals than they had a season ago that it's too much trouble to list them. Let's just say that this is a team that can seemingly score at will — for now.
"It's crazy when you're scoring so much as we're scoring right now and it's finally nice to see that we put up a zero in the goals-against category," Hyman said after the Wolverines shut out the Badgers 6-0 Saturday.
It's that goals-against that's been the sore spot. While the Wolverines scored 10 goals against Ohio State on Jan. 16, they allowed six. Their seven goals against Minnesota on Jan. 10 came with five goals against — a win, yes, but with a lot of numbers on the other side.
While the Wolverines are averaging more than five goals per game during this seven-game win streak, they allowed nearly three per game — and that includes the two games in the GLI in which they gave up just a goal a game and Saturday's shutout, the third of the season for sophomore goaltender Nagelvoort.
"It's great for us," said Hyman. "We haven't had that all year and just to get Zach some confidence in net is huge. We're so confident in this team right now. We're excited because we're on a roll right now."
Berenson said that his team is "going to the net and … making good plays," and that's part of what is fueling this run. He also said that sweeping a Wisconsin team that's down on its luck this year wasn't "overachievement for our team," but he added quickly, "You're lucky if you can get two wins on the road against any team in the Big Ten, back to back, and that was an important victory tonight."
Oh, and that reference to the 1997 team? That's a team I remember well. They went 35-4-4 overall and lost to Boston University 3-2 in the semifinals of that year's Frozen Four — although it wasn't called the Frozen Four quite yet — in Milwaukee. Coincidentally, it was also USCHO.com's first season and my second as a hockey reporter.
That 1997 team was fast and exciting with an enormous amount of offensive skill that also could seemingly score at will. Wolverines forward Brendan Morrison won the 1997 Hobey Baker Award, and in accepting the award, Morrison said, "We had a successful year, and we did all the little things along the way, and sometimes the best team doesn't win."
That rankled more than a few people in college hockey because it sounded a bit like sour grapes. I just thought it sounded like a kid whose team had been eliminated from national championship play the day before, a kid who would have traded his individual award for a win 24 hours earlier.
The end of the 1996-97 season is still a sore point for many Michigan fans. That team was just that good.
Is this team that good? I can't answer that, but I do know that Michigan feels like a team on a mission. Hyman said that every game is motivation because of the nature of the Big Ten schedule.
"You lose one game and you can drop four or five spots," he said. "It's just more of a desperation thing. You need to win every game."
Desperate hockey can be fun hockey, especially with a high-scoring team that nets goals in batches.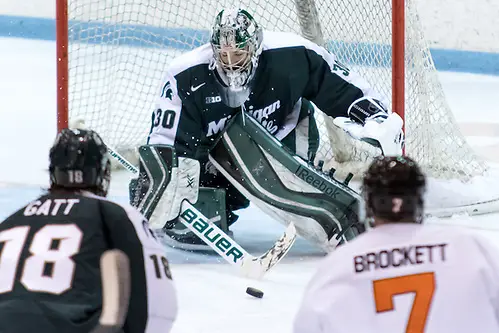 Brooms in East Lansing
The other team to take six points in Big Ten play last weekend was Michigan State. The Spartans earned their first sweep of the season when they beat visiting Ohio State 4-1 and 2-0. In Saturday's win, Jake Hildebrand earned his second shutout of the season.
The Spartans aren't as exciting to watch as the Wolverines are, but Michigan State is playing solid hockey.
"Right now our team hasn't been a team that scores a lot of goals, so our margin for error hasn't been that wide," Spartans coach Tom Anastos said after Saturday's win. "We have to make sure we're doing the little things with consistency — offensively and defensively. Everybody's got to do it. Everybody's got to block shots. Everybody's got to backcheck. Everybody's got to make the right plays at the right time.
"I think we play hard. I think that's been a fairly common trait for our teams over the last several years. Our execution hasn't always been to the level we've wanted or our production hasn't been to where we wanted."
One of the things I like about the Spartans under Anastos is the sense that the program is always moving forward. Always. And Anastos sees the program as a whole for what it is; he's worked hard himself to rebrand Michigan State hockey and draw fans to Munn Ice Arena — and keep them there.
Munn has always fought the reputation of being library-like, but there is a liveliness in the arena now that seems fresh, with a good and supportive student section and a buzz on Munn's classic donut-like concourse.
The renovations are nice and fit the building well — even if the massive center scoreboard doesn't actually keep score, projecting the game rather than any totals — and there's a sense that things are happening in East Lansing.
Slowly. But happening.
"Any time you can bring a little bit of confidence, our challenge with our group is to grow up a little bit, learn how to win, learn how to deal with winning and expect more of yourself," said Anastos. "I think that's part of our group, learning how to grow up and handling a little bit of success to try to be better and accomplish more. It's a slow step in the process."
The Spartans and Wolverines meet Friday night in Detroit's Joe Louis Arena, a rematch of the 2-1 Michigan title game victory in this season's Great Lakes Invitational. Anastos knows what he's up against, but he also knows what he has.
"They have a lot of depth, offensively," said Anastos. "Right now their team, they're hitting their stride. They're playing with a lot of confidence. They're a different team than we saw at the GLI championship. We're going to have to go into that game understanding who we are and how we play and devise a strategy that will give us the best chance to win that game. You can kind of prepare for a one-game shot on a weekend as opposed to a back-to-back series.
"Our guys will be excited about that. We're always excited about going down to Detroit to play at the Joe and it should be a really good game."
And at this point, what do you say?
When your team is 2-15-3 and has just been swept in two games by a collective score of 13-4 and you don't have a single win in conference play, what do you say in your postgame news conference?
One thing might be that you don't want to answer the same questions you hear repeatedly.
After Wisconsin lost to Michigan Saturday night, coach Mike Eaves fielded a question from longtime Wisconsin State Journal reporter Andy Baggot.
"I asked you a couple of weeks ago if you thought you'd lost this team," said Baggot. "Is that anywhere near where you are at this point in time?"
Eaves was cool in his demeanor but his words were a bit, well, hot. "Sometimes I wonder at the angle you come in with these questions," said Eaves, "and I answered that question two weeks ago and the answer's still the same."
When asked by another reporter how much progress the team has made so far and "how much more this team has left in them to go," Eaves responded with, "How do you measure that? In inches?" Then he followed up with, "What are you looking for?"
When the second reporter clarified that he was asking Eaves to describe the Badgers' progress from the beginning of the season, Eaves said: "I can tell you this: We've improved, and there's lots of improvement to go. But I don't know how you quantify it. I mean, when you grow a plant in the ground and you plant the seed, you can measure how it's grown. How do you do that with a group of young people? I can tell you that they're better and there's lots of room to grow. How's that?"
That, in my estimation, is perfect. "How do you do that with a group of young people?" That question alone tells me everything I need to know about this Wisconsin season and even more than I already knew about Eaves, a coach I respect. He's in a tough spot, and his first thought in nearly every news conference is protecting his players who are, after all, just college students.
With one decision, a sad and unfortunate association
This is what kills me.
Before the number "409" appeared on the helmets of the Penn State hockey team, that program had managed to remain completely unsullied by the horror of the Jerry Sandusky scandal. Because no one involved with the hockey program had been present when Sandusky had used his position at the university to lure in and molest boys — and let's not be afraid to say exactly what it was — the nascent Nittany Lions hockey program had been spared any mark at all.
Coach Guy Gadowsky had been brought in to build the program the same year that the scandal broke, and the team played its first Division I games the year that Sandusky was convicted. But the two were so completely separate that the hockey team seemed to be the one program in the athletic department untouched by what should be remembered as a very dark incident in American history.
Sadly, the hockey Nittany Lions will now be associated with that scandal because of the decision made to put the number "409" on hockey players' helmets for the Jan. 16 game against Michigan State to commemorate the NCAA's restoration of Joe Paterno football coaching wins that were vacated because of his connection to the Sandusky scandal.
There is outrage, and there should be. Gadowsky has been quoted repeatedly in several news outlets as saying that the number is there to honor the students and supporters of Penn State athletics. I've known Gadowsky for 15 years, long enough to know that he is all about fan support of the teams he coaches. His statement rings true to the person he is, even if the sentiment behind them is a little shortsighted.
Then there's the finger-pointing, the hemming and hawing over who decided to put the number on the helmets. At one point, it was reported in some outlets that the players wanted to do this, but Gadowsky cleared that up by saying that it was a "group decision."
Then there is athletic director Sandy Barbour, who has now backed away from a tweet in which she said that the 409 stickers were "inappropriate and insensitive." As of this writing, not one person at Penn State has come out and said, "I made the decision to do put the stickers on the helmets."
That, too, is sad.
In several stories, Gadowsky said that the stickers were supposed to be a way for people to move forward — people meaning Penn State supporters. Maybe I'm old fashioned, but I don't think that anyone should move forward so quickly from a truly horrific chapter of American history, where a big and powerful athletic program at a big and powerful university covered up seriously heinous crimes to save face.
Until these stickers appeared, the hockey program had escaped every bit of association with that chapter and was — by its unsullied nature and its enthusiastic start in a post-Sandusky PSU — part of the process that was helping people breathe a little better in University Park. And I do want people to breathe easier at Penn State, where every single person with whom I've dealt in the athletic department has been professional and sincerely nice.
Maybe in time the 409 stickers on the Nittany Lions' hockey helmets will be a minor footnote in a shameful chapter in Penn State history.
What kills me is that there didn't have to be a footnote or any other kind of association at all. Not one bit.
Players of the week
Given the sweeps perpetrated by those two teams from Michigan, these are not surprising.
First star — Michigan State junior goaltender Jake Hildebrand: Hildebrand earned his second shutout of the season, the sixth of his collegiate career, in Michigan State's two-game home sweep of Ohio State. His save percentage was .982 in the two contests and he stopped 22 shots in the shutout. This is his sixth career Big Ten weekly award and his second of the season.
Second star — Michigan senior forward Zach Hyman: Hyman had a goal and two assists in Friday's 7-4 win and two goals and an assist in Saturday's 6-0 game as the Wolverines swept the Badgers on the road. His goal-scoring streak is at seven games, marking the longest goal-scoring streak by a Wolverines player since the 1995-96 season. This is his third career Big Ten weekly award, and all three have come this season.
Third star — Michigan junior forward Justin Selman: Selman had three goals and an assist in Friday's 7-4 game — his first collegiate hat trick, and a career-high, four-point game — and had two assists in Saturday's 6-0 win. These were his second and third consecutive multi-point games, and this is his first career Big Ten weekly award.
My ballot
1. North Dakota
2. Minnesota State
3. Boston University
4. Minnesota-Duluth
5. Miami
6. Omaha
7. Massachusetts-Lowell
8. Michigan Tech
9. Harvard
10. Vermont
11. Michigan
12. Denver
13. Bowling Green
14. Providence
15. Boston College
16. Yale
17. Colgate
18. Robert Morris
19. Penn State
20. Quinnipiac