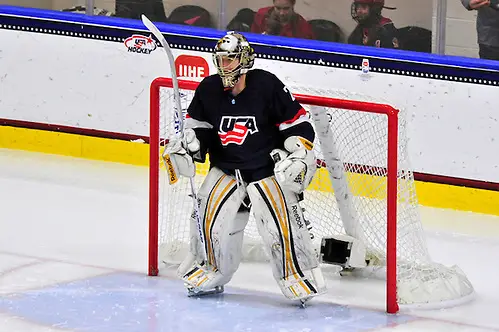 Arlan: It seems that I always start out speaking about the surprises over the week, but at this point, it would be a surprise if there weren't any upsets. What we won't have much of moving forward is inter-league play. Outside of Harvard taking on a pair of Hockey East schools in the Beanpot, those games are in the books, so other than what the Crimson can reveal, we know all that the selection committee is going to know on that front.
A couple of major milestones were reached over the weekend in the WCHA. Mark Johnson won his 350th game at Wisconsin, joining Katey Stone, Mike Sisti, and Shannon Miller as coaches who have enjoyed that level of success with their current teams. Now in his 12th season, Johnson has always exceeded 20 wins and has exceeded 30 on five occasions, so the wins add up quickly.
Hannah Brandt of Minnesota became the second active player to move into the 200-point club, joining Cornell's Brianne Jenner. Alex Carpenter of Boston College is 35 points away from joining them.
Mercyhurst wrapped up the nonconference portion of its schedule and was unable to add to its resume at St. Lawrence. The Lakers have always been able to come up with some big results to make the NCAA field. This season, their best in that regard was a win over Ohio State and a tie with Cornell. Luckily for Sisti and company, the CHA automatic bid offers a Plan B, because there doesn't look to be an opportunity to move high enough in the PairWise Rankings to get an at-large spot. We both picked the Saints, but I think we both expected the Lakers to come closer on their trip to Canton.
Candace: I definitely expected more. I'm glad I didn't go with my first inclination and pick a split. As I said in this column last week, these Lakers are not the Lakers of old, when they could send out two lines that were essentially lines 1A and 1B and could seemingly score at will. However, given that, you would have expected these Lakers to clamp down on defense, not give up a total of 10 goals on the weekend to a St. Lawrence team that has struggled to score at times.
Mercyhurst is now 13 in the PairWise; they've never been so low this late in the season that I can remember. It does look like the Lakers' only chance to make the NCAA tournament again, which they've done now for 10 years consecutively, longer than any other school, is to win the CHA tournament, which might be easier said than done, given how many hiccups there have been for the Lakers in conference play. I'm sure Sisti was hoping to avoid being in that position, but the Lakers still have experience on their side, so maybe they will come through.
The result in New York wasn't the only surprise. Boston University fell to hapless Vermont on Saturday at home, 2-0. This came on the heels of the Terriers beating Quinnipiac pretty convincingly last Wednesday, 4-1. Perhaps the Terriers went in not mentally prepared, but they responded by firing in nine goals on Sunday in a 9-2 rout. It does seem to me that every time I think the Terriers are ready to truly establish themselves, they step back.
BU now has four losses in Hockey East. Somehow, I don't see the Terriers overtaking Boston College for first in the league. What do you make of the Terriers?
Arlan: Watching BU play opening weekend, I thought that it would be vulnerable defensively against top offenses. It graduated some important pieces on the back end, and a defense that ranks 17th bears that out. I did expect that the Terriers' offense would be able to carry them through most of the time. It looks good in aggregate, ranking fourth and scoring 3.58 goals per game, but it has disappeared at key moments. It only scored once against Harvard back when the Crimson were struggling defensively, and after putting up three goals on three shots in the first period to take a lead against Boston College, the offense went dormant in the final 40 minutes versus a backup goaltender. Saturday's game is a mystery; if the Terriers can score nine times against a team 24 hours later, how do they get shut out? I know they'd played Wednesday, but I'd expect that to show up more in the second game on Sunday if it was a factor.
So that makes BU a dangerous team. If it is on its game and everybody is interested, it can score enough to at least put a scare in anyone. If the effort or focus isn't there, it looks like the Terriers are vulnerable against a fairly wide range of teams. Sitting in that oh-so-vulnerable seventh spot in the PairWise with Harvard and BC games looming, they can't afford repeats of Saturday.
That BU bobble is one reason why the PairWise Rankings are getting very interesting. Another is that Minnesota-Duluth looks comfortable in the sixth spot at the moment, but its schedule is about to spike upward in difficulty. The Bulldogs have moved to within range of Wisconsin for second place in the WCHA, but they close the regular season with the other four teams in the league's top five. There is a logjam of ECAC teams sitting behind UMD and BU in the rankings, and all of those teams aren't going to be losing. If BU or UMD falters, Clarkson, St. Lawrence, or Cornell may be poised to take advantage.
The Saints were without a couple of key players in Carmen MacDonald and Jenna Marks for a few games, but now they are back. Cornell is the team that looks to have current injury woes, as Jillian Saulnier and Hanna Bunton missed last weekend. Clarkson got a tie out of its trip to Wisconsin to maintain a rankings edge on the other two. Do you have a sense of which of the three, if any, will ultimately factor into the national picture?
Candace: That's a tough question to answer. You would think either the defending national champion, Clarkson, or Cornell, which has won the ECAC tournament in recent years and was close to winning a national championship in 2010, but I think St. Lawrence. Clarkson has had scoring issues this year at times. Shannon MacAulay and Cayley Mercer have had good seasons are tied for the scoring lead with 29 points, and Geneviève Bannon is also doing well with 23 points, but the Golden Knights aren't as deep as they were last season when they had Jamie Lee Rattray, Brittany Syner, and Carly Mercer in addition to the three just mentioned. You theorized a few weeks ago that one reason Erin Ambrose's point production is so down from her first two seasons is that she doesn't have those players to dish passes to. Defensively, while Shea Tiley has emerged as a solid goaltender in her freshman year, I don't think she has quite the experience needed to take her team to the NCAA tournament.
Cornell has been a puzzle. The Big Red crushed Boston University a couple of weeks ago, but haven't looked great since. They were shut out by Harvard on Saturday, and squeaked by Dartmouth on Friday. Then again, they were without Emily Fulton and Saulnier on Friday. Fulton returned on Saturday against Harvard, but perhaps her effectiveness was hampered. Saulnier has missed three consecutive games now, dating back to last Saturday against Brown when she didn't play, and her play really helps complete the effectiveness of her linemates, Fulton and Brianne Jenner. Cornell has games coming up against ECAC also-rans in Union, Rensselaer, and Colgate before facing Quinnipiac again, so perhaps Saulnier can get healthy before that key game.
That leaves the Saints, who have won five straight and are undefeated in their last six. St. Lawrence hosts Brown and Yale this weekend, and Yale still hasn't seemed to get untracked. They open February against Clarkson next Tuesday. February also sees the Saints playing Union, Rensselaer, and Princeton, as well as games against Quinnipiac, Harvard, and Dartmouth. The Saints tied QU earlier in the year and beat Dartmouth and Harvard. I could see them winning out the rest of the way.
St. Lawrence trails Clarkson by two points in the ECAC, but has a game in hand, so if they win that game against the Golden Knights next week, I could see them in third or even second in the ECAC by season's end.
In the PairWise, I think St. Lawrence is helped by the tie with Boston College. If they beat Clarkson, I think they'd move ahead of the Golden Knights. Then they just need to pass Boston University to at least be in contention for an at-large bid. The Terriers still have two, possibly three games left against Boston College, and the game against Harvard in the Beanpot next week.
It's entirely possible the Terriers could only go .500 down the stretch, and if that happens, I think St. Lawrence will displace them in the PairWise.
I know in the WCHA, we've talked about how home ice may not matter in the tournament, but North Dakota has won a key stretch of four games against Ohio State and Bemidji State, whom they trailed in the standings a couple of weeks ago. Now North Dakota is in fourth. Do you think they hold onto that position, and do you think it will help in the first round against either OSU or BSU?
Arlan: More than home ice, I think that the process of finishing in the top four and learning how to win will benefit North Dakota. IMO, UND has more top-end players than teams like Ohio State and Bemidji State. Nothing against those squads, but UND just has more kids in its nucleus that have national-team potential. I think it may have taken some time for the leadership void that was left by the departure of first Jocelyne and Monique Lamoureux and then Michelle Karvinen to get filled. I don't mean for somebody to stand up and say, "Let's go out there and win this game!" It's more about having the people who understand when and how to make a play to make that possible.
Over much of the season, North Dakota players have been able to do that one night, and for whatever reason, they don't bring quite the same intensity the next. Those two big WCHA sweeps go a long way toward figuring that out. Goalie Shelby Amsley-Benzie has likely been the team's best player for much of the season. If you sit her down in a rotation, that means going out and winning with your best player on the bench. That's tough with the small gap that exists between many of these teams. She's played both ends of the recent sweeps. UND has a tough stretch now with UMD and Minnesota back to back, but then it finishes with St. Cloud State and Minnesota State. Even if it gets nothing out of the next two series, I don't know that the pursuers will catch up if North Dakota can take care of business and take 12 points from the bottom two and get to 45 points. For that reason, the upcoming series in Duluth might be more crucial for the Bulldogs. Although if North Dakota could somehow sweep, then it is just a point behind and the battle for third gets very interesting.
The games this weekend are vital for Minnesota-Duluth. The Bulldogs started with a rugged schedule in the league and were just 1-4-1 after series with Wisconsin, Minnesota, and North Dakota. It looks nice that Bulldogs have been 11-2-1 in league play since then, but the toughest opponents they've faced were Bemidji State and Ohio State, and they didn't sweep either in three series, so they've really been just one tick above .500 against those two and cleaned up against the teams in seventh and eighth. Tea Villilä is back in the line-up after missing a number of games, so it's time for UMD to figure out just what it has and how likely a postseason run is.
Another key tilt is on Friday in the ECAC when the Bobcats host Harvard. Quinnipiac is still in front in the league race, but if the Crimson win, they'll take control. Do you think dropping both games to BU and BC will put a dent in the Bobcats' confidence after they've been flying high most of the year, or will it be a blessing in disguise and lock them in for the stretch run?
Candace: I think it will affect them. Quinnipiac has never won the ECAC, nor been in the NCAA tournament. Last season, a Robert Morris team that admittedly isn't as strong as the Bobcats this year looked poised to make its first NCAA tournament, and controlled its own destiny in the CHA. The Colonials then went in a swoon, going 4-4-1 in their last nine games and losing in the first round of the CHA tournament.
I don't think the Bobcats will necessarily swoon quite so badly, but Quinnipiac has now lost to three ranked teams in BC, BU and Harvard, and has ties with Dartmouth and St. Lawrence. The win against Cornell back in November still looks to me to be a case of Quinnipiac taking advantage of a Cornell team just getting on the ice, so that leaves its two wins against Clarkson as wins against a ranked team, which are solid yes, but are still a case of defense beating a shaky offense.
Perhaps the Bobcats will silence their internal doubts and win their next three critical games, which include not only the Crimson, but Dartmouth and Cornell. QU will also play Clarkson and St. Lawrence in mid-February. However, Quinnipiac is not used to being the hunted, and I think the pressure may get to them a little bit. I still expect to see the Bobcats in the NCAA tournament, barring an epic collapse, but I don't know if they will win either the ECAC regular season title or tournament.
I mentioned the Colonials, and they showed their first signs of life all year in the last two weeks, first taking Quinnipiac to OT and then sweeping Lindenwood. Robert Morris is now in third in the CHA, trailing Penn State by three points and Mercyhurst by five. There is also the CHA auto-bid to fight for. The Colonials host the Lakers this weekend, and in recent years, have given Mike Sisti's club trouble. Can the Colonials continue to climb, and perhaps come back from an epic disaster of a first half?
Arlan: Yes. No? Maybe? Sixty percent of the CHA schedule has been played, and only five games separate first-place Mercyhurst and last-place RIT. Halfway in the middle, RMU and Syracuse are the poster children for parity with 5-5-2 and 4-4-4 CHA records, respectively. It's hard to even say what direction some of the teams are trending. You almost have to judge everybody on their most recent game, and in that respect, Robert Morris looks very good.
Maybe the most encouraging sign is the people sitting on top of its scoring stats. Three sophomores: Mackenzie Johnston, 16 points; Mikaela Lowater, 14 points; and Rikki Meilleur, 12 points. As freshmen, they had 13 points combined. Losing Brittany Howard early, the Colonials needed others to emerge, and it's taken time, but finally, it's happening. Next are three seniors, Katie Fergus, Rebecca Vint, and Maddie Collias, who have double-digit points. They came into the year with a combined 187 points in their careers, so I'm sure they were expecting to have bigger final campaigns. That's okay; no time like the present to make an impact. Jessica Dodds has had some good starts in net, and now, she just needs to start stringing them together.
The league is there for the taking for anyone. As you said, this isn't the Mercyhurst we've come to expect, and the older kids for RMU have plenty of success against the Lakers to recall. The Colonials went down rather meekly in the first series this year. They did score first in the second game, but took a penalty right after, and within 90 seconds, the lead was gone. It will take more determination, but RMU is playing better than it was back on Halloween weekend, and Mercyhurst has been wobbly since getting swept at Penn State. Even if they don't come away with a win, I think it is key for the Colonials to push the Lakers enough to prove to themselves that postseason success is a possibility.
It's going to be fun to follow that CHA tournament with an auto-bid on the line and apparently no giant to slay. I don't know that Lindenwood has enough firepower to navigate the field, but I may think differently in a month. Other than that, the league should be wide open.
One league where that is far from true is Hockey East, where BC sits atop the mountain for the foreseeable future. However, the Eagles are somewhat victims of their own success. They keep winning, but they set the bar so high out of the gate that just winning is no longer enough. We expect them to demolish opponents. What do you think? Is BC just on cruise control waiting for the postseason to cement its legacy, or is the field closing the gap just a bit in 2015?
Candace: I've actually been wondering about that a little bit, because it does seem like BC is playing uninspired of late. The team is so talented and has dominated so many others that perhaps they've gotten a little bored. The win against Quinnipiac was probably good for them it that it showed the Eagles they can win a close game against a tough opponent. BU pushed them a couple of weeks ago, and St. Lawrence pasted the Eagles with their only blemish with the tie back in October.
Maybe the results against Vermont two weeks ago were the first sign the Catamounts were emerging again, given that Vermont just beat BU, but BC's offense hasn't been clicking quite as effectively in the second half. Aside from the 16 goals against Northeastern in two games, the Eagles have been kept to four or less goals in every game in January.
Perhaps over the break, they got to thinking too much about their first-half success, or have gotten away from what made them so deadly. It's equally possible that the team just doesn't want any key players to get hurt before the playoffs, but I still think there's something to be said for not giving your opponents any hope. Anything can happen in a one-and-done scenario. There's no time like the present for them to get it back though, with the Beanpot looming next week, always a tough tournament. BC opens with Northeastern, which it has dominated this year, then will play the winner of Harvard-BU.
The Eagles close their regular season with two against Boston University, a series I think everyone at the start of the year thought would decide the Hockey East crown, but at this point, it looks like the Eagles may have it wrapped it the weekend before at Maine.
As long as we are talking top teams, we might as well look at the Gophers. They look to have the WCHA pretty much wrapped up, just as the Eagles do Hockey East, barring an epic collapse. They swept St. Cloud convincingly this weekend, and the stats sheets are dominated by Gophers, including freshman Kelly Pannek, who is fifth in the country in scoring now, though BC's Kenzie Kent and Wisconsin's Annie Pankowski aren't too far behind. Five Minnesota players are in the top 10 in scoring, including Hannah Brandt, who is second and has come on strong, now trailing Alex Carpenter by only two points.
The Gophers have had it easy the last two weekends facing Minnesota State and St. Cloud State, but the last month they face Ohio State, North Dakota, Minnesota-Duluth, and Bemidji State. Can any of the those teams stop the Gophers express?
Arlan: They've all gotten at least a tie versus Minnesota over the last couple of seasons, so theoretically, any of them could. Ohio State is up first, and it's been a long, long time since the Buckeyes won outright — October 2007. Twin Cities native Taylor Kuehl had a three-goal series when the teams played in Columbus, and I'm sure she'll want to have a good showing in what could be her final appearance in Minneapolis; the senior is Ohio State's second-leading scorer after Claudia Kepler. The bigger question for the Buckeyes is on the other end of the ice, because Minnesota has hung some big numbers on the scoreboard over the years. Last year they gained a tie by limiting the goals allowed to two.
The series in Grand Forks is interesting, because that could be a prelude to a WCHA semifinal in the same building. Then Shannon Miller leads the Bulldogs in for what she certainly hopes isn't the final time with the NCAA tournament on the horizon. The regular season concludes with a series at the Sanford Center that everyone has been anticipating since November when Jim Scanlan introduced his new team to the Gophers. I don't see Minnesota going 8-0 over that stretch; it was 5-1-2 against that quartet on the first pass. UMD and Minnesota in particular met so long ago and their freshmen are likely entirely different players by now, so these series are useful in establishing new benchmarks heading into the playoffs.
Over the final weeks, I think that Minnesota will be looking to fine-tune its special teams and clean up its play in its own zone a bit. Defenseman Milica McMillen has missed the last three games with a lower body injury, so if she returns, they should be as close to healthy as a team ever is at this point of a taxing season.
While this is going on, look for Wisconsin to get its offense back on track against Minnesota State next weekend. I think that the Pankowski hat trick on Sunday in a 4-0 win over Clarkson did wonders to help a team that was scuffling offensively relieve some pressure. Now a few more people will see pucks go into the net and start to feel good about their games.
This is our last column before the Beanpot gets underway. Do you have any thoughts on what that event might reveal? On one hand, I'm interested to see if Harvard has gained on BU since the two teams tied and can set up a rematch with BC to prove that the massacre was a fluke, but on the other I think the Crimson are at a big disadvantage to be playing two games each weekend while all three Hockey East squads play but once in advance of the Tuesdays of the Beanpot.
Candace: I guess playing Quinnipiac and Princeton could tire the Crimson out, while BU only faces Connecticut on Saturday, but BU lost to Vermont this past weekend, so who knows? In the long run, I think Harvard has to mainly concern itself with PairWise positioning, so from that respect, beating Quinnipiac is probably more important. If the Crimson beat Quinnipiac, they have take over first place in the ECAC and have a likely chance of holding it till the end of the year. More importantly, it would move Harvard up to fourth in the PairWise, giving the Crimson a better shot at home ice in the first round in the NCAA tournament, which is what I think the Crimson have to concern themselves with.
However, losing to BU would negate the PairWise advantage over Quinnipiac in the short term, so I think the Crimson should probably give their all in the next three games.
If the Crimson lose to the Terriers, they will likely play Northeastern in the Beanpot consolation game, a game they should win. I imagine they'd rather beat BU though, since the two squads tied back in November. That would mean another game against BC most likely, a game in which they'd really have nothing to lose and everything to gain, which would make them dangerous.
How do you think the Beanpot might play out?
Arlan: The Beanpot isn't a seeded tournament, but if it were, the Northeastern versus BC game would be the one matching the fourth seed against the top seed, and people always tend to look past the lower seed. In the 14 years of the NCAA tournament, the No. 1 seed has lost in the semifinal of the Frozen Four five times. That's not to say the Huskies are currently the caliber of an NCAA tourney team; obviously, they aren't, based on results to date. We've seen similar upsets in conference tournaments, too. Fans look ahead to the potential final opponent, and sometimes, the favored team does as well. If the underdog can survive the first period, when power teams come out determined to make a statement on a bigger-than-normal stage, then it gets interesting. Northeastern has performed well in Beanpots in recent years, and a Kendall Coyne type talent can explode at any moment. Results earlier this season suggest that this is a bad matchup for Northeastern stylistically, so it will be a big challenge for the Huskies.
The other semifinal has about as many question marks as one cares to type. The difference between both Harvard and BU on their best days compared to their worst has been pretty glaring. Harvard has a lot of pieces, but it doesn't possess a threat who has proven herself to the degree that Marie-Philip Poulin or Sarah Lefort have. The Crimson look to have an apparent edge with Emerance Maschmeyer in net, but she's similar to Chloe Desjardins in that sometimes she play lights out, and other times you'd swear that the lights are out because the power has been turned off.
When it comes to the second week, the BC game is going to be the marquee game even in the unlikely case of it being for third place. Rather than the Beanpot title, the bigger question will be if either Harvard or BU is gaining on the Eagles at all. BC is probably about a three-goal favorite.