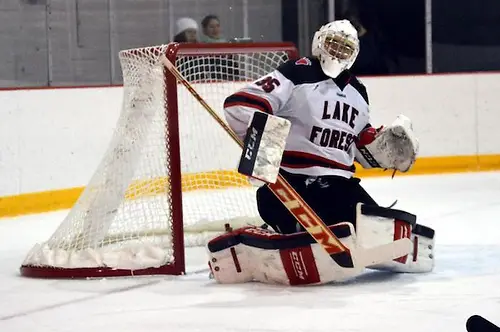 It's Friday the 13th – and our columnists dare to pick this weekend's games as we are entering crunch time.
Away we go.
BRIAN LESTER – West
Lake Forest enters the final weekend of the regular season with a chance to clinch a share of the NCHA championship. The challenge, however, is finding a way to take down Adrian, which comes into the series looking to earn the title outright.
The No. 12 Foresters are 14-4-5 overall and 12-3-1 in the conference. The No. 5 Bulldogs are 17-3-3 overall and have a 14-1-1 record in NCHA play.
Lake Forest is unbeaten in 16 of its last 17 games and has capitalized on a tremendous defensive effort. In seven of its last eight games, Lake Forest has allowed more than one goal only twice. Much of that credit goes to goalie Leo Podolsky, who is 14-3-3 with a 1.61 goals-against average.
Adrian is riding the high of a five-game win streak and has been impressive away from home, fashioning a 9-1-2 record. The Bulldogs are dangerous on offense, tallying 107 goals on the season, and they have given up only 54 goals. Kyle Brothers has fueled the offensive success with 19 goals and 18 assists. Not bad numbers for a freshman. Lake Forest, 3-2; Adrian 4-2.
Milwaukee School of Engineering (14-9 overall, 9-7 NCHA) vs. Concordia (Wis.) (8-15, 4-12): MSOE needs two wins this week to remain in the hunt for a league playoff spot. The Raiders have won four of five and want to keep that momentum rolling. Omar Mullan leads the Raiders with 13 goals and 17 assists.
The Falcons have won their last two games and would love to end the year on a high note. Devin Stuermer leads Concordia with 11 goals and 15 assists. Concordia will need to be on its game defensively. It has allowed 97 goals on the year and three goalies have seen action for the Falcons. MSOE, 5-2, 4-2.
Concordia (Minn.) (12-7-4 overall, 7-4-3) at St. Mary's (11-8-2, 6-4-2 MIAC): The Cobbers have an opportunity to stay within striking distance of the conference title with a pair of wins this weekend. They sit just two points behind first-place St. Thomas and are three points ahead of the Cardinals. Winning on the road isn't easy, but Concordia has had its share of success away from home, fashioning a 4-2-1 record.
The Cardinals have been one of the hottest teams in the league in the second half and have won three of four. They are looking to bounce back after a 5-4 loss to Augsburg last weekend. The Cardinals have scored three or more goals in their last four games. I'm expecting a split. St. Mary's, 4-2; Concordia 5-3.
Augsburg (10-11 overall, 7-5) vs. Hamline (9-8-4, 5-4-3): Augsburg is currently tied for fourth with St. John's in the league standings but has been up and down in terms of scoring as of late. The Auggies have scored four or more goals three times in their last six but have been blanked twice during that stretch as well. Augsburg has scored 60 goals and allowed 67. Mark Ohnsted has led the way with 12 goals and 10 assists.
Hamline comes into this series fighting for its playoff life. The Pipers have dropped two of three and have struggled to find consistency. They need to do it this weekend to stay in the MIAC tourney race. Hamline has come through with 57 goals and allowed 63. They have had similar success at home and on the road, going 4-3-2 at home and 4-4-2 in away games. Hamline, 3-2; Augsburg 4-3.
Wisconsin-Stevens Point (17-4, 7-1 WIAC) at Wisconsin-Eau Claire (14-5-2, 6-2): Few teams are hotter than the Pointers, who have won five consecutive games and have scored nearly 100 goals. The Pointers have the ability to get the job done on the road, going 8-2 away from home, and they will have to be at their best to keep their grip on first place. Brandon Jaeger's play in goal will be key. Jaeger is 17-3 with a 2.13 goals-against average.
Eau Claire has won five of its last six and is looking to climb back into the hunt for league championship. The Blugolds trail the Pointers by only a game. Ethan Nauman and Brandon Wahlin are two of the best offensive players in the league, combining for 27 goals and 29 assists. Stevens Point won the first meeting 3-0. I think the Blugolds will at least take one in the series. Stevens Point, 5-4; Eau Claire 4-3.
Wisconsin-River Falls (16-4-1, 5-3) vs. Wisconsin-Stout (8-12-1, 3-5): River Falls has struggled in the second half of the year, but will look to close the regular season on a high note. Playing Stout will give the Falcons an opportunity to add to their win total. The Falcons have won back-to-back games, though, and are playing for the first time since the end of January. The time off shouldn't have a negative impact on the Falcons.
Stout has lost its last two games and has struggled defensively all season, allowing 80 goals. Justin Moody leads the offense with nine goals and nine assists. It will take a phenomenal effort for the Blue Devils to knock off the Falcons. River Falls, 6-2, 5-2.
DAN HICKLING – East
Friday
ECAC EAST
No. 1 Norwich (20-2-1, 16-0-0) @ No. 10 Babson (16-4-3, 11-3-2) – Norwich 1, Babson 0
Babson goalie Jamie Murray is among the best in the game, but the top-ranked Cadets have enough offense to get by, even if only one goal will do.
SUNYAC
Cortland (9-9-3, 3-7-2) @ Geneseo (10-8-3, 7-5-0) – Geneseo 6, Cortland 5
Cortland desperately needs points to keep its postseason hopes afloat. Genny has struggled (uncustomarily, so) at home. This could go either way and might well go to extras.
ECAC WEST
Manhattanville (7-10-5, 2-8-2) @ Hobart (16-6-0, 9-3-0) – Hobart 5, Manhattanville 2
Two teams heading in opposite directions. That's not likely to change this weekend when they face off twice.
Saturday
MASCAC
Framingham State (5-14-2, 4-10-1) @ Worcester State (4-14-2, 3-10-1) – Worcester 5, Framingham 3
When the bottom two teams clash, one figures that pride is on the line. Since when is pride NOT on the line?
NESCAC
Colby (5-12-3, 2-9-3) @ No. 4 Trinity (17-2-1, 12-1-1) – Trinity 4, Colby 1
Meet the new (regular season) champs. Same as the old champs.
ECAC NORTHEAST
Becker (4-17-0, 0-10-0) @ Wentworth (9-10-2, 4-5-1) – Becker 4, Wentworth 3
It was Bill Parcells who once said, "You are what your record says you are." But perhaps that's not always the case. Not if there is there is truth to that other time-worn chestnut, "On any given Saturday … "