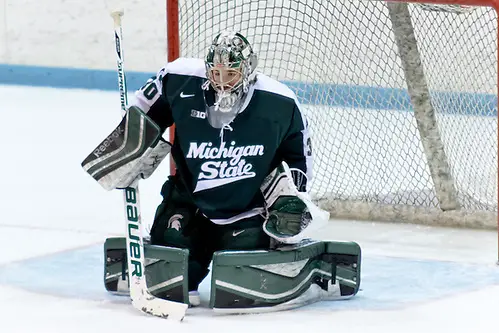 Back when I was covering the CCHA, I grew tired of hearing — week in and years out — about how parity affected that conference. For nearly two decades, parity was the go-to word when no one emerged as the clear frontrunner, or when someone from the top tier of that league lost to someone in the middle or near the bottom.
In some seasons, it sounded like an excuse. In rare seasons, there was genuine parity in the league that had as many as a dozen teams at one time.
Last weekend's Big Ten play reminded me an awful lot of the rare CCHA seasons when there was so much parity that it was difficult to tell who would emerge on top. The difference between the old CCHA and the Big Ten, of course, is that there are just six teams in B1G hockey and every team in the league will head to Detroit in March.
There were three conference series last weekend, and each produced a split. Wisconsin earned its second Big Ten win with Friday's 2-1 victory over visiting Michigan State, a feat that also gave the Badgers their first consecutive wins of the season, as they had beaten Ohio State 3-2 on the road on Valentine's Day. Naturally, the Badgers were angling for the sweep with Saturday's game, but lost to the Spartans 3-0. That's because a sweep, said Mike Eaves, is no easy thing.
"One team is elated, happy, satisfied that they won, and the other team is all ticked off and they've got a burr in their bonnet and they came back with that burr on Saturday and they earned that victory," said Eaves on this week's "Badger Hockey Digest."
Neither the last-place Badgers nor fifth-place Ohio State has earned a Big Ten sweep this season; the Buckeyes have yet to put together back-to-back wins for all of 2014-15.
Each of the top four teams in the league has two conference weekend sweeps to its credit. Penn State's two both came against Wisconsin. Michigan State has two as well, one against the Badgers and one against the Nittany Lions. Minnesota swept Michigan and Ohio State, and Michigan swept Wisconsin and Ohio State.
With Michigan and Minnesota tied for first place with 27 points each, Penn State and Michigan State tied behind them with 25 points each, Ohio State with 12 points and Wisconsin with 10 — and three weeks left in regular-season play — there is a lot to be determined but very little within each team's control.
No one yet completely controls its fate as it relates to an outright regular season championship. With series remaining against the Gophers and Wolverines, Michigan State can claim first place by winning out, but Penn State could match and grab a share (the Nittany Lions own the first head-to-head tiebreaker with more conference wins).
If both Michigan and Minnesota win their final six regular season games, they'll tie for the title and the Wolverines will have the tiebreaker for the first seed in the playoffs. They're also the only two teams that can't finish at the bottom of the standings, with fifth place being the lowest possible (and highly unlikely) finish.
So the Badgers and Spartans split, the Gophers and Nittany Lions split, the Wolverines and Buckeyes split. Every team that won that second game — the Spartans and Nittany Lions on Saturday, the Wolverines Sunday — did itself a tremendous favor. By the end of the weekend, there were more points but no one team had earned any advantage on any other.
Why? My best guess is the inconsistency with which we've seen every team's defense play this season, with the exception of one: Michigan State. The Spartans have the best defense in the Big Ten, allowing 2.25 goals per game overall, tying them for 12th nationally with Merrimack. That's the best in the conference.
Next is Minnesota at No. 31 nationally, followed by Penn State (36), Michigan (40), Ohio State (54) and Wisconsin (55).
While the Wolverines have the nation's top offense and the Gophers and Nittany Lions are among the top 10 as well, the real parity in this league is the equality among the defenses, although there are signs that some teams may be improving exactly when they need to be.
In spite of allowing four goals in an overtime loss Saturday, the Gophers have allowed 1.83 goals per game on average in their last six contests. The Badgers have allowed 2.00 goals per game in their last four, a stretch in which they've gone 2-2.
Like the Badgers, the Buckeyes are 2-2 in their last four games, but they've allowed 3.00 goals per game on average in those two weekends.
The Nittany Lions are 1-3 in their last four, giving up 2.75 goals per game in those contests.
The Wolverines have allowed 3.00 goals on average in their last six games, during which they've gone 2-4; the first loss of that stretch broke a seven-game win streak for Michigan, a streak during which they were only marginally better defensively, giving up 2.85 goals per game.
Then there are the Spartans. They are 6-2 in their last eight games, all conference games, and they've allowed 1.25 goals per game in that span, which included wins against Michigan and Penn State. Junior Jake Hildebrand shut out opponents in half of those wins, too, most recently against Wisconsin last Saturday night.
I've been saying all season that the Spartans are tough to play, but I cannot articulate it as well as Eaves can.
"They're an interesting team to play against because they play a system that lulls you into thinking there's space and time," Eaves told "Badger Hockey Digest," "and then the next thing you know there's a turnover because you're going through a small area with a lot of people and they're going back the other way."
After Friday's win over the Spartans, Eaves said: "They're hard to play against. They're not fun to play against because you don't want to give the puck up and go get it. You want to keep it, but the way they play, you have to do that."
Remember what I said at midseason, that the Spartans could play themselves into the NCAA tournament with a Big Ten playoff championship? While any team in this league could, they're still my dark horse pick to come out of Detroit with the autobid.
What concerns me about the parity of the Big Ten is that there's parity and then there's parity — and the word can mean equally good and just plain equal. And if the league is mediocre defensively with the exception of the one team that can't score goals consistently, there may be no one representing the Big Ten in Boston in April.
But let's talk about Wisconsin
Putting two consecutive wins together is a big deal for the Badgers this season.
That is a sentence I never thought I'd be writing. And I'm delighted to be able to do so, given how well this team has kept its composure during what has been a very rough ride.
I know that Eaves can be a bit testy, but everything I've seen and heard from him this season has been professional and supportive of his players, which is how it should be.
After the Badgers beat the Spartans 2-1 last Friday night, Eaves praised senior defenseman Chase Drake for helping to hold together a young and underperforming team. Drake netted his third goal of the season — the sixth of his career — to open the scoring for Wisconsin early in the second period, a goal that Eaves said resulted from Drake's preparation in practice leading up to the series.
"Chase, as one of the leaders of the senior class, I don't think we can overstate what a good job of keeping the ship together," said Eaves. "It's not easy to have the record that we have and not have things pull apart. They've done an excellent job in practice and in the locker room … keeping everybody together. Chase has done a real good job by keeping the ship together and he was rewarded tonight on a nice goal by what he did this week in practice."
Both goals in that game were scored by defenseman, the second by junior Kevin Schulze with less than a minute to go in the second. Schulze has four goals this season … and is minus-27. When Eaves was asked about that second statistic, Eaves brushed the question aside with one of my favorite quotes, ever. "Sometimes stats are for guys with good stats," he said. "All that really matters is your next game."
And a game-winning goal is a game-winning goal.
It may not be easy for Wisconsin fans to see this year's team in a positive light, but Eaves is looking forward to finishing up much more strongly than the Badgers began.
"I'm fine with our second-half goals of playing our best hockey in March," said Eaves. "By getting a couple of wins in a row, getting our first win on the road, those are all indicators that we're moving in the right direction."
Players of the week
It's all Michigan this week — the state, that is.
First star — Michigan freshman forward Dylan Larkin: Larkin had a goal in each game as the Wolverines split a home-and-home series with the Buckeyes. He added four assists as well, one Friday and three in Sunday's 5-2 win. Larkin is second in the nation among freshmen and fourth overall with 1.46 goals per game. This is his second career Big Ten weekly award.
Second star — Michigan senior forward Zach Hyman: Hyman also had six points, with a goal in each game against the Buckeyes and a single assist Friday with three more Sunday. He leads all Big Ten players with 43 points, averaging 1.54 points per conference game this season. Hyman has 18 goals and 25 assists in 28 games this season; he had 13 goals and 22 assists in the 114 games of his first three seasons with the Wolverines. This is his fourth career Big Ten weekly award, and all four have come in 2014-15.
Third star — Michigan State junior goaltender Jake Hildebrand: Hildebrand registered his fourth shutout of the season Saturday, stopping all 31 shots he faced when the Spartans beat the Badgers to split the weekend in Madison. For the two-game set, Hildebrand had a .959 save percentage and 1.01 GAA. He's the league's leading goaltender (.937, 1.98) in conference play. This is his eighth career Big Ten weekly award and his fourth of the season.
My ballot
1. North Dakota
2. Michigan Tech
3. Minnesota State
4. Minnesota-Duluth
5. Miami
6. Boston University
7. Omaha
8. Denver
9. Boston College
10. Bowling Green
11. Quinnipiac
12. Providence
13. Vermont
14. Yale
15. Minnesota
16. Michigan
17. UMass-Lowell
18. Robert Morris
19. St. Lawrence
20. Colgate