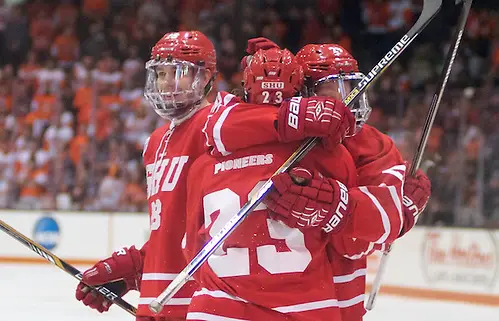 With one week left until the first round of the Atlantic Hockey playoffs, much of the focus will be on the eight slots unclaimed and still contested throughout the standings. Attention will be spent on math, and the number of possible scenarios and permutations is both staggering and utterly mind-boggling.
While eight teams scoreboard-watch and enter games not knowing their opponents or seeding, three teams know their definitive outcome. Robert Morris knows it'll have a weekend off as the league's regular season champion, the undisputed No. 1 seed. Sacred Heart and Army, meanwhile, will be able to play out their weekend with the knowledge they'll be playing a first-round series — against each other, no less.
For Sacred Heart, that means meeting goals.
"One of our goals this season was to get a home spot in the playoffs, and we have achieved that," coach CJ Marottolo said. "It's about the growth of our program. We've improved from last year to this year, and now it's time to try and take the next step to win a playoff series.
"We know that Army is going to compete hard [in the playoffs], and they're a team that's playing very well right now. So we need to work very hard to get ready for that series."
Despite back-to-back losses against Bentley and Holy Cross, Sacred Heart is one of the hottest teams in Atlantic Hockey during the second half of the season. Starting in late January, the Pioneers went on a tear where they simply didn't lose, going 3-0-3 before their loss to the Falcons two weekends ago.
Last weekend, they rallied from a 1-0 loss to the Crusaders at home by pummeling Holy Cross on the road, scoring a 5-0 victory at the Hart Center behind four second-period goals.
Tied 0-0 after the first frame, the Pioneers received two goals from Evan Jasper and one each from Kory Kennedy and Zach Luczyk. A fourth goal scorer, Jeff Carroll, scored late in the third on the power play to put the cherry on the top of the sundae.
"We've been in a lot of games that are tough, playoff-style games," said Marottolo, "and we've been consistently getting better. Our guys have really bought in, and we've had a lot of fun this year. Our play without the puck has been really good, and we've been really stressing and growing. We're getting results, and we're getting points every weekend."
Sacred Heart (10-17-6, 9-12-6 AHC) rolls into the final week of the season with a single game at 7 p.m. EST Thursday at home against Bentley. The Pioneers know their seed in the playoffs (eighth) and their opponent in the first round (Army), which allows them a little bit of breathing space before they host their first playoff series in five seasons.
Despite all of that, don't expect this team to take its foot off of the gas pedal.
"We are preparing for the game like any other," said Marottolo. "We want to win, and we can create some good momentum into the playoffs. We know that our games against Bentley are fast-paced games, and it's going to be a tough, hard-fought game."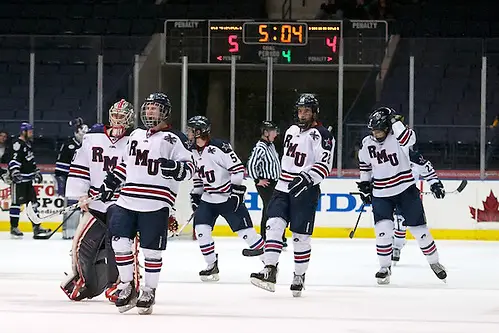 Get ready for drama
If there's one thing we know about the playoffs, one step here or there could be the difference between a road to a championship and an early exit to the proverbial golf course.
Of the 23 games in the Atlantic Hockey tournament a year ago, 39 percent went to overtime. Of those nine games with overtimes, three went to double overtime.
In addition to those one-goal games, two games were decided in regulation by one goal. Both of them were elimination games.
For what it's worth, here are the records for Atlantic Hockey teams this season in both scenarios, both overall and in conference play. What's amazing is that your favorite team may be higher in the standings but not necessarily outstanding in a particular situation. Or it may be vice-versa.
We start with one-goal games:
Air Force: 7-6 (7-4)
American International: 1-6 (1-4)
Army: 5-4 (5-4)
Bentley: 8-4 (8-2)
Canisius: 2-4 (2-4)
Holy Cross: 3-10 (3-8)
Mercyhurst: 5-4 (3-3)
Niagara: 1-2 (1-2)
Rochester Institute of Technology: 2-6 (2-5)
Robert Morris: 6-3 (6-3)
Sacred Heart: 4-3 (4-3)
And we continue with records in overtime games:
Air Force: 5-3-1 (5-2-1)
American International: 0-5-2 (0-4-2)
Army: 2-2-3 (2-2-3)
Bentley: 5-2-3 (4-2-3)
Canisius: 6-1-2 (6-1-1)
Holy Cross: 2-4-4 (2-4-4)
Mercyhurst: 4-2-1 (4-2-1)
Niagara: 1-5-1 (1-4-1)
RIT: 1-2-3 (1-2-3)
Robert Morris: 4-3 (4-3)
Sacred Heart: 1-6-1 (1-4-1)
The importance of home cooking
There's always an interesting argument when it comes to first-round byes in playoff hockey because there are two schools of thought.
One is that the extra rest and home-ice advantage after a week off is a huge plus because a team doesn't have the grueling grind of a first-round series. But, increasingly, there's a thought among fans and statistics that home ice in the second round ain't all it's cracked up to be.
Since the 2010-11 season, when Atlantic Hockey expanded to 12 teams, home teams have been dominant in first-round series, with one notable exception. In 2012, home teams went 8-2. In 2013, they were a perfect 8-0. In 2014, first-round home series again went 8-2 in favor of the home team.
The lone exception was 2011, the year of the ill-fated divisional series. With the top two divisional teams receiving byes, the remaining four teams from each division played single-game playoffs. Road teams won them all, and the home team that year went 0-4.
The quarterfinals, however, provide a contrast. In 2012, home teams went 8-3, but in the last two years, they're under .500 at 9-10. The 2013 playoffs saw home teams go 5-4, but last year's playoffs saw a game and a half regression to 4-6. Each year, a home team's been swept out of the playoffs.
So if you're keeping score at home, the tightest race in the Atlantic Hockey standings sits around fourth, fifth and sixth. Mercyhurst has the inside track to the bye with 31 points, and RIT is in fifth at 29 points. Air Force and Holy Cross are tied with 27 points.
Two of those teams will end up with a home series next week. One will host whoever's left (as the fifth slot). But if you win, do you really lose?
Players of the week
Here's the latest from the league office:
Player of the week — RIT's Brad McGowan: McGowan had himself a weekend by scoring five points. He notched three goals and two assists, with a plus-3 rating, to help RIT split with Robert Morris. McGowan is within three points of scoring 100 points for his career.
Goaltender of the week — Sacred Heart's Alex Vazzano: I failed to mention Vazzano earlier, and this is why. Vazzano made 53 saves on the weekend and registered both a 0.51 GAA and a .981 save percentage. He had one of those weekends where after Saturday's game, I hope he asked someone, "Do you like apples? Well how 'bout them apples?"
Rookie of the week — Bentley's Jayson Argue: Argue registered 66 saves on 69 shots for a .957 save percentage. He's second in the nation with a .940 save percentage and eighth with a 1.86 GAA. After four years of having Branden Komm set every record in the book, Argue is in position to shatter a couple of them less than a year later.
Defenseman of the week — Canisius' Doug Jessey: Jessey helped Canisius grind out a playoff-type performance; the Griffs allowed only three goals in two games against a Mercyhurst offense that is one of the most potent in the nation. He also blocked seven shots.