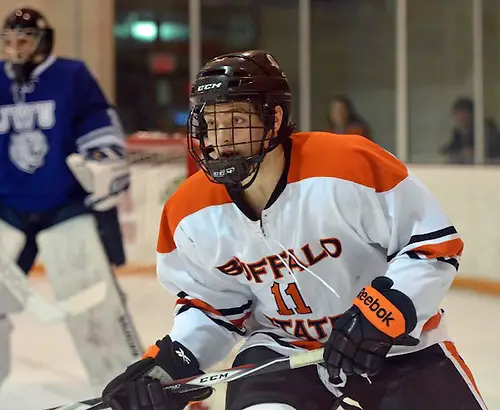 Once again, USCHO.com helped administer the SUNYAC All Rookie and defensive awards, this time for the 2014-15 season.
The purpose is to bring some publicity to players who are not recognized by the traditional end-of-season awards.
Since the SUNYAC chose to not expand its year-end awards, USCHO.com agreed to help the coaches. USCHO does not select these awards, only coordinates them. It is the coaches who choose in the same way they select the other SUNYAC year-end awards.
USCHO merely does what PriceWaterhouseCoopers does for the Oscars – tabulates and announces.
2014-15 SUNYAC All-Rookie Team
F: Dan Broderick (Cortland)
F: Mitchell Herlihey (Oswego)
F: Jason Zaleski (Buffalo State)
D: Chris Taff (Plattsburgh)
D: Ayrton Valente (Plattsburgh)
G: Drew Weigman (Cortland)
Defensive Player Awards
Best Defensive Forward: Mike Montegna (Oswego)
Best Defensive Defenseman: Brandon Beadow (Plattsburgh)
Beadow has now won this award four consecutive years.