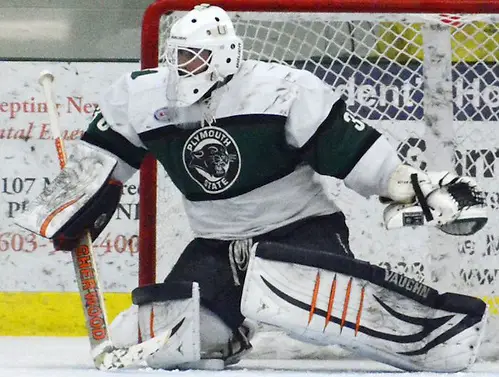 Our columnists take a look at what's in store for all nine men's Division III conference tournament semifinal and finals.
ECAC EAST – No. 3 Babson (19-5-3, 12-4-2) @ No. 1 Norwich (23-3-1, 17-1-0). This could evolve into a low-scoring goalie battle, as some of the best keepers in the country will be in the crease. Babson's Jamie Murray twirled six shutouts, tied for tops (with St. Thomas's Drew Fielding) in the nation. Norwich can counter with either sophomore Ty Reichenbach (1.35 GAA) or freshman Braeden Ostepchuk (1.52 GAA), who stand 1-2 in the country in goals against. The Cadets, ranked No. 1 in the nation, took both regular-season meetings with No. 10 Babson, 3-2 (in OT) and 6-3.
ECAC NORTHEAST – Championship matchup to be determined by Wednesday's semifinal tilts pitting No. 4 Curry at No. 1 Nichols and No. 3 Johnson & Wales at No. 2 Salve Regina. Nichols, ranked No. 15 in the nation, is gunning for its second consecutive conference crown.
ECAC WEST – No. 2 Neumann (14-8-4, 9-5-1) @ No. 1 Hobart (20-6-0, 12-3-0). Winners of nine straight, Hobart, ranked 12th, is the second hottest team in the country (next to Adrian). That string includes two wins over the Green Knights in late January (the Statesmen also prevailed in their first meeting in Week Two). Neumann freshman Mike Davis is the West's leading goal-getter (with 12 in league play), while Hobart first-year goalie Frank Oplinger (1.75, .942) leads the league's tendies.
MASCAC – No. 2 Salem State (13-10-3, 9-7-2) @ No. 1 Plymouth State (15-8-3, 14-3-1). The seedings would have been reversed if this matchup had been more even during the regular campaign. As it was, Plymouth took all three meetings with the Vikings, two of them by 3-2 scores. Backboned by junior goalie Gordon Ceasar, the Panthers have won nine of its last 10 starts, while Salem freshman Michael Casale was the MASCAC's second leading goal-scorer with 12. Immovable object?
MIAC – Hamline (13-10-4) at St. Mary's: (15-9-2): Hamline has won two in a row and is seeking its first NCAA tourney bid since 2011. Charlie Adams has been phenomenal, scoring 18 goals and dishing out 13 assists for a Pipers team that averages three goals per game. John Sellie-Hanson, who has won 11 games, gives fifth-seeded Hamline a strong presence in goal. The Pipers, one of the biggest turnaround stories of the year, come in playing with confidence, especially after knocking off top-seeded St. Thomas on the road last weekend. Second-seeded St. Mary's won both games against the Pipers in the regular season and has performed well under pressure, winning four of their last five, including three in a row, by one goal. Martin Gruse has fueled the success with his 19 goals and 19 assists, while four other players have tallied at least 20 points for the Cardinals' offensive attack. Goalie Phil Heinle has won 13 games, including three shutouts, and the Cardinals are looking to continue their magical ride during a season where they have their most wins since going 15-11-1 during the 1996-97 campaign.
NCHA – St. Norbert (20-5-2) at Adrian (22-3-3): Riding a 10-game win streak, Adrian is playing as well as anyone in the nation right now and will have the advantage of playing in front of a sold-out crowd at home in the Harris Cup Final against the reigning conference and national champions. Kyle Brothers and Josh Ranalli lead a high-powered offense that has produced 134 goals. Brothers has scored 22 goals and tallied 24 assists while Ranalli has come through with 17 goals and 25 assists. Mathew Thompson has done his part as well, coming up with 20 goals and 19 assists. Adrian is also set on the defensive end of the ice behind the play of Scott Shackell, who has won 16 games in goal and allows less than two goals per game. The Green Knights can't be counted out, however, even if they do have to play in a tough road environment. St. Norbert is in the title game for the 13th time in the last 14 years and has won the last five conference championships. Winners of the their last six, the Green Knights have cranked out 124 goals and have given up just 45. Mason Baptista has helped pave the way with eight goals and 26 assists, fueling a team that shares the puck as well as anyone. St. Norbert has dished 195 assists. Tony Kujava has filled in nicely in goal after David Jacobson went down with an injury, winning eight of the 12 games he has played in this season.
NESCAC – Conference championship will be decided Sunday following Saturday's semifinal clashes featuring No. 4 Williams and No. 3 Connecticut College and No. 8 Tufts and No. 2 Amherst. All games will be played at Amherst. The NESCAC is the lone Eastern conference whose top seed – Trinity, ranked No. 2 at the time – was ousted in the quarterfinals.
SUNYAC – No. 2 Oswego (18-3-4, 12-2-2) @ No. 1 Plattsburgh (19-5-2, 13-2-1). Lions and lambs, Lakers and Cardinals. March is usually ushered in by both combinations and this year is no different. The two SUNYAC titans will meet conference title for the sixth time in eight years, with Platty ranked eighth in the nation, holding a 3-2 edge in the previous bouts since 2008. Oswego, ranked fourth, for that matter, will be seeking its third consecutive league championship. There is a strong likelihood that both teams will wind up with NCAA tournament bids. The Lakers held the upper hand during the season, winning at Plattsburgh (3-2), while the teams tied 3-3 in overtime in the rematch at Oswego.
WIAC – Wisconsin-River Falls (19-7-1) at Wisconsin-Stevens Point (21-5-1): The fourth-ranked Pointers feature one of the most impressive offenses in the nation, racking up 121 goals, and are in the title game for the first time. Five players have scored at least 10, with Joe Kalisz fueling the attack with 16. In two of the three meetings with River Falls during the regular season, Stevens Point emerged with the win, including a 1-0 shutout in the first showdown. Behind the stellar play of goaltender Brandon Jaeger – he has 20 wins – the Pointers have been tough to score on all year, allowing 64 goals. But they will be up against a River Falls team that thrives off its defense. The eighth-ranked Falcons have played well on the road, going 9-4, and they are playing in their first WIAC title game as well. Tanner Milliron has been solid in goal, recording three shutouts, and he has 19 wins. Kyle Gattelaro anchors the offensive attack with 13 goals and 12 assists.