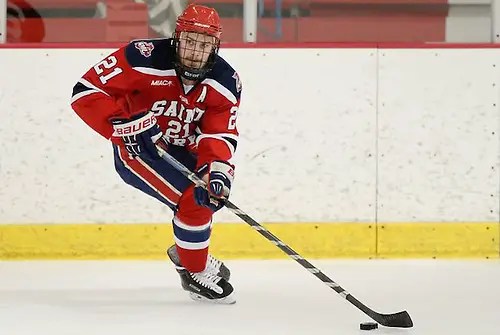 Nine conference tournament champions will be crowned this weekend at sites across the country.
Yes, like Jeffrey Jones' character said in "Ferris Bueller's Day Off," trophies will be handed out "nine times" this weekend.
But which teams garner the glory? Let's see what our columnists have to say.
ECAC EAST
No. 3 Babson (19-5-3, 12-4-2) @ No. 1 Norwich (23-3-1, 17-1-0) – Norwich 2, Babson 1
The Cadets are clicking on all facets of the game these days.
ECAC NORTHEAST
No. 2 Salve Regina (12-9-3, 9-4-1) @ No. 1 Nichols (20-3-3, 11-1-2) – Nichols 5, Salve 2
The top-seeded Bison survived a close shave in Wednesday's 3-2 semi win over Curry and will be looking for a full 60-minute effort against Salve. They'll need one.
ECAC WEST
No. 2 Neumann (14-8-4, 9-5-1) @ No. 1 Hobart (20-6-0, 12-3-0) – Hobart 5, Neumann 3
Here's a fun fact for you. Hobart has won nine straight despite giving up the first goal in four of their last six (the other two were shutout wins). Which means it'll take more than just a fast start for the Knights to pull off the upset.
MASCAC
No. 2 Salem State (13-10-3, 9-7-2) @ No. 1 Plymouth State (15-8-3, 14-3-1) – PSU 5, Salem 1
The Panthers have had Salem's number this year, having won three straight against the Vikings. An even more relevant number is two – the number of goals allowed by MASCAC first-team netminder Gordon Ceasar in his past three starts.
MIAC
Hamline (13-10-4) at St. Mary's (15-9-2)
The Pipers won't be fazed by playing on the road after pulling off an upset of the Tommies last weekend. The Cardinals have been clutch in big moments, winning four of their last five games by a goal, including a double overtime win against Concordia last week. Both regular-season matchups were close, with St. Mary's winning each one by a goal. This one should be just as tight and could go either way. This should be an entertaining battle as the MIAC's top points leaders square off in Martin Gruse of St. Mary's and Brandon Zurn of Hamline. Gruse leads the league in goals with 19, while Zurn has come through with 14 goals. The Cardinals get the edge playing this title game at home. St. Mary's, 4-3.
NCHA
St. Norbert (20-5-2) at Adrian (22-3-3)
The two best teams in the conference square off for the right to earn the automatic bid to the NCAA tournament. The fifth-ranked Green Knights come into the Harris Cup final with plenty of title game experience, having won five consecutive championships. This is their 13th trip overall in the last 14 seasons. St. Norbert shares the puck as well as anyone, paving the way for their offensive success. Winners of their last 10, second-ranked Adrian comes into the game red-hot. The Bulldogs have a high-powered offense that won't be easy to stop. They won both games against the Green Knights in the regular season and should get the job done in front of a sold-out crowd at home. Adrian, 5-3.
NESCAC
The league employs a "final four" championship format, with Williams, host team Amherst, Connecticut College and Tufts all looking to survive to Sunday's title tilt. With top-seed Trinity already ousted, it wouldn't be a shock to see No. 2 Amherst prevail over ancient rival No. 4 Williams (4-3) in an "Ephs 'n' Jeffs" final.
SUNYAC
No. 2 Oswego (18-3-4, 12-2-2) @ No. 1 Plattsburgh (18-5-2, 13-2-1) – Plattsburgh 3, Oswego 2
This will be the 12th time the schools have met for the SUNYAC crown. The hoopla surrounding this rivarly tilt aside, special teams could be the determinant. Platty will have to stay out of the penalty box or risk the wrath of the Lakers' power play, which is second best in the nation (31.5 percent).
WIAC
Wisconsin-River Falls (19-7-1) at Wisconsin-Stevens Point (21-5-1)
The Falcons started off their season with 13 consecutive wins but struggled at times in the second half because of a difficult schedule. River Falls, ranked eighth in the nation, has gotten back on track. It took out Eau Claire on the road in the semifinal series of the tourney and won't be rattled playing on the road against the Pointers, who are ranked fourth in the country and have already won the WIAC regular season title. Defense could very well decide this outcome as the Falcons and Pointers feature two of college hockey's best goalies. Tanner Milliron of River Falls and Brandon Jaeger of Stevens Point have combined for eight shutouts, with Jaeger tallying a league-best five on the season. Goals won't be easy to come by for either team and this one has the potential to be decided in overtime as both teams are fighting for their NCAA tournament lives. Stevens Point, 3-2.