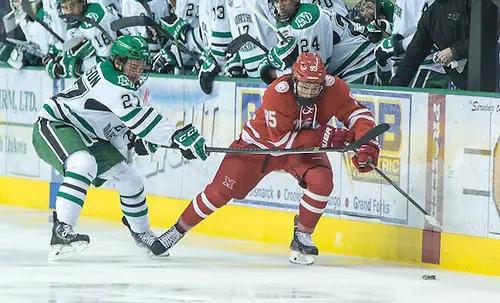 Even at the start of this season, prognosticators circled this weekend's series between North Dakota and Miami series in Oxford, Ohio, as a potentially huge one.
UND and Miami came into last fall as two of the biggest favorites to win the NCHC regular season title. It stood to reason, then, that many thought the teams' meetings this weekend could decide who will enter the league playoffs with the No. 1 seed.
Pat yourself on the back if you saw that coming.
After sweeping St. Cloud State last weekend, top-ranked UND clinched at least a share of the NCHC regular season championship. North Dakota (47 points) could put more than just one hand on the Penrose Cup this weekend with even one tie on the road against Miami (41).
If the RedHawks win both of their home games against UND, however, Miami would spoil UND's bid to win the Penrose Cup outright. Speaking earlier this week, RedHawks coach Enrico Blasi acknowledged the tough challenge his team has in front of it this weekend.
"Any time the No. 1 team in the country comes to your building, there's excitement, and we have a lot of respect for North Dakota and what they've been able to do this year and just their program in general," he said.
"[They're] well-coached, a lot of depth at all positions, really, and they're the No. 1 team in the country for a reason."
UND is also coming into Oxford on a hot streak. North Dakota has won each of its last four games and hasn't lost one within 65 minutes of hockey since falling 3-2 in overtime at No. 5 Omaha on Jan. 30.
One would have to go back even further to find the last time UND lost a game in regulation. Nearly back to the start of 2015, in fact, when UND lost 4-1 at home to No. 7 Minnesota-Duluth on Jan 9.
Fifth-ranked Miami is no slouch itself. A split at No. 7 Denver last weekend gave the RedHawks all to do this weekend if it is to pick up a share of the NCHC regular season title, but Miami has won seven of its last nine games.
Miami also will have home-ice advantage on its side this weekend, and the RedHawks are a solid 10-4 this season at Steve Cady Arena. The RedHawks also will be playing against a UND team without Mark MacMillan, an injured senior forward who has led his team this season in goals with 16.
"It's a tough break for him because he's an unbelievable player, and we know that firsthand and I just feel bad for him," Blasi said. "You don't want to see that on anybody and hopefully he can get back because he's a senior and he's a good hockey player."
Blasi knows that MacMillan is far from UND's only weapon, however.
"They've got so many weapons and so much depth that we have to prepare the same and we have to be ready to play our best hockey," Blasi said, "and that's the bottom line."
From UND's perspective, coach Dave Hakstol said that MacMillan's absence — which is indefinite as a result of a lower-body injury suffered blocking a shot last Saturday — will force his team to make some changes ahead of its clashes this weekend.
"Injuries are part of the game and our team has dealt with them all through the year [and] we'll do that again this time around," Hakstol said. "It's obviously tough for Mark and that's on the personal side, but for our team we just continue moving on and we'll have to rearrange things a little bit and do a good job."
If UND can indeed do that and pick up at least a point this weekend, the Penrose Cup will be heading to Grand Forks, N.D. Although Hakstol's team is where it wants to be to that end, he knows his group will need to put in the work yet again in this last round of games before the playoffs.
"Everybody's playing pretty good hockey and we're playing pretty good hockey, so it should make for a pretty good series," Hakstol said.
"Always a lot on the line. I don't think it's any surprise that it comes down to the final weekend here, and we have a piece of the championship right now and we want to try and improve upon that."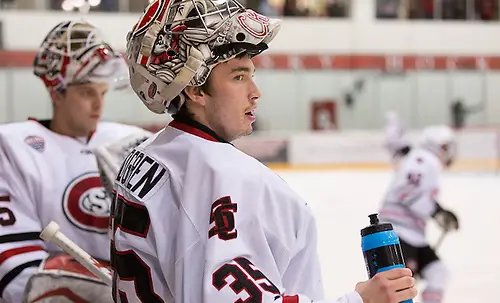 Playoff implications abound
The meetings between Miami and North Dakota aren't the only games this weekend that will have a say in where teams will end up in next week's first round of the NCHC playoffs.
Denver heads to unranked St. Cloud State this weekend for a pair, and both teams will have plenty to play for. SCSU will be on the road in the first round of the playoffs no matter what, but the Huskies could jump from the No. 6 seed to No. 5 with a sweep this weekend. Fourth-place Denver is only two points ahead of No. 5 Minnesota-Duluth in the race for home ice next weekend.
Last-place Colorado College will stay there regardless of what happens in the Tigers' series this weekend at No. 8 Omaha, but CC could give the Mavericks some headaches. One of CC's two league victories this season came in Colorado Springs against UNO on Jan. 16, and that might not be a great omen for a third-place Omaha team that's only one point ahead of Denver.
Finally, sixth-ranked Duluth heads to Western Michigan this weekend for a pair of games between two teams in the bottom half of the league. Western is locked into the No. 7 seed for the NCHC playoffs, but fifth-place UMD could clinch home ice for next week with solid showings in Kalamazoo and a slip or two this weekend from fourth-place Denver.
Little has been decided in the NCHC heading into the final weekend of the regular season. No surprise there.
Players of the week
Offensive player of the week — Trevor Moore, Denver: The sophomore forward picked up six points — two goals and four assists — last weekend in a split against Miami. Two of his seven shots on goal on the weekend found their way into the RedHawks' net, and he also finished the game with three blocked shots and a plus-2 rating.
Defensive player of the week — Nick Mattson, North Dakota: The senior blueliner was a big reason why his team was able to earn a share of the NCHC regular season title last weekend against St. Cloud State. He picked up a goal and two assists in UND's two-game home set against the Huskies and finished the weekend with a plus-3 rating.
Rookie of the week — Danton Heinen, Denver: One of the favorites to be named the league's newcomer of the year, Heinen amassed two goals and four assists last weekend against Miami. Four of them — two goals and as many assists — came on Saturday in a 6-2 win for the Pioneers.
Goaltender of the week — Tyler Marble, Colorado College: The sophomore CC goalie had a career weekend against Western Michigan, helping the Tigers pick up four points in the league standings. Marble allowed just two goals all weekend against the Broncos and picked up his first career shutout on Friday in a 5-0 CC victory.