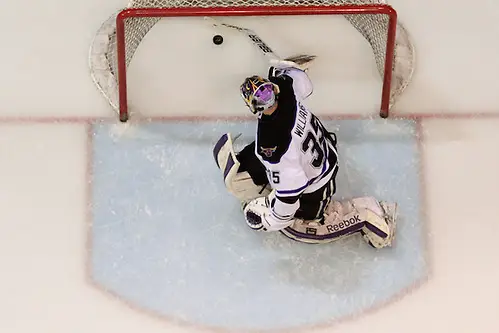 There was a stretch recently where on three consecutive Saturdays, a Division I men's college hockey team scored 10 goals or more.
Since Jan. 30, there has been a 9-5 result, a 7-5 score, a 6-5 final and three 6-4 games.
Through it all, the season scoring average kept falling.
That's because in that same span, 23 games finished scoreless or with one or two total goals scored.
No surprise here: Lower-scoring games are far more prevalent, sinking the average number of goals per game this season to a level that might set an all-time low.
Two seasons ago, there was an average of 5.48 goals scored per game, the lowest level recorded.
Through the end of February this season, the scoring average is 5.41 goals per game. Through the same number of days of the season in 2013-14, it was 5.64; in 2012-13, when the record low was set, it was 5.49.
Check out the trends here: