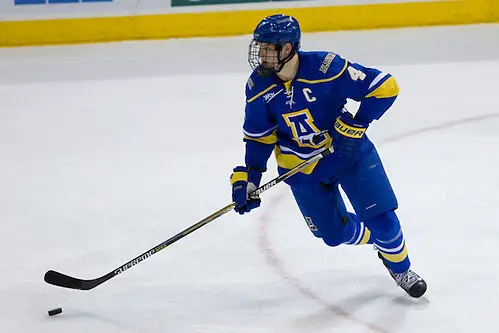 The St. Louis Blues announced Tuesday that the club has signed Alaska defenseman Colton Parayko to a two-year, entry-level contract.
Parayko has been assigned to the Blues' American Hockey League affiliate in Chicago.
Parayko spent the past three seasons with Alaska, totaling 17 goals and 49 assists for 66 points in 104 games. This season, he appeared in 34 games and ranked third on the club with 23 points on six goals and 17 assists.
"This is something that you dream of as a kid growing up and playing hockey," said Parayko in a news release. "It's really tough to leave, but I have made some great friendships and memories that I will be able to keep for the rest of my life."
"I am very happy for Colton and his family as he has worked extremely hard for this opportunity," added Nanooks' coach Dallas Ferguson. "It's hard to see an athlete leave college early, but I fully support his decision. In his time here as Nanook, he has developed into a great NCAA defensemen and a tremendous leader for Nanook hockey. Colton's work ethic and character are second to none and I'm very confident he will successfully continue his path to becoming an everyday National Hockey League player."
In 2013-14, Parayko won the WCHA's Defensive Player of the Year honors and was Second Team All-American.
The Blues originally drafted Parayko in the third round (86th overall) of the 2012 NHL draft.