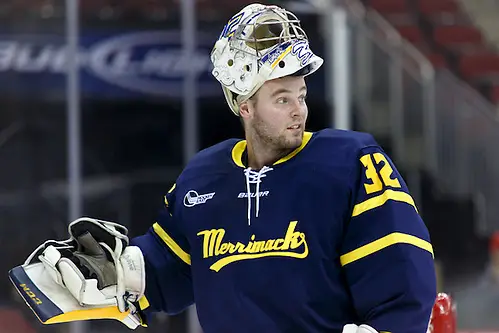 Last weekend, I expected the fifth- through eighth-seeded teams to move smoothly ahead to the Hockey East quarterfinals. Not easily but without much in the way of potholes.
Those teams, I theorized, had distanced themselves from the lower-tier clubs, plus they held home-ice advantage.
Instead, Merrimack shocked Northeastern while Maine and Massachusetts pushed Vermont and Notre Dame, respectively, to a third game.
So much for the idea of smooth sailing.
As for the quarterfinals, the top seeds look like significant favorites, but ask Northeastern how much that helped.
Additionally, the four top teams sat last weekend, potentially losing their edge while their upcoming opponents stayed sharp.
Until last season, rust wasn't a factor. Only the top eight teams made the playoffs and there was no first-round bye. But the playoff format changed with the addition of Notre Dame and then this year, Connecticut, so everyone makes the playoffs and the top teams sit.
Last season, only one favorite fell in the quarterfinals, but that one was a doozy. Notre Dame knocked off top-seeded Boston College, which had dominated the regular season and run away with that title.
Was it better for teams to be resting last weekend or playing two or three or, in the case of Notre Dame, what amounted to almost five games?
"I think we'll be able to answer that question better after the series is over," Massachusetts-Lowell coach Norm Bazin says. "You never want to miss a weekend of hockey at this time of the year.
"But at the same time, it's probably better than the alternative. There are too many good teams in Hockey East and the parity is too strong to risk anything in the first round."
Given, then, that it's better to be off than risk getting bounced, how does a coach keep his team at peak efficiency?
"You want to stay sharp but you don't want to overwork your kids during this stretch," BC coach Jerry York says. "How hard do you work them? How many days off do you give? It's a unique situation for the coaches.
"You like to keep playing games, but you can use it to your advantage."
Let's look, then, at the matchups on tap.
No. 1 Boston University hosts No. 11 Merrimack
On paper, this one isn't close. BU features the top offense in the league (and second in the country), with no team even close to its 4.00 goals-per-game average. Merrimack ranks last at 1.73.
Similarly, BU's power play is No. 1 in Hockey East (28.3 percent) and second in the country, while the Warriors again rank last (12.9). That chasm grows even wider when considering that BU's man advantage in the second half has been roaring along at a 35 percent clip.
At the defensive end, however, the numbers are close, reflecting Merrimack's area of strength and top difference-maker, goaltender Rasmus Tirronen.
That said, BU comes in as the near prohibitive favorite, a fact that Merrimack coach Mark Dennehy states without hesitation.
"All the pressure is on them," he says. "No one is picking us.
"They've got the best player in the country, they've got 124 goals, their power play is at 28 percent and they're at home. They're supposed to win.
"So we can come in free and put our best foot forward and see what happens."
Although few outside the team give Merrimack much of a chance, Dennehy sees no issues with believability.
"Up until four weeks ago, our season had been very successful, but we hit a rough patch," he says. "So it was nice to get those two playoff wins.
"There's obviously a lot more believability when you win two games in overtime against a very good team that's playing at home."
As for BU, there is some concern about the rust factor despite strong practices in recent days.
"I'm anxious to see how we start because it's a funny time of the year not to play," BU coach David Quinn says. "Hopefully, we can start out strong on Friday night because when you get to this point of the season, you've got to play 60 minutes. You can't play 55, you can't play 50, you've got to be ready to play 60."
On a humorous note, I'll add that if you're Notre Dame or Massachusetts, you have to be prepared to play 151 minutes and 42 seconds.
Ba-dum-ching. Folks, I'll be here all week.
Yes, I know. Keep the day job.
As for BU's view of Merrimack, Quinn saw what the Warriors did to Northeastern and knows they spent most of the season playing much better than an 11th-place team.
"It starts with their goalie," Quinn says. "He's one of the best goalies in the league, if not in the country, and they do a great job defending in front of him.
"They do a great job making you beat yourself. They play so disciplined, they play so smart. We're going to have to be mentally tough.
"We've got to match their grit and match their will. Otherwise, it's going to be a long weekend."
No. 2 Providence hosts No. 8 New Hampshire
If you're thinking UNH is coming in as just another No. 8 seed, think again. The wildcats struggled in the first half but have come on down the stretch and have won seven straight.
The team that struggled on offense is now ranked third overall in Hockey East. The Wildcats picked up experience at key positions, and then added goaltender Daniel Tirone at the break. He has taken over the No. 1 netminding job, posting a 12-4 record.
"In the first half, we couldn't score goals and we were giving up goals," UNH coach Dick Umile says. "But just before Christmas break, we scored four goals in the third period to come from behind against Maine.
"The character the team displayed in that win propelled us into the second half. We've played well, even the games we lost."
If the team's confidence was shaken in the first half, it's back and for good reason.
"Right now, we're playing with confidence and are winning hockey games," Umile says. "We've got believability.
"We're going to play with confidence against Providence. They were picked to finish first and they finished second. Jon Gillies is the top goalie in the country, so this will be a battle.
"But we're looking forward to it."
As Umile notes, Providence's biggest difference-maker is between the pipes. Gillies ranks as the top Hockey East goalie in GAA (1.74) and save percentage (.939).
"He's an elite goaltender," Providence coach Nate Leaman says. "He gives us a chance to win every night. Early in the season when our team was struggling to score, that put a lot of pressure on Jon, but he held us in there during that stretch.
"In the second half, we've been scoring a lot more goals to support him.
"When it gets to the playoffs, your goaltender has to be your best player. Jon has risen to that occasion for us previously. We're obviously going to rely on him throughout the playoffs."
But Leaman knows a lot more Friars players than just Gillies will have to perform well for his team to advance. UNH is a dangerous opponent.
"Their transition to offense is good, they have good defensive sticks, and they break up a lot of plays," he says. "Between [Grayson] Downing, [Tyler] Kelleher and [Andrew] Poturalski they have three very dynamic forwards that can make a lot of plays if they're given space.
"So we're going to have to do a good job of taking away space. We're happy that the games are being played in our rink so we can play our style a little bit more."
As for the other half of the usual playoff equation of "goaltending and special teams," Providence is also in a strong position. The Friars lead the league in special teams net (plus-8).
"When you get to these series, specialty teams are important," Leaman says. "[We need to] make sure we're disciplined and not taking unnecessary penalties because [UNH] is always one of the least penalized teams in the league."
No. 3 Boston College hosts No. 8 Vermont
This matchup pits two of the best defensive teams in the league against each other.
Vermont not only plays strong defense, it also relies on two blueliners for much of its offense. Senior captain Michael Paliotta leads the team in scoring with 35 points; junior Alexx Privitera, in his first year at Vermont after transferring from BU, isn't far behind with 23.
"We felt that was an improvement in our roster this year with the addition of Privitera and the continued development of our captain, Paliotta," Vermont coach Kevin Sneddon says. "They've been excellent for us in so many ways.
"It's the first time since 1978 here at UVM that a defenseman will lead our team in scoring. He's one of the better defensemen in Hockey East and the country. And Alexx has been a great addition; both his character and his performance have been excellent for us."
Sneddon sees a different opponent in Boston College this year than last when Johnny Gaudreau, Kevin Hayes and Bill Arnold formed an unstoppable line. Different but no less formidable an opponent.
"They've done a great job of adjusting to the loss of that line that dominated so much last year," Sneddon says. "They've got great young talent.
"They're built from the net out. [Thatcher] Demko is a very good goaltender with a lot of big-game experience. When I look at their defensive corps, I don't think there's a better defensive corps in the country.
"They're tough to beat and when you do get opportunities, Demko is usually there to make the first and maybe the second save.
"It's a different style than what we've seen from BC in years past, but the biggest thing is they've improved as the season has gone on.
"We know we have a great challenge in front of us but also a great opportunity."
York also expects a defensive struggle.
"[Vermont] has always been a strong defensive team so they've stayed in their realm of how they play," he says. "It should be a good defensive battle. It'll be hard to score goals."
But that's how the Eagles want to play.
"Every year you look at how you can be the best you can be," York says. "You look at your assets and liabilities.
"As young as we are on defense, they're strong, physical kids. The four defenseman [Mike Matheson, Ian McCoshen, Steve Santini and Noah Hanifin] are as good as I've had here for a while."
So defense became the emphasis.
"This is our strength," York said to the rest of his staff at the beginning of the season. "We're not going to be in a lot of 6-4, 7-5 games if we're going to have any chance to win at all. But we can be effective if we keep the games 2-1, 3-2, 1-0."
Playing to that strength has worked.
"We're trying to be technically sound and very solid defensively," York says. "Now our young forwards are getting better and we can create some goals."
No. 4 Massachusetts-Lowell hosts No. 5 Notre Dame
The team that played close to three games in one night and then two contests the next two nights takes on the team that rested.
Rust or fatigue?
Based on past performances, it won't matter. Notre Dame has never beaten Lowell. Its record stands at 0-4-1.
"We haven't had a lot of success against UMass-Lowell," Irish coach Jeff Jackson says. "We're going to have to play at a high level in their building to have any chance to beat them."
If the Irish are going to win, it'll probably be on the backs of two players, goaltender Cal Petersen and defenseman Robbie Russo.
Petersen has come on strong to post a save percentage of .927 and a GAA of 2.26.
"He's been huge," Jackson says. "We've had our best stretch of hockey over the last six weeks, and he's been the biggest reason for it. He's given us a chance to win every night. We didn't have that kind of goaltending over the first half."
Russo has led the young Irish defensive corps while also scoring 37 points, tops among Hockey East blueliners.
"He's an All-American," Jackson says. "He's had as good of a season as any defenseman I've had here or even in my time at Lake Superior. He's had a career year in terms of point totals and goals, but he hasn't given up his defensive game and he's been a leader back there."
For Lowell, the question is whether the River Hawks have gotten back to the level of play that made them so successful over the first half of the season. They were the last team in college hockey to sustain a conference loss but then dropped seven of nine contests.
They appeared to right the ship in the closing weeks, however, tying BC and taking three of four points from Vermont.
"As a coach you're never quite satisfied with how you're playing," Lowell coach Norm Bazin says. "There's always different pieces of your game that you want to solidify. Special teams is one that we need to get better at here in the postseason, and we hope it does just that.
"At the same time, as you can see over the last three weeks after we came out of that difficult stretch, we've improved and matured a little bit. Some of these young guys had never faced adversity so it was almost a blessing that they had to face adversity and come out of it as a group. Without that I'm not sure they would come of out in the postseason; it's too short."
Although there's lots of youth on this team (including leading scorer C.J. Smith, a freshman), Bazin likes the battle-tested core of this team that was part of two straight Hockey East titles.
"What we lacked in the past was probably some experience," Bazin says. "It's hard to fabricate experience; you either have it or you don't, and we feel our core group has it through two very strong years and postseason, getting through some of those experiences.
"You talk about Adam Chapie, you talk about Joe Gambardella, you talk about A.J. White, Michael Kapla and some of the other defensemen. We like the fact those guys have been through some wars. They do realize there's no free ice in the postseason, you have to earn your space and games are usually decided by one goal.
"Overall, we like the message that they've been sending the young kids. For that reason I think we feel comfortable going into the postseason knowing very well that you'll face a great opponent every night."
And in closing …
Next week will be the final Hockey East column of the season, which Jim Connelly will be writing. After that, USCHO will shift into its NCAA tournament coverage.
So thanks to all you readers.
Thanks also to my wife, Brenda, for her help transcribing interviews. In the phrase "for better or worse," transcribing certainly qualifies as for worse. Best Wife Ever!