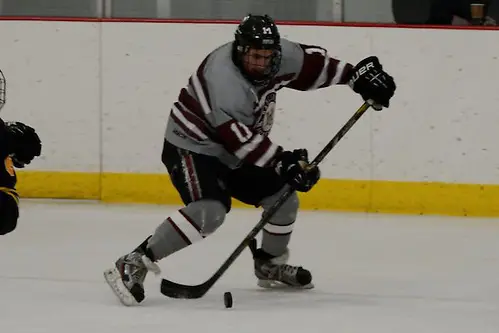 The Division III men's NCAA tournament is here and for all 11 teams, it's time to continue momentum with the hopes it results in a national title.
St. Norbert won the championship in 2014, but didn't make the cut this year, meaning a new national champion will be crowned in two weeks.
Our columnists, Dan Hickling and Brian Lester, break down the field.
EAST – Dan Hickling
(All games on Saturday, March 14)
Oswego (18-4-4) @ Hobart (21-6-0). The Lakers are the conference tourney runner-up selected for the 11-team NCAA field. Hobart is the lone conference winner tabbed as an at-large invitee. With an offense led by sophomores Shawn Hulshof (19-21-40) and Alex Botten (9-26-35), Oswego can fill the net. The Lakers rank fourth in the nation in scoring and second in power play efficiency. No doubt Hobart veteran coach Mark Taylor will scrawl "stay out of the box" in bold letters on his dry-erase board. For their part, the Statesmen have one of the nation's hottest goalies in freshman Frank Oplinger, who grabbed the crease 10 games ago and hasn't lost yet. In all, Hobart has lost just twice since the New Year, one of them being by a 5-4 count to Oswego in which Oplinger was in net and Hulshof tallied twice.
Plymouth State (16-8-3) @ Norwich (24-3-1). It's a little odd for a No. 1-ranked team to have to play a prelim game, but that is the lot handed the Cadets. Norwich may be the best-balanced team in the tourney, as indicated by its national standing in both offense (4.32 goals per game, sixth) and defense (1.39 gpg, first). That top ranking is due in large part to the young goalie tandem of sophomore Ty Reichenbach (1.33 GAA) and freshman Braeden Ostepchuk (1.52), the two stingiest netminders in the country. Which of the two will be handed the crease on Saturday remains to be seen. For their part, the Panthers have been on a tear, going 10-1 down the stretch and winning the MASCAC regular-season crown with nine points to spare. Oh, and PSU will likely have a little revenge in mind, having been hammered hard by Norwich 9-1 in the season opener.
Nichols (21-3-3) @ Trinity (21-3-1). Fresh or frozen? For Trinity, that is the question of the moment. Top-ranked in the NESCAC heading into the conference tourney, the Bantams were ambushed in the first round by No. 8 Tufts, and have been on ice (not on the ice) ever since. That layoff may prove to be beneficial to them, or maybe not. Nichols is making its second consecutive NCAA appearance under young, vibrant bench boss Kevin Swallow, and might well draw a deep drink from the experience well. Top sniper Frank Butler was unavailable to the Bison for that first-round loss to Geneseo. However, the 20-goal scorer has been torrid of late – seven goals and eight points in his last four games – and could definitely be a factor against Trinity. The teams didn't meet this year.
WEST – Brian Lester
(All games start Friday, March 21)
Three teams from the West Region are in the NCAA tournament, including Wisconsin-Stevens Point, the national runner-up from a year ago. The Pointers begin their quest for a championship on March 21 when they battle Hamline in a quarterfinal showdown.
The other team representing the West is Adrian, arguably the hottest team in the nation right now. The second-ranked Bulldogs have won 11 in a row, including a victory over 2014 national champion St. Norbert in the Harris Cup final. The Bulldogs will play Hobart or Oswego on March 21.
Adrian is making its fifth NCAA tourney appearance and has been clicking offensively, scoring at least four goals in all but one game during its win streak.
Youth has served the Bulldogs well, with freshmen Kyle Brothers (23 goals, 25 assists) and Mathew Thompson (21-19) having phenomenal seasons. Senior Josh Ranalli has also risen to the occasion, racking up 17 goals and 27 assists to help fuel an explosive offensive attack.
The Bulldogs have scored 138 goals while allowing only 67 behind the stellar goalie play of Scott Shackell. The senior has played in 22 games, winning 17, and gives up less than two goals per game (1.89 goals-against average).
Adrian will have to be at its best for either quarterfinal opponent. Hobart has won its last 10 games and is coming off its third ECAC West tournament title in program history. The Statesmen are averaging nearly four goals (3.85) per game and feature Bo Webster, who has scored eight goals and tallied 17 assists.
Oswego is tough as well. The Lakers are in the national tourney for the sixth consecutive year and have made it to the final four each time. They are impressive offensively, scoring 115 goals, and they have allowed only 55. Shawn Hulshof leads Oswego with 19 goals and 21 assists.
The matchup between sixth-ranked Stevens Point and Hamline is intriguing. The Pointers (21-6-1) were expected to be back in the tourney this year after making a run to the title game last year.
Meanwhile, Hamline (14-10-4) has won only three games over the last two years and will hit the road for only its second tourney appearance in program.
The two teams met once in the regular season, with the Pipers prevailing 5-4 to end the Pointers' six-game win streak on Jan. 9. That game was in Minnesota.
Stevens Point did not win the WIAC tourney title, falling 3-1 to Wisconsin-River Falls, and it will be anxious to get back on track as it takes aim at its fifth championship in program history.
The Pointers are dangerous offensively, racking up 122 goals, and Joe Kalisz has been impressive, scoring 16 goals while dishing out 13 assists. Kyle Sharkey has also scored 16 goals this season for a Pointers team that has five players with 10 or more goals.
Stevens Point also has the WIAC Player of the Year on its roster in Kevin Gibson, who has come through with seven goals and 22 assists.
Brandon Jaeger has done his job between the pipes, winning 21 games, including five shutouts. He owns a goals against average of 2.29.
The Pipers won't be rattled playing on the road in this game after winning both MIAC tournament games away from home, including a semifinal victory at St. Thomas.
Brandon Zurn and Charlie Adams have been the driving forces behind the Pipers' success. Zurn has scored 16 goals and dished out 19 assists while Adams has come through with 19 goals and 14 assists.
Goalie John Sellie-Hanson has blanked three opponents and has won 12 games to anchor the Pipers' defense.
Hamline won't lack confidence in this showdown, although the Pointers have both confidence and experience working in their favor in what should be a competitive quarterfinal battle.