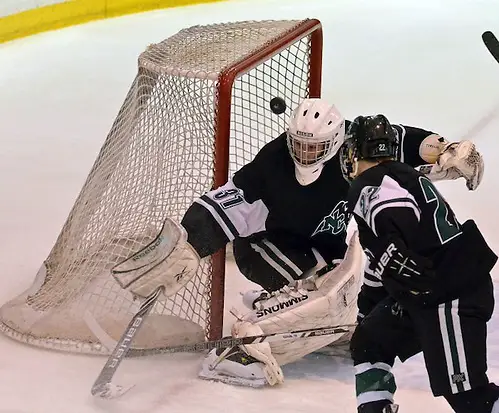 With the NCAA Division III men's tournament starting this weekend with three first-round games, Dan and Brian try to look to late Saturday night and see who the winners of those games will be.
DAN HICKLING
Oswego @ Hobart – Oswego 4, Hobart 2. The Lakers are tourney tested and have five straight Frozen Four appearances to offer as proof. That's where the edge lies. Hobart has experience, too, as upperclassmen make up the top four of its scoring list.
Plymouth State @ Norwich – Norwich 3, Plymouth 1. The Cadets are ranked first in the country for good reason.
Nichols @ Trinity – Trinity 2, Nichols 1. The Bantams have had two weeks to dwell on their unexpected conference ouster. And a fortnight to fix whatever led to it.
BRIAN LESTER
No. 10 Hobart (21-6) vs. No. 4 Oswego (18-4-4): Hobart is hot, winning its last 10, and its 21 wins is tied for the most in school history. The Statesmen have scored 104 goals and have given up 64. Bo Webster leads the way with eight goals and 17 assists. Oswego has made six consecutive appearances in the final four and already beat Hobart once this year, winning 5-4 on Jan. 9. Shawn Hulshof leads the Lakers with 19 goals and 21 assists. This is a tough call, but I'm giving the edge to the Lakers in a close one. Oswego, 4-3.
No. 7 Trinity (21-3-1) vs. No. 14 Nichols (21-3-3): Trinity won six consecutive games before falling to Tufts in an NESCAC tournament quarterfinal. The Bantams lead the all-time series 16-7 and are in the NCAA tournament for the fourth time in program history. Trinity is led by league player of the year Ryan Cole, who has racked up 14 goals and 21 assists. What will be interesting is to see how the Bantams handle their extended layoff as they haven't played since Feb. 28.
The Bison has momentum on its side, winning five in a row, and is coming off a 3-0 win over Salve Regina in the ECAC Northeast tournament title game. Nichols hasn't lost in its last 11 games overall and is led by Frank Butler, who has punched in 20 goals. Alex Larson was the ECAC Northeast Goaltender of the Year and the most outstanding player in the league tournament. Larson leads in the nation in save percentage (.952) and has won 18 games. Although Nichols is playing on the road, I think the Bison will get the job done. Nichols, 4-2.
No. 1 Norwich (24-3-1) vs. Plymouth State (16-8-3): The top-ranked Cadets are coming off their 17th consecutive ECAC regular season title and its first ECAC East tourney title since 2012. Norwich has won 11 tourney titles overall and is playing in its 16th NCAA tournament. William Pelletier leads the Cadets with 38 points, including 14 goals, and is third in the country in points per game. Goalies Ty Reichenbach and Braeden Ostepchuk have split time, with Reichenbach winning 14 games.
The Panthers have won 10 of their last 11 games and feature the MASCAC Player of the Year in Andrew Wigg, who has racked up 36 points, including 17 goals. Plymouth State won its second MASCAC tournament championship last week and is in the NCAA tourney for only the second time in program history. Its last appearance was in 2012. The Panthers rank 10th in the country in scoring offense and Gordon Ceasar has done a tremendous job in goal, winning 15 games. The Cadets won the regular season meeting 9-1 and should have similar results this time around. Norwich, 7-4.