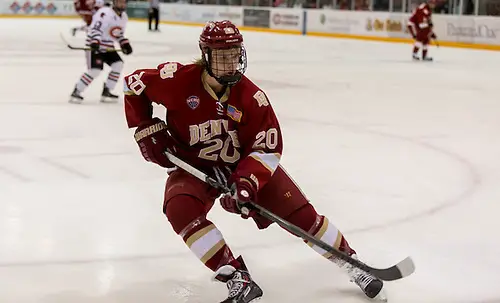 After edging St. Cloud State 3-2 last Friday, the No. 7 Denver Pioneers took the ice Saturday knowing all they had to do was win to be guaranteed home ice. Midway through the second period, however, they trailed the Huskies 3-0.
Luckily for Denver, Western Michigan beat Minnesota-Duluth, so the outcome of the Denver-St. Cloud game was moot for home-ice purposes; the Pioneers already had it locked up. Denver coach Jim Montgomery said his team had other ideas.
"It was nice in the sense of relief that we would be on home ice," said Montgomery. "Really, we were fighting to try to get as high up as we could, and we could have had second. Our last third-period rally just fell short."
Home ice has been a good place for Denver to be this season: The Pioneers have gone 13-5 at Magness Arena. However, their opponent this week, No. 6 Minnesota-Duluth, split with Denver in Denver in January. The two also split in Duluth in October.
"We're expecting it to be just like every other game we play against them," said Montgomery. "It's not going to be easy. We're going to have to really be on top of our game, especially in the defensive zone and the offensive zone. It seems like those are the two areas where the team that has more puck possession time seems to come out on top in the games."
Over the second half of the season, Denver's top line of Danton Heinen, Trevor Moore and Daniel Doremus has emerged as a potent scoring trio. Heinen is 13th in the country in scoring and Moore is 19th. Heinen leads the conference in scoring and Moore is second.
"I feel that since Christmas it has become a bona fide No. 1 line, and the three of them can have a lot of minutes and still execute and create offensive opportunities," said Montgomery. "The confidence that they exhibit on the ice goes right to the bench. I think it makes our team feel like we can win any game."
One area where Denver struggled down the stretch was the penalty kill. After a stretch of eight consecutive games without giving up a power-play goal, and an 18-game stretch in which Denver gave up only three power-play goals, the Pioneers have surrendered at least one in every game since the start of February except the first one against Colorado College and the last one against St. Cloud State.
Montgomery said the Pioneers need to tighten up on the PK.
"It's funny: It seems like in every game it's a different area of our penalty kill that's struggling, whether losing faceoffs, not controlling pucks, our penalty kill just hasn't been cohesive," he said. "We talked to our penalty kill about getting better in the details and really focusing on knowing who the players are that we are trying to take away. It seems that we're having a mental breakdown, and it has to start this Friday. Special teams are so crucial in playoff hockey, and we won't have success."
One piece of good news for Denver concerns Hobey Baker Award candidate Joey LaLeggia, a defenseman who quarterbacks Denver's power play and is fourth in the conference in scoring. LaLeggia missed Saturday's game against St. Cloud while injured, but he will be back in the lineup against Minnesota-Duluth.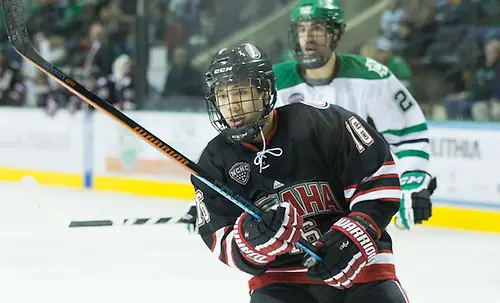 Omaha led by youth
Tied 2-2 with Colorado College late in the third period Saturday night, and with home ice in the NCHC playoffs on the line, Omaha coach Dean Blais knew that he could count on underclassmen, particularly sophomore Austin Ortega, to help lead the way.
Ortega scored the game-winner, his NCAA-record-setting 11th on the year.
"It was 2-2 and sure enough, around the three-minute mark, I started to think, he's breaking the NCAA record if he gets a goal here, and sure enough he went out and made a play and got a shot through traffic and really got an open-net goal," said Blais. "It was a real good game, lots of fans, 8.000 fans, so a good weekend for us."
Up first in the NCHC playoffs for the Mavericks is St. Cloud State; the teams played four times during the regular season, with Omaha winning both at home and losing both on the road.
"It's really important to get home ice at this time of year, especially against a team that plays on an Olympic ice sheet as St. Cloud and Colorado [College] do," said Blais. "To play them here is a huge advantage, but they played well here and we played well there, but the home team won. We're certainly glad to be here this weekend."
In addition to Ortega, Blais leans on sophomores Jake Guentzel and Justin Parizek and freshmen Tyler Vesel, Jake Randolph and David Pope for the majority of his team's scoring. Guentzel is an excellent setup player, a skill he honed playing last season with Josh Archibald and Dominic Zombo on Omaha's top line.
"You're playing on the road, you're getting the opponent's top line against Guentzel and David Pope and Austin Ortega, but then the line that seems to get a lot of attention is Tyler Vesel, a freshman, Jake Randolph, a freshman, and Justin Parizek, a sophomore," said Blais. "That line has been as good as the first line at times. I think the real key is that we need to get a third line, depending on what the other team has. If you are at home, you get a chance to match the other team and get the guys you want out against them. Home ice is huge with that at the end of the year."
One area where Omaha has a lot of experience is in net with senior goaltender and Hobey Baker Award candidate Ryan Massa, who has played the majority of minutes in net for the Mavericks.
"He's a senior and leads the NCHC in save percentage, and is right behind Jay Williams in goals against average," said Blais. "It's quite a difference with this team being so young, versus North Dakota that has the goal to win a national championship this year. We've given up a lot of goals in the slot, but we're a better team now and are making less mistakes in the D zone, but Ryan has been the difference in a lot of games."
All-conference, all-rookie teams unveiled
The NCHC announced its three all-conference teams and its all-rookie squad on Wednesday. Penrose Cup champion North Dakota had five players on the teams, while Denver had four. Seven of the eight teams had at least one player on the teams.
First team
Trevor Moore, so., F, Denver — 26 points (8 first-place votes)
Jonny Brodzinski, jr., F, St. Cloud State — 25 (7)
Mark MacMillan, sr., F, North Dakota — 22 (6)
Joey LaLeggia, sr., D, Denver — 42 (14) (unanimous)
Jaccob Slavin, so., D, Colorado College — 21 (5)
Zane McIntyre, jr., G, North Dakota — 32 (10)
Second team
Danton Heinen, fr., F, Denver — 22 (5)
Austin Czarnik, sr., F, Miami — 21 (4)
Drake Caggiula, jr., F, North Dakota — 17 (4)
Andy Welinski, jr., D, Minnesota-Duluth — 20 (4)
Jordan Schmaltz, jr., D, North Dakota — 19 (5)
Ryan Massa, sr., G, Omaha — 19 (4)
Honorable mention
Austin Ortega, so., F, Omaha — 16 (4)
Dominic Toninato, so., F, Minnesota-Duluth — 14 (4)
Jake Guentzel, so., F, Omaha — 8 (2)
Matthew Caito, jr., D, Miami — 10 (3)
Andrew Prochno, sr., D, St. Cloud State — 4 (0)
Charlie Lindgren, so., G, St. Cloud State — 6 (1)
All-rookie team
Danton Heinen, F, Denver — 42 (14) (unanimous)
Patrick Russell, F, St. Cloud State — 35 (11)
Nick Schmaltz, F, North Dakota — 30 (9)
Louie Belpedio, D, Miami — 40 (13)
Luc Snuggerud, D, Omaha — 22 (6)
Kasimir Kaskisuo, G, Minnesota-Duluth — 38 (12)
LaLeggia was the only player to repeat as a first-team selection. Slavin moved up from the second team last year, while Brodzinski was an honorable mention selection last season.
Players of the week
Offensive player of the week — Austin Czarnik, Miami: Czarnik notched four points while helping Miami split with No. 1 North Dakota. He got all four points on Saturday during senior night, notching a hat trick and an assist while going plus-4 in Miami's 6-3 win that secured home ice.
Defensive player of the week — Joel Messner, Omaha: Messner notched three assists while helping Omaha get a tie and win against Colorado College to secure home ice for the playoffs, including assisting on a short-handed goal Friday and getting his first multi-point game in Saturday's 4-2 win.
Rookie of the week — Adam Plant, Denver: Plant scored the game-winning goal Friday against St. Cloud State, helping Denver secure home ice for the first round of the NCHC playoffs. He finished with a plus-2 on the night.
Goaltender of the week — Lukas Hafner, Western Michigan: Hafner blanked No. 6 Minnesota-Duluth on Saturday, stopping 18 shots and helping Western Michigan secure its first shutout since Dec. 28, 2013. Hafner made 15 of his 18 saves over the last two periods and stopped seven of those shots on UMD power plays.