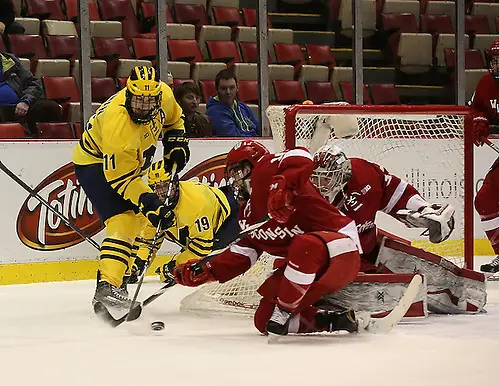 DETROIT — Scoring has been a hallmark of the 2014-15 edition of Michigan's hockey team. The Wolverines were leading the nation in scoring coming into the Big Ten tournament, averaging 3.88 goals per game.
Much of that scoring has fallen on the shoulders of the line of Justin Selman, Dylan Larkin and Zach Hyman. The trio accounted for 113 points during the regular season. They put up another crooked number Thursday night, accounting for nine of Michigan's 16 points in a 5-1 victory over Wisconsin.
Big Ten tournament
See the tournament bracket and get links to schedules and stories at Big Ten Playoff Central.
Hyman picked up two goals and an assist, Larkin scored a goal and added three assists, and Selman notched a goal and an assist.
The line combined for 24 points against the Badgers in four regular season games. Thursday's performance pushed the total to 33 on the season.
Badgers coach Mike Eaves was impressed with the maize-and-blue triple threat.
"They have things you don't teach," said Eaves. "They have abilities you don't teach, and that's what you have to find in young players that you recruit.  You try to limit what they can get done, but in the end they got some things done against us tonight."
Pointing out this team is not one-dimensional from a scoring standpoint, Hyman also explained why it is important for his line to be a catalyst.
"I think that we rely on all our lines. We're not a one-line team by any means," said Hyman. "For us personally, we each want to have a big game offensively and defensively. Today, we were lucky we got a few in."
Although the line is highly skilled, sometimes luck plays a part in the scoring totals, as evidenced by Hyman's first-period goal.
"It hit my stick," explained the Toronto, Ontario, senior. "I was just trying to screen the goalie. It just hit my stick and nobody knew where it went, but I didn't know it went in the back of the net until somebody pointed there."
Hyman's two goals helped him break a five-game goalless streak dating to Feb. 28.
"Zach hasn't scored in recent games," said Michigan coach Red Berenson. "He's played really well, but it's nice to see him get rewarded. He's been a force for us all year and we needed to get a good start against this team and he provided that. He's one of our best players every night, but it was nice to see him capitalize."
Despite the success the line has had this season, points don't matter to Hyman if the Wolverines can't take care of business against archrival Michigan State in Friday's semifinal. The senior will be trying to avenge a home loss last week against the Spartans.
"Playing [Michigan] State and with what happened with us last week, we still have that taste in our mouth," Hyman said. "We'll be ready to play tomorrow. There's no bigger game than that."