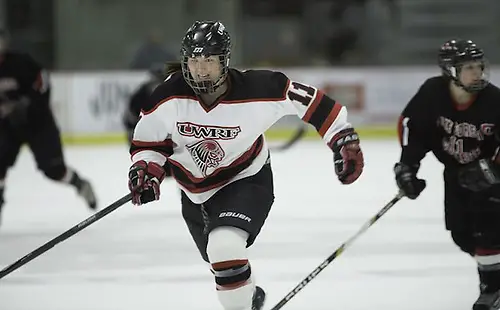 Well, the final weekend of the 2014-15 women's Division III season is upon us, with top-ranked Plattsburgh hosting the women's Frozen Four.
Just four teams remain in the hunt for a national championship as Wisconsin-River Falls plays Elmira in one semifinal and Plattsburgh battles Norwich in the other semifinal on Friday.
The national championship game is set for Saturday at 7 p.m. EST.
It's a safe assumption to say that all four teams have a legitimate chance to add some hardware to their school's trophy case after this weekend.
The Wis.-River Falls-Elmira game will come down to goaltending.
Both teams can certainly score, but keeping the puck out will be the real key.
Plan on Angie Hall being in net for the Falcons and Kyle Nelson getting the call for the No. 2 Soaring Eagles.
Up front, the two schools have five of the top 10 scorers in the nation — Chloe Kinsel, Alice Cranston, and Dani Sibley for UWRF and Ashley Ryan and Ashton Hogan for Elmira. Ryan leads the country with 59 points.
Each team has won 25 games to this point, but getting that 26th win is what matters now.
For the Norwich-Plattsburgh game, it'll be a battle of the team that allowed an NCAA second-low 35 goals (Norwich) against the team that led the NCAA with 140 goals scored (Plattsburgh).
So what gives?
Plattsburgh has won nine straight games and Norwich last lost in regulation back on Jan. 20 to, who else, Plattsburgh, in a 5-0 blowout.
That means Friday night's game comes down to who wants it more — Plattsburgh to solidify its No. 1 national ranking and a chance to play (and repeat) for a national title on home ice or Norwich to show Plattsburgh's win some two months ago may have been a fluke.
Plattsburgh freshman sensation Kayla Meneghin has been consistent and a mature player beyond her years, while Norwich has been led offensively by Kaycie Anderson, who was only tied for 29th in NCAA scoring — a testament to the Cadets' overall depth and scoring balance.
Count on Celeste Robert being in the blue paint Friday night for Norwich and Camille Leonard defending the net for the Cardinals. Just plan on a goalie whose name starts with the letter 'C' getting the victory. Does that make it any easier?
Still, don't plan on a Plattsburgh-Elmira final just yet.
Stranger things have happened.
Check back Friday as Candace and Matt make their final picks of the 2014-15 season.