Tickets for the West Regional in Fargo, N.D., reportedly sold out seconds after they went on sale in October.
That's the level of fan interest in seeing North Dakota challenge for another trip to the Frozen Four that awaits three lower seeds.
Michigan Tech, St. Cloud State and Quinnipiac all know regional host North Dakota is a large obstacle on the road to Boston, but it's the Bobcats that have first crack at beating the NCHC regular season champ about 70 miles south away from its home.
This is the only regional where all four teams have a loss as their most recent result. Both of the Huskies — Michigan Tech and St. Cloud State — lost in the conference title game, while North Dakota and Quinnipiac fell in the semifinals. UND also lost the NCHC third-place game.
Here's a look at the teams playing in the 2015 NCAA tournament West Regional in Fargo starting Friday: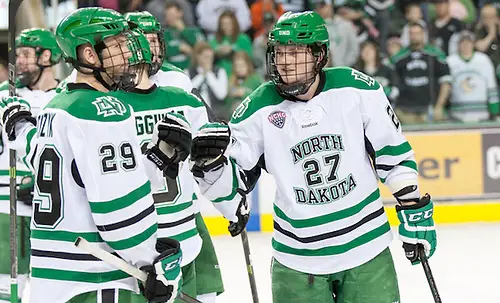 North Dakota
Team page | Statistics | Roster | Schedule/results | History
Coach: Dave Hakstol, 11th season overall and at North Dakota
Record: 27-9-3 (16-6-2-0 NCHC, first place)
How they got in: At-large bid
Regional seed: First
Last NCAA tournament appearance: 2014
Best NCAA finish: Champion, 2000, 1997, 1987, 1982, 1980, 1963, 1958
Why they'll get to the Frozen Four: UND fell 0.6 seconds short of going to overtime in the national semifinals against Minnesota last season. That hasn't slipped from UND personnel's collective memory, and the team will want to finish its business this time around.
Why they won't get to the Frozen Four: UND hasn't been the same since losing senior forward Mark MacMillan to injury, and a pair of losses last weekend at the NCHC's playoff championship weekend has raised some questions as to how far the team can still go.
North Dakota was one of the country's top teams over the course of the regular season, and it held the No. 1 spot in both the PairWise Rankings and the USCHO.com Division I Men's Poll over large chunks of that time.
UND ran into its fair share of setbacks between early October and the middle of this month. Injuries, like those to defenseman Troy Stecher earlier in the season and one currently plaguing senior forward Mark MacMillan, have forced coach Dave Hakstol to move pieces of his lineup around, but those changes worked well enough to give UND the NCHC regular season title.
On the back of that, UND had plenty of reason to be optimistic heading into last weekend's NCHC playoff championship weekend. However, a pair of losses in Minneapolis, to St. Cloud State and Denver, sent UND back to the drawing board ahead of Friday's West Regional semifinal against Quinnipiac.
Hakstol accepted that there was work to be done, but he'd rather not have people overthinking UND's troubles last weekend at the Target Center.
"I think we just get back to work," he said after a 5-1 loss to Denver last Saturday in the NCHC third-place game. "Don't overanalyze a whole lot here.
"We had tough results for our team this weekend. We couldn't ever really get ourselves in a rhythm and on track, couldn't find a lot of energy [on Saturday] other than in a couple of spurts. Plain and simple: We have a lot of confidence in ourselves, [but] get back home and get to work."
UND defenseman Nick Mattson, one of seven seniors on his team this season, echoed his head coach's sentiments
"I think us, as a group, we've been in a lot harder situations than this, so it's not anything we can't handle," he said. "We're just going to face it like men and move forward.
"I don't think it's anything too big that it's going to set us back. We can handle it, and I think we have confidence that we'll be back better than ever."
— Matthew Semisch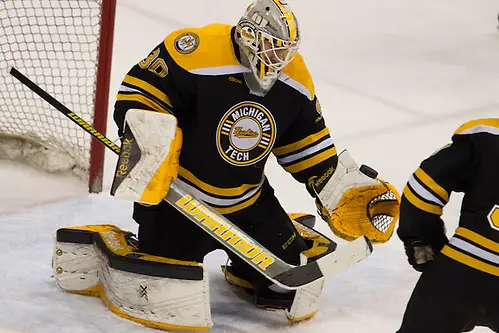 Michigan Tech Huskies
Team page | Statistics | Roster | Schedule/results | History
Coach: Mel Pearson, fourth season at Michigan Tech and overall
Record: 29-9-2 (21-5-2 WCHA, second place)
How they got in: At-large bid
Regional seed: Second
Last NCAA tournament appearance: 1981
Best NCAA finish: Champion, 1975, 1965, 1962
Why they'll get to the Frozen Four: An incredible assortment of upperclass scoring depth — Hobey Baker Award nominee Tanner Kero as well as Alex Petan, Blake Pietila and David Johnstone, all of whom have more than 100 career points — have been building to this for four years. And goaltender Jamie Phillips and the Tech defense have kept opponents out of the net — both his GAA (1.71) and save percentage (.935) are third in the nation.
Why they won't get to the Frozen Four: The Huskies haven't been to the NCAA tournament since 1981 — 10 years before anyone on the Tech roster was born. The Huskies are a talented team but being placed in the West Regional in Fargo for their first tournament appearance in 35 years is not the "Welcome to the NCAA!" gift one would hope for. Provided they get past St. Cloud State, what is essentially a road game against North Dakota looms in the regional final.
If you'd like to put the Huskies' 34-year NCAA tournament drought in perspective, consider this: The last time Michigan Tech made the NCAA tournament, Mel Pearson was a senior on the team.
"We're excited," Pearson said. "It's been a long time since we've been in the NCAA tournament. Too long, actually."
Pearson's team in 1981 beat archrivals Northern Michigan for third place in the tournament. Since then, Tech has had just five winning seasons.
That's partly why Pearson, when discussing this year's team, tries to keep an even keel. He admits the upstart Huskies still have much to prove compared to, say, regional partner North Dakota.
"When you watched the selection show [Sunday], we were Rodney Dangerfield," he said on his radio show Monday morning. "We were trying to get a little respect. We're not North Dakota, Miami or all the teams they were talking about. We just got a little blurb, which is fine.
"We haven't been there in so long I think people don't really know who we are. And that's OK. We'll come in that way and hopefully they'll know who we are when we leave."
Although Pearson has a point about UND, Miami and the other top seeds, there's plenty to talk about regarding the Huskies coming in.
Tech had two of the top three scorers in the WCHA in Kero (45 points) and Petan (39), while Mike Richter Award finalist Phillips leads a strong Tech defensive unit that was tops in the WCHA, too.
And the Huskies are unbeaten in 14 of their last 16 games. Their only two losses in that span were against WCHA champs Minnesota State.
The most recent loss — a 5-2 defeat in the Final Five title game Saturday in St. Paul, Minn. — stung a little, especially considering the Huskies had a 2-1 lead entering the second period. Tech took five third-period penalties and Minnesota State scored two power-play goals in the period.
But Pearson said he wasn't worried about the letdown from that last game. He said he thought the Huskies played five good periods of hockey in the Final Five, which gets them ready for the tough test in Fargo.
"You find out a lot your team in situations like this when there's a lot of pressure playing at a neutral site, just like you would be in the NCAA tournament," he said. "I thought it was a good test for our guys, and I really liked how we took the test. We didn't get 100 percent but we got a 90 percent, which is still a pretty good grade. But you're always shooting for 100 percent."
This week, the test may get slightly harder. Playing in a hostile environment in Fargo ("neutral site" in name only for any team that isn't North Dakota) will be tough, but Pearson said his team looks forward to the challenge.
"With the games being in Fargo, you'll know you'll have good crowds," he said. "It adds to the whole experience for student-athletes. The energy in the building, you want that.
"But we've been good on the road. We've been good in hostile environments this season. There's no more hostile environment than in Big Rapids in that rink against [Ferris State]. I think we'll be fine."
— Jack Hittinger
St. Cloud State Huskies
Team page | Statistics | Roster | Schedule/results | History
Coach: Bob Motzko, 10th season at St. Cloud State and overall
Record: 19-18-10 (14-13-1 NCHC, sixth place)
How they got in: At-large bid
Regional seed: Third
Last NCAA tournament appearance: 2014
Best NCAA finish: National semifinal, 2013
Why they'll get to the Frozen Four: The goaltending has gotten better and the play of Jonny Brodzinski is always a threat.
Why they won't get to the Frozen Four: The Huskies have been a little bit banged up. Kalle Kossila and Andrew Prochno missed the NCHC Frozen Faceoff, although they are expected back this weekend. Tim Daly was hurt in that tournament and his status is unclear.
Entering the NCHC Frozen Faceoff in Minneapolis, the St. Cloud State Huskies had distilled their season down to a single goal: win at least one game and secure an NCAA tournament berth.
The Huskies did so, edging North Dakota 3-1 in the semifinals before falling to Miami in the NCHC championship game 3-2.
"At the very least, we had one thing to do, and we did get that part done," said Huskies coach Bob Motzko. "We're still very disappointed. We put ourselves in a great position to win that championship and we're kicking ourselves. We'd like to have stuck something more through on the power play, which would have tied it up and gave us a chance. Our guys were very pleased with how they played."
The results were more impressive considering that two key players, defenseman Andrew Prochno and forward Kalle Kossila, were injured. Those two are expected back for the West Regional, where the Huskies play another set of Huskies, Michigan Tech.
Unfortunately, the Miami game may also have cost St. Cloud the services of senior defenseman Tim Daly, who was injured on a boarding penalty by Andrew Schmit.
"Right now, Prochno feels good, and over the next two days we will determine what level he'll be able to play, and Kossila should be back," said Motzko. "He probably could have gotten in last weekend, but we picked the safe side and kept him out. We gambled, and because we won, we knew we were in the tournament and had the luxury to keep him out and rest him.
"The one that is still on hold is Tim Daly, and that's as bad a hit from behind as I've seen in many, many years, and it's unfortunate. He's one tough kid, and we probably won't know till Wednesday or Thursday his status. I know he is making progress."
Asked about Michigan Tech, Motzko expounded on the competitiveness of the team.
"The thing that we are most concerned with is Michigan Tech," he said. "Twenty-nine wins. I think you just start there. Teams that are on the verge of a 30-win season, that's a historic season. They've earned it, and they deserve where they're at. They're led by older kids and have four guys with over 100 points, a goaltender whose numbers are off the charts, and that tells you that you are playing as an older team with great confidence.
"The thing that they will have in their corner is that for the first time in 30-something years, they are in the tournament. There has to be tremendous excitement in their program right now, and in their fan base and their university."
— Candace Horgan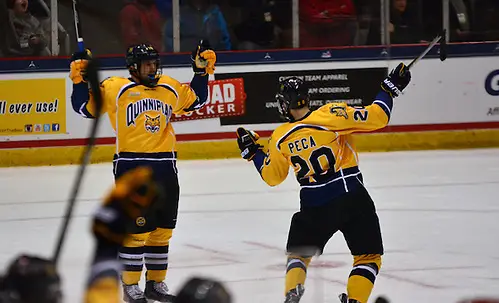 Quinnipiac Bobcats
Team page | Statistics | Roster | Schedule/results | History
Coach: Rand Pecknold, 21st season at Quinnipiac and overall
Record: 23-11-4 (16-3-3 ECAC Hockey, first place)
How they got in: At-large bid
Regional seed: Fourth
Last NCAA tournament appearance: 2014
Best NCAA finish: Runner-up, 2013
Why they'll get to the Frozen Four: The Bobcats will buckle down and play smart, opportunistic hockey in the absence of top scorer Sam Anas.
Why they won't get to the Frozen Four: Offensive struggles will be magnified exponentially, allowing opposition to play aggressively to the point of smothering the Bobcats.
It's doubtful that many folks would be able to find Quinnipiac on a map, even among college hockey fans, but the hard-to-find school with the hard-to-say name is anything but a novelty in the NCAA tournament.
The Bobcats return to the Big Dance for the third consecutive season, each time on the strength of their regular season as an at-large bid. Picked by many to have a down year due to graduations and early departures, the young roster (18 of 27 players are underclassmen) has performed above and beyond even its own coaches' expectations: Veteran coach Rand Pecknold had, until very recently, often described his team as "overachieving."
One bright-star-gone-dark, however, is that of sophomore Sam Anas. The 23-goal sniper missed the ECAC Hockey championship weekend with what is reported to be a sprained knee ligament, and he is not expected to play this weekend, either.
"He's not a kid that you can replace," Pecknold said of his star forward. "He's one of the best in the ECAC. He's dynamic. He's one of the better power-play players in the country. He drives possession. You've got to find a way to play a little bit different game [without him]. We did that in [ECAC Hockey quarterfinals] Game 3 against Union: We lost him early in the first, and were able to grit out a win."
This has left Quinnipiac even less margin for error than what little it had before Anas' injury.
"I think, for us, we've struggled a little bit to score goals this year," Pecknold said. "It hasn't been a major problem, but we haven't been as prolific offensively as we have the last two years. What we have to do on Friday is have some unlikely heroes. We need some guys to step up and score a big goal for us. That's usually what happens at this time of year: You get some unlikely people to step up and get a big one, and that's what we need.
"It's going to be about playing to our identity and buying into it. When we play to our identity, we find success. We have the utmost respect for North Dakota. We're basically playing a road game at North Dakota — I don't care that it's not in their rink, it's still in their state — and we need to be ready to go."
— Brian Sullivan