How will a week off before the NCAA tournament for half of the East Regional field affect things?
We'll see that play out on Saturday, when two NCHC teams that each played two games last weekend go up against Hockey East teams that missed out on the conference championship weekend. Regional top seed Miami plays Providence, while Denver plays Boston College.
As records go, it's the most evenly matched regional. All four teams have 13 losses and either one, two or three ties.
Here's a look at the teams playing in the 2015 NCAA tournament East Regional in Providence, R.I., starting Saturday: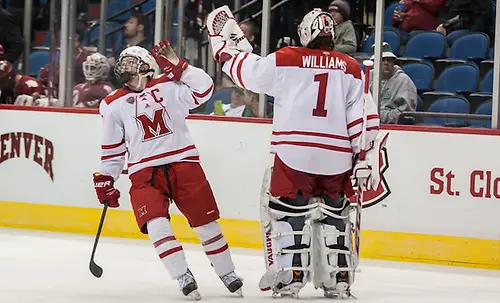 Miami RedHawks
Team page | Statistics | Roster | Schedule/results | History
Coach: Enrico Blasi, 16th season at Miami and overall
Record: 25-13-1 (18-10-1 NCHC, second place)
How they got in: NCHC playoff champion
Regional seed: First
Last NCAA tournament appearance: 2013
Best NCAA finish: Runner-up, 2009
Why they'll get to the Frozen Four: Miami looked really good last weekend in winning the NCHC tournament, having a lot of speed and offensive depth.
Why they won't get to the Frozen Four: The loss of Blake Coleman to an automatic one-game suspension, as well as the potential loss of Riley Barber to injury, leaves the RedHawks without two of their best offensive weapons.
After falling to North Dakota on the final weekend of the regular season and losing a chance to win the Penrose Cup as NCHC regular season champions, then needing three games to get past Western Michigan in the first round, few might have ruled Miami a favorite for the NCHC Frozen Faceoff.
However, the RedHawks roared into Minneapolis and defeated Denver 6-3 in the semis — a little revenge, perhaps, for losing to Denver in the NCHC Frozen Faceoff championship game in 2014 — and followed that with a 3-2 win over St. Cloud State in the championship game.
"I think part of our program is being humble, but this is a tough league. To win that trophy is pretty special," said Miami coach Enrico Blasi.
While the RedHawks were celebrating their triumph exuberantly on the ice, it may have come at a cost. Blake Coleman, who had a hat trick in the championship game, also got his third game misconduct penalty of the year, which comes with an automatic one-game suspension, rendering Coleman unavailable for Miami's game against Providence in the East Regional.
"It was the most stressful game I've ever been in," said Coleman. "I said I could never be a coach, because that was just terrible. I'm so proud of the team; I put us in a tough situation, and they bailed us out."
Forward Riley Barber also appeared to get hurt during the game and left the ice late in the third period. If both Barber and Coleman are gone, it takes out two of Miami's top three scorers. Barber didn't practice on Tuesday, and Blasi officially listed his status as "questionable."
In addition to losing potentially two of its top three scorers, Miami faces a Providence team that has an accomplished goaltender in Jon Gillies.
"Gillies is as good as anybody in the country," said Blasi. "Their goaltender might be the best goaltender in the country. … Pretty much the same stuff that we've seen all year long in our league play. We're playing a top-notch team, and we are going to try our best. … We've played them quite a bit over the last few years; in fact, we have them on the schedule next year, for the next four years after that."
Asked after the St. Cloud game about whether the physicality might have been detrimental, Blasi said: "I think if you are in a championship game, you want to win the championship. These opportunities don't come every day. To say that you are going to play a game and not give it everything you have, and not be physical and worry about injuries and things like that, that would not be the right way to play the game. That would be cheating the game. That's cheating life."
— Candace Horgan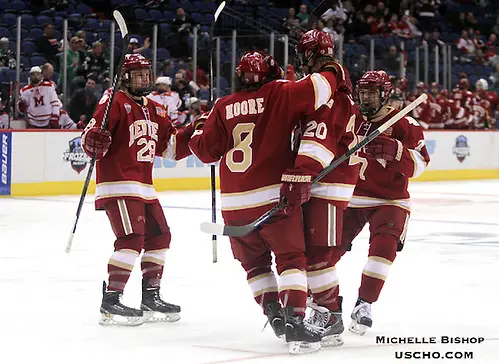 Denver Pioneers
Team page | Statistics | Roster | Schedule/results | History
Coach: Jim Montgomery, second season at Denver and overall
Record: 23-13-2 (16-11-1 NCHC, fourth place)
How they got in: At-large bid
Regional seed: Second
Last NCAA tournament appearance: 2014
Best NCAA finish: Champion, 2005, 2004, 1969, 1968, 1961, 1960, 1958
Why they'll get to the Frozen Four: A strong senior contingent led by Hobey Baker Award candidate Joey LaLeggia can pull on a lot of experience and leadership.
Why they won't get to the Frozen Four: The Pioneers have shown some inconsistency, and can't afford to take any games off now.
In some ways, the Denver Pioneers' play in the NCHC Frozen Faceoff was like two completely different teams. After falling flat on Friday in a 6-3 loss to Miami, Denver rebounded with a 5-1 win over North Dakota, a result all the more surprising considering Denver rested three key seniors: forwards Daniel Doremus and Larkin Jacobson and defenseman and Hobey Baker Award candidate Joey LaLeggia.
"We didn't think we had the details of our game and what gives us success. A lot of it was Miami played so well; a lot of it was us just not playing up to our level," said Denver coach Jim Montgomery. "That being said, I like the way we responded on Saturday and came back with a really solid team effort."
Denver was still in the running for a top-four seed in the NCAA tournament on Saturday if Miami had lost, but because the RedHawks won, the Pioneers finished seeded fifth overall and got a regional No. 2 seed. In the East Regional, they will face a familiar foe: Boston College.
The Eagles ended the Pioneers' season in 2014, defeating Denver 6-2 in the Northeast Regional in Worcester, Mass. BC also came to Denver for a pair of games earlier this season, which they split, BC winning on Friday 2-1 and the Pioneers returning the favor in the second game with a 2-1 decision in overtime.
"I think it does give you an advantage as far as preparation and understanding what the opponents' strengths and weaknesses are," Montgomery said of being in a regional with a team they have played five times this season (Miami) and another they have faced three times in the last year.
"I think over the next couple of days after we are done with BC we are going to start working on Providence so that we are really familiar with them."
Asked about getting revenge against BC for last year's defeat, Montgomery deflected, saying: "It's not so much revenge; it's more the state of our team and our confidence level and maturity level going into this tournament. I think last year, we were a little bit in awe of Boston College and being in the tournament after we had won the NCHC and spending a lot of emotional energy doing that.
"I think this year, our team understands that we can beat anybody in the country and that if we play Pioneer hockey, we are going to be a really tough out."
— Candace Horgan
Boston College Eagles
Team page | Statistics | Roster | Schedule/results | History
Coach: Jerry York, 21st season at Boston College, 43rd season overall
Record: 21-13-3 (12-7-3 Hockey East, tie-second place)
How they got in: At-large bid
Regional seed: Third
Last NCAA tournament appearance: 2014
Best NCAA finish: Champions, 2012, 2010, 2008, 2001, 1949
Why they'll get to the Frozen Four: BC has an exceptional defense, strong goaltending and is loaded with big-game experience.
Why they won't get to the Frozen Four: This team has significant limitations on offense, so it won't win many shootouts.
Fans who are expecting a Boston College team similar to last year's edition that led the country in scoring by a wide margin will be surprised. To paraphrase Rick Pitino, "Johnny Gaudreau, Kevin Hayes and Bill Arnold aren't walking through that door."
In fact, the Eagles rank at the unusual position of 23rd in the country in scoring. There's no Gaudreau, Cam Atkinson, Patrick or Ben Eaves, Nathan Gerbe, Brian Boyle or …
You get the point.
BC has eight players who hit or passed the 20-point plateau, but the high mark is Alex Tuch's 28 points, a far cry from Gaudreau's 80 last year (or, for that matter, Denver's Danton Heinen and his 45). It's worth noting that three of the eight Eagles 20-point scorers are defensemen and all five forwards are freshmen or sophomores.
"Offensive production is the one area that we knew was going to be a major concern because of the players we lost," BC coach Jerry York said. "We're more of a team-type offense, creating offense from different areas.
"But the bottom line is that we haven't scored enough goals. We've played great defense down the stretch, but we still will need to score more goals to win."
The defense is one of the best in the country, if not the best, led by Mike Matheson, Ian McCoshen, Steve Santini and Noah Hanifin.
"They're strong, physical kids," York said. "The four defenseman are as good as I've had here for a while."
Goaltender Thatcher Demko earned all-Hockey East honorable mention status, and although he's only a sophomore, he has substantial big-game experience.
"The bottom line is we have good players," York said. "They know how to win games. But it isn't going to be easy, especially at this level."
Since BC and Denver met in last year's regionals as well as two games early in this season, there's both familiarity and respect.
"They create a lot of offense with their defensemen," York said. "We've got to be really conscious of that.
"Their overall team speed is excellent, and they play at an extremely high tempo. We have to be ready for a game that's going to be very, very quick without much time and space on any parts on the ice."
— David H. Hendrickson
Providence Friars
Team page | Statistics | Roster | Schedule/results | History
Coach: Nate Leaman, fourth season at Providence, 12th season overall
Record: 22-13-2 (13-8-1 Hockey East, tie-second place)
How they got in: At-large bid
Regional seed: Fourth
Last NCAA tournament appearance: 2014
Best NCAA finish: Runner-up, 1985
Why they'll get to the Frozen Four: With one of the nation's best goaltenders in Jon Gillies, Providence needs to simply give him the goal support and Gillies can get this club to Boston.
Why they won't get to the Frozen Four: When Providence struggles, the offense isn't clicking. And the Friars' power play is the cog to that offense. A bad power play could equal a bad result for the Friars.
For a team that didn't have to play a single game, last weekend was one of the most tense of the season for Providence.
Having been eliminated by New Hampshire in the quarterfinals of the Hockey East playoffs, the Friars were left in a position of sitting and waiting.
The weekend began with about a 75 percent chance for Providence to make the field as an at-large team, but after upset after upset to begin Friday, those chances began to erode.
"It was a tense weekend," said Providence coach Nate Leaman. "Eleven percent of the scenarios had us at the 15 seed and only 2 percent of the scenarios had us as the 16 seed.
"We couldn't fall below the 16 seed, and 16 you're out. So the lowest we could've fallen was 15 and we fell that low."
Indeed, the Friars were the last at-large team to make the NCAA field, but that new life is something this team could use to rally.
The Friars played their best hockey in the second half of the season, led by junior all-Hockey East goaltender Jon Gillies. After Jan. 1, Gillies allowed three or more goals just four times and didn't allow more than two goals in the final 11 games of the year for Providence.
That should translate to a powerful position for the Friars. But Leaman is also aware that of those final 11 games, Providence lost four because the offense couldn't produce. That would be the recipe for disaster.
"I think we know as a team how we score goals and I do [believe we are confident]," said Leaman. "The other aspect of that is our power play. Our power play was much better in the second half of the season, and when our power play has been good in games we score a lot more and we generate a lot more."
Providence will face Miami team that Leaman calls "one of the deepest teams up front in the nation." The good news — and maybe a point of controversy for some in the seeding process — is that the game will be played in Providence.
The Friars were not mandated to play in Providence because Brown is the regional's host, not the Friars. And with Providence the final team in the field, some felt it was a gift to allow it to play so close to home.
Leaman, however, said he looks forward to the support the local fans will bring.
"The crowd is going to be terrific in Providence because Providence is a big-time hockey city," said Leaman. "They've always supported hockey well in this city."
— Jim Connelly