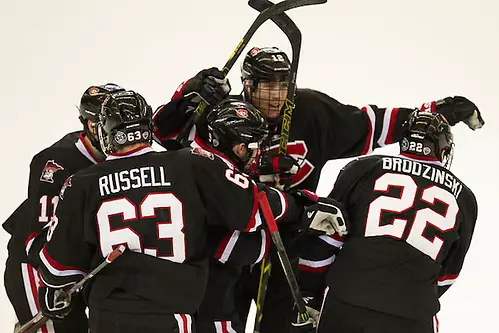 FARGO, N.D. — Jonny Brodzinski wasn't ready for the season to end.
Just 37.3 seconds away from defeat Friday, Brodzinski took a shot that slipped behind Jamie Phillips and sent St. Cloud State into overtime with Michigan Tech. A Michigan Tech turnover led to an SCSU goal and a 3-2 victory in the NCAA West Regional semifinals.
2015 NCAA West Regional
See all of our coverage of the West Regional on our regionals page.
Earlier in the game, his teammates weren't sure if Brodzinski would be back on the ice.
During the first period, Brodzinski took a hit in a collision behind the Michigan Tech net and went down the tunnel into the locker room.
St. Cloud State was without its leading scorer, and the uncertainty of Brodzinski's return led to offensive struggles.
"I thought it did when he got hurt," SCSU coach Bob Motzko said. "Guys like that don't stay down. We've had some big injuries in the last few weeks and our bench got silent."
Brodzinski made an attempt to finish the first period but waited until the second period to join a resilient lineup — never backing down.
"It's unbelievable character by Jonny," said Judd Peterson, who scored the overtime goal for St. Cloud State. "It almost gives us an extra push to keep fighting, to see what a guy like him is battling through, especially in the playoffs.
"Obviously, we need Jonny. When it comes to this time of the year, you've just got to play for the guy next to you and that's what Jonny did tonight. Credit to him for coming out and playing and tying the game. It gives us a little extra energy."
Brodzinski has posted 20-plus goals in each of his three seasons with the Huskies, and the impact he has on his teammates was evident Friday night at Scheels Arena.
"Just between the period, I think they thought, 'What do we do now?'" Motzko said. "Because he means so much to our team, and I think in the third period when Jonny raised his game, our team started to raise their game."
A capable lineup took the challenge in stride, fighting back against a Michigan Tech team that ended with a 38-21 shot advantage.
While Brodzinski's rebound proved crucial to St. Cloud's lineup, there is still concern of how he will handle the remainder of the West Regional.
"I thought during the third period, he was outstanding," Motzko said. "He raised it to a whole new level, which Jonny has been doing the second half. He gutted it out. Obviously, we're a little concerned tomorrow."