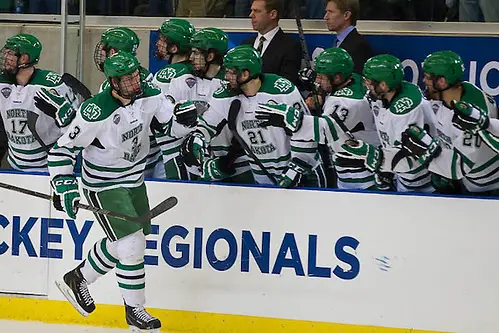 FARGO, N.D. — Two few weeks ago, regular season champion North Dakota had a little bit of trouble putting away last-place Colorado College in the first round of the NCHC playoffs.
Mark MacMillan, the leading scorer for UND, was lost to a season-ending leg injury at the end of February and the team missed his presence.
2015 NCAA West Regional
See all of our coverage of the West Regional on our regionals page.
UND managed to get over it, pick up a sweep of the Tigers and advance to the Frozen Faceoff as the favorite to win it and claim the NCAA tournament's No. 1 overall seed.
That's when things started to briefly go downward for UND.
North Dakota's first-round matchup was with St. Cloud State, a team that needed to win just to get into the NCAA tournament. UND felt MacMillan's absence again and fell to the Huskies 3-1 after having its offense stifled. It didn't get any better in the third-place game as UND was crushed by Denver 5-1 and slipped to No. 2 overall.
In the first round of the NCAA tournament on Friday, however, North Dakota went back to its old style. It got the lead early, started hitting Quinnipiac to throw the Bobcats off their game, played strong defense and had another stellar performance from Zane McIntyre (29 saves).
After a 4-1 victory, UND is on the verge of returning to the Frozen Four, with a familiar conference foe in its way. North Dakota plays St. Cloud State in Saturday's West Regional final.
North Dakota coach Dave Hakstol insisted there was no need to bounce back after their tough weekend in Minneapolis.
"Teams have ups and downs," he said. "This group of guys has been able to [turn the page] every week during the season. Last weekend has very little to do with this weekend. It's part of the season."
The way Hakstol put it, North Dakota players have indeed turned the page, and as a result, the program has advanced to its fifth straight regional championship game.
"It's obviously a big opportunity for our hockey team," UND defenseman Troy Stecher said about the rematch with St. Cloud State, which beat Michigan Tech earlier Friday. "Last week they beat us, but it's a new week. We just gotta go do the little things to try to win the hockey game."
"After our last game went with them, there's definitely motivation," Tucker Poolman said. "More so, we're playing for a berth in the Frozen Four."