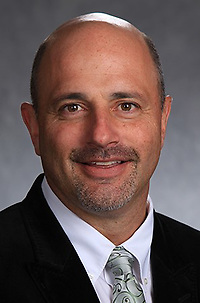 Former Brown standout Robert Kenneally has been named the head women's coach at Brown and in doing so, will step down from his position as executive associate director of athletics at the school.
"Bob has been a valuable member of the Brown athletic department for over 20 years and I'm pleased that he has accepted the head women's ice hockey coach position at Brown," said Brown director of athletics Jack Hayes in a statement. "His background in coaching and extensive hockey experience makes him a natural choice to lead this program."
"I am honored to be selected to head the women's ice hockey team at Brown and look forward to returning the program to a national level of success that our women's ice hockey program has experienced," added Kenneally. "My intricate knowledge of admissions, financial aid and the Brown curriculum, along with my experience overseeing the men's ice hockey program for 20 years and extreme passion to coach, have prepared me to be a successful head coach in the ECAC and Ivy League."
Kenneally, a Warwick, R.I., native, joined the Brown staff in 1991 and has held several positions within the athletic department, including successfully guiding the men's and women's golf program as head coach/director of golf operations from 1998 to 2002.
Kenneally has been the sport supervisor for football, baseball, women's basketball, gymnastics, men's hockey and men's soccer, and oversees the budget and finance office, athletic communications and marketing and promotions. He also is the director of student-athlete academic support services, oversees eligibility, serves as university academic advisor and has worked on the admissions board in the recruitment of student-athletes.
He has served on several ECAC Hockey committees and is currently a committee member for College Hockey Inc.
A 1990 graduate of Brown, Kenneally enjoyed an outstanding four-year career as a high-scoring forward, leading the team in scoring in 1987-88. As a senior, Kenneally received the Charles A. Lanigan Memorial Trophy, given to the senior hockey player who shows the most improvement, leadership and dedication during his varsity career. He received his Bachelor of Arts degree in Organizational Behavior and Management.