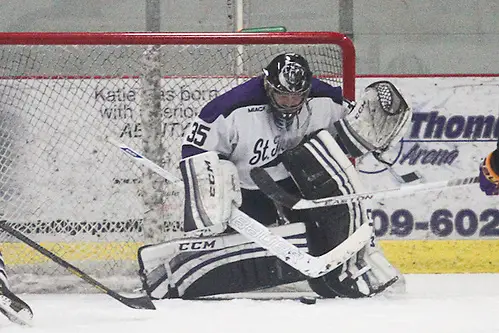 St. Thomas senior goaltender Drew Fielding parlayed a strong 2014-15 season into being named the USCHO.com Division III Player of the Year.
Fielding went 13-6-4 this year with a 1.67 GAA and a save percentage of .934. He had six shutouts on the season and also earned the 2015 Sid Watson Award from the AHCA.
"Drew is the most valuable player of our hockey team for the fourth year in a row and the main reason our team was the third-ranked defense in the nation," St. Thomas coach Jeff Boeser said in a news release. "Drew takes all our freshmen under his wing and helps them navigate the rigors of being a college athlete. His contributions to our team and our school cannot be measured only with statistics. He is one of the most outstanding student-athletes I have ever had the pleasure of coaching."
The native of Burlington, Ont., also set the MIAC conference record in shutouts and is in the top three all-time in conference career GAA and save percentage. He was named the MIAC Player of the Year in 2014 and 2015.
Fielding was also named to the All-USCHO First Team for his efforts.
2014-15 All-USCHO First Team
| Player's Name | Position | School |
| --- | --- | --- |
| Ryan Cole | F | Trinity |
| Stephen Buco | F | Massachusetts-Boston |
| Michael Hawkrigg | F | Trinity |
| Kevin Gibson | D | Wisconsin-Stevens Point |
| Bobby Gertsakis | D | Oswego |
| Drew Fielding | G | St. Thomas |
2014-15 All-USCHO Second Team
| Player's Name | Position | School |
| --- | --- | --- |
| Sean Orlando | F | Trinity |
| Josh Ranalli | F | Adrian |
| Shawn Hulshof | F | Oswego |
| Jack Callahan | D | Wisconsin-Eau Claire |
| Mike Vollmin | D | Babson |
| Jamie Murray | G | Babson |
2014-15 All-USCHO Third Team
| Player's Name | Position | School |
| --- | --- | --- |
| Nick Zappia | F | Cortland |
| William Pelletier | F | Norwich |
| Kyle Brothers | F | Adrian |
| Zach Sarig | D | Plymouth State |
| Michael Flynn | D | Trinity |
| Frank Oplinger | G | Hobart |