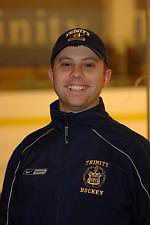 Winning the school's first national championship has earned Trinity's Matt Greason the USCHO.com D-III Coach of the Year honor.
Greason just completed his fourth year behind the Bantams' bench and led the team to a 25-3-1 mark this year (16-1-1 in NESCAC play, good for first overall). Trinity earned its way into the NCAA tournament with an at-large berth.
"When I came here four years ago, I felt this program needed a change," Greason said on the Trinity website. "I didn't recruit any of the seniors, but from day one, they were 100 percent committed to this program. This entire group of guys refuses to lose any battles."
Named the third head coach in the 38-year history of the program on Oct. 12, 2011, Greason returned to Trinity, where he earned his bachelor's and master's degrees, served as an assistant coach from 2007 to 2009, and was a two-time All-NESCAC honoree in 2002 and 2003. He spent 2009 to 2011 as an assistant coach for the United States National Team Development Program in Ann Arbor, Mich.
With the NTDP, Greason coached the defense for the U-17 and U-18 squads, served as head coach at the NTDP top-40 tryout camp and was an assistant for Team USA in the Memorial of Ivan Hlinka Tournament.