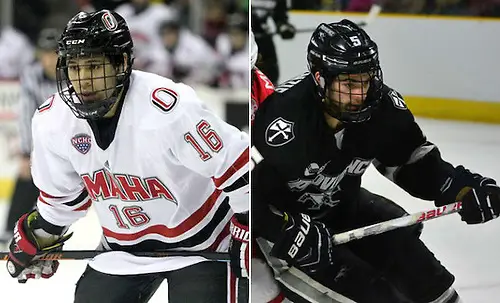 The first semifinal of the NCAA Frozen Four at TD Garden in Boston matches two teams that could not be more different.
The Omaha Mavericks play a game of transition, making their chances off mistakes by their opponents. The Providence Friars are a structured team, playing strong, metered hockey in each zone.
2015 Frozen Four
Follow all of USCHO's coverage at Frozen Four Central.
It's the Mavericks' first Frozen Four appearance; it's the Friars' first in 30 years. They'll meet at 5 p.m. EDT on Thursday in the first semifinal; Boston University plays North Dakota in the second game of the doubleheader.
The Mavericks are a bit of a surprise team in this year's field. With a 20-12-6 record, they finished third in the NCHC with 43 points. After Rochester Institute of Technology knocked off the other Mavericks, the ones from Minnesota State, Omaha beat the Tigers to win the Midwest Regional.
"They have really good sticks, both offensively and defensively," an opposing coach said of Omaha. "They take away the ice with their sticks."
By being aggressive and taking away as much ice as possible from opponents, the Mavericks can launch their deadly counterattack from anywhere on the ice at any time.
"They play a freelance, run-and-gun style," said an opposing coach. "They are aggressive and they get their defense involved."
The Mavericks are led offensively by a pair of sophomores, Jake Guentzel (13-25–38) and Austin Ortega (20-17–37), and they boast two more sophomores and three freshmen among their top seven scorers.
"They were as good offensively as any team [we faced]," said an opposing coach. "They transition well. They can get four or five players up the ice quickly."
Their transition game is so impressive that it almost appears to be undisciplined. In reality, however, they know exactly what they are doing.
"They almost seem unstructured in how they play, but that might just be an act," said an opposing coach. "They are very good when they are taking chances."
It took a little while for senior Ryan Massa to solidify things in goal. Since he has, his team has a chance to win nearly every night.
In a career-high 28 appearances, he has a 14-7-6 record with a 1.92 GAA and .939 save percentage. He has given up three or more goals only six times this season.
"Quite frankly, they did not get the goaltending they needed when we played them," said an opposing coach whose team defeated the Mavericks. "You have to get great goaltending to beat them because with Massa in there, they are getting it now."
If Massa can see the puck, he will stop it.
"You have to get traffic in front of him," said an opposing coach. "You have to create secondary scoring chances if you want to beat him."
The Mavericks will need Massa's steadying hand against the strong-minded Friars. With a 24-13-2 record, the Friars finished the regular season tied for second in Hockey East with Boston College. They fell in three games to New Hampshire in the quarterfinals of the Hockey East tournament but bounced back at the NCAA East Regional by beating Miami and Denver.
The Friars are an impressive team at both ends of the ice, which is a direct result of how they play.
"They are a very good-looking hockey team," said an opposing coach. "They play a very structured game. They are strong from zone to zone."
For the Friars, it begins on the back end, where they have seven defensemen who have played in at least 28 games. Four of those seven, led by junior Tom Parisi (4-14–18), have 11 or more points.
"They have a very mobile defensive corps," said an opposing coach. "They give teams no space to work with because they can join the rush quickly."
They boast 10 forwards with 11 or more points as well. Junior Nick Saracino leads the team in assists (22) and points (35). Senior Shane Luke has also been solid offensively with 13 goals and 31 points.
"They have very persistent forwards," said an opposing coach. "There is no easy ice out there."
If they do make mistakes, something that does not happen often, junior Jon Gillies is back there to support them between the pipes. Gillies, a two-time member of the U.S. World Junior team, has 58 career wins in 106 appearances.
This year, Gillies has a career-high 37 appearances, winning 22 of those games, another career high. He has also shaved his GAA to 2.01, down from 2.08 as a freshman.
His team is playing stronger in front of him as well, so he has seen fewer shots than in previous seasons.
"They have arguably the best goaltender in the country back there," said an opposing coach. "If there is a breakdown with their defensive scheme, they know they can count on him to make the save."
At the end of the day, this matchup might be the more intriguing of the semifinals because of variance between the two teams.
"I know that I am looking forward to this game because these teams are so different," said an opposing coach. "Both teams play really well, but they have very different styles."
It will come down to which team can assert its game on the other.
"If it becomes a transition game, Omaha will win," an opposing coach said. "If it becomes a structured game in the zone, Providence can win."