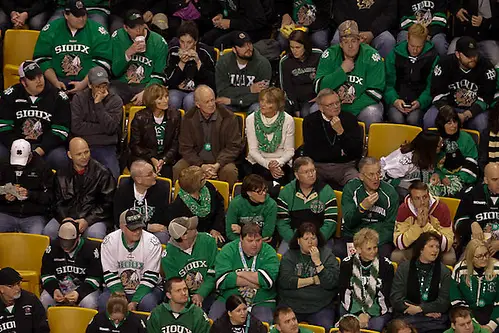 BOSTON — When the manager of The Greatest Bar approached the front door to prepare for a noontime opening Thursday, she was met with a surprising sight.
Surprising, at least for her.
A line of North Dakota fans, clad in their ever-present green jerseys, had already queued up for the team's pre-party even though the bar wouldn't open for another two hours.
"You always see that," says North Dakota fan Rob Flaherty. "You always see the green. I'm never surprised. Really, are you ever surprised?"
Well, no.
If you've followed college hockey for any time at all, you've seen the intensity of the team's fans. You've seen the sea of green jerseys, heard the national anthem end with "… home of the Sioux," and perhaps even been unfortunate enough to disagree with the Hobey Baker Award candidacy of a North Dakota player.
Even so, with this year's Frozen Four held in Boston University's backyard, the consensus expectation was that the Terriers would hold an overwhelming advantage in the stands, and with Providence only an hour's drive away, Friars fans also would squeeze out those from Omaha and the farthest team from Boston, North Dakota.
Yet a BU fan in the concourse could be heard muttering, "There's a lot of Sioux around."
Indeed, even if the nickname has been banished from the official NCAA lexicon.
"Every game is a home game," says Tommy van Norman, wearing his North Dakota jersey, green beads around his neck and a bag of freshly purchased memorabilia in one hand.
And as for the fans braving lines outside The Greatest Bar for several hours, van Norman adds with a smile, "We drink really well."
Of course, fans attending the pre-party extended also to those who drank nothing harder than a Coke, such as 10-year old Brooks Huber, his 13-year old sister, Hadley, and their father Steve. Steve Huber earned a Dad of the Year nomination for allowing his kids to miss school to see their team in the Frozen Four, getting up at 5 in the morning, catching a 7 o'clock flight into Newark, N.J., and arriving in Boston at 1 p.m.
Just in time to head to The Greatest Bar for the festivities. There, Brooks and Hadley got green beads to drape around their necks, and Brooks added green North Dakota stickers on both cheeks.
And while their father explained the devotion of the team's fans with a wry grin and the words, "It gets you through the winter," the Huber youngsters had the purest explanation of all.
In unison, they said, "The love of hockey."