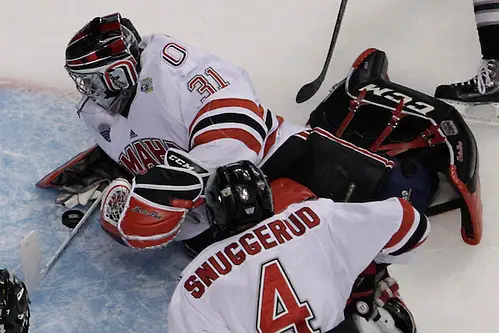 BOSTON — From the opening faceoff to giving up a goal 24 seconds after finally finding the net themselves in the third period, the Omaha Mavericks seemed at least a step behind in Thursday's 4-1 loss to Providence.
Omaha was outshot 48-24 and the Friars attempted 84 shots. UNO seemed slow and nervous to start and couldn't capitalize on what little momentum it did generate.
2015 Frozen Four
Follow all of USCHO's coverage at Frozen Four Central.
Coach Dean Blais said that the combination of the team's first trip to the Frozen Four and the Mavericks' youth may have contributed to the jitters that UNO exhibited.
"I think they were more relaxed than us," said Blais. "We didn't do anything out of the ordinary. I thought that when we hit the ice, we didn't execute like we wanted. We have simple rules: Yell for the puck, get it in deep, try not to turn it over. Give Providence credit. They have a more veteran set of forwards than we do and I think they played with more confidence than we did."
Whatever lapse in confidence the Mavericks showed on the ice stayed on the ice. After the loss, the team was optimistic about UNO's future.
"We're pretty happy with what we were able to accomplish this year as a team, coming to the Frozen Four for the first time as a program," said senior co-captain Brian O'Rourke. "I think that it sort of puts Omaha on the map. With a great, young group of players coming back next year, I think everyone can look forward to another great season of UNO hockey."
"We had such a heavy freshman-sophomore class. This stage is naturally nerve-racking for anyone," said senior goaltender Ryan Massa. "For a first time in school history, making it this far in the postseason with such a youthful team only bodes well for the future of this program. It's going to give guys a confidence to understand how hard it is to get here and then even how much harder it is to win that one game to get you to the national championship.
"I think it was a great learning experience for these guys and it was an honor to be there for them and to experience it with them."
The very experience of getting to play in a national semifinal game can help a program build its future.
"It kind of lets the players know what it takes to get to this level," said O'Rourke. "It's a long season and there's a lot of highs and lows, but this year I think we were able to kind of keep the ship steady toward our main goal, and that was to win a championship.
"Yeah, we fell short, but I think we're able to establish a little bit of a team culture that is going to be standard from here on out and what is expected each and every day. These younger guys, they really took to it and they really understood it, and that just carries over now."
Sophomore forward Jake Guentzel called the season "a huge success" and added that the senior class "put a good stamp on us younger guys, what to look up to and what to do next year. We're really looking forward to the future."