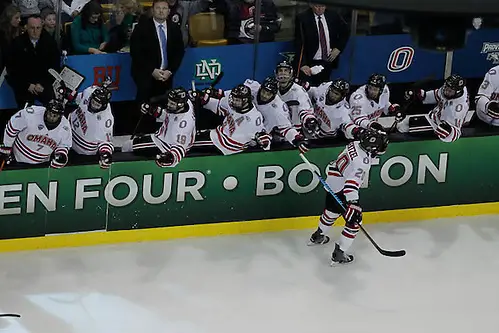 BOSTON — Both Providence and Omaha set or tied school marks for single-season success.
Providence's win advanced the Friars to the national title game for only the second time in school history. The 1985 PC team also made it to the championship game, losing 2-1 to Rensselaer at Joe Louis Arena in Detroit. The Friars' 25 wins and counting is their most since 1982-83 (33-10).
Omaha capped a season that saw the Mavericks win their first NCAA tournament games and advance to the Frozen Four for the first time in school history. The Mavericks' .590 winning percentage was the second-highest in the history of the program.
"We're obviously happy with what we were able to accomplish this year as a team," said senior captain Brian O'Rourke. "Coming to the Frozen Four for the first time as a program, it puts Omaha on the map."
Finishing strong
Providence led 2-0 after two periods and won for the 18th time in 19 tries this season when leading after two. The only time the Friars were unable to close out an opponent when leading after 40 minutes was in their first game of the season, a 5-4 overtime loss to Ohio State on Oct. 10.
In all, Nate Leaman's Providence teams are 64-3-3 when leading after two periods.
Ahead of schedule
Omaha's underclassmen made huge contributions this season. Including the lone UNO goal Thursday by sophomore Jake Guentzel, assisted by freshman Tyler Vesel, freshmen racked up 110 points this season, third-best in the nation. Sophomores accounted for 126 points, best among Frozen Four teams.
"I think it was a great learning experience for these guys and it was an honor to be there for them and experience it with them," said senior goaltender Ryan Massa.
Anyone can win
Providence is trying to become the fourth first-time champion in the past five seasons and the third in a row. The only time three different teams have claimed first-time titles in three consecutive seasons was the first three years of the tournament (1948-50).
The Friars are the fourth No. 4 seed to advance to the title game. Notre Dame accomplished this in 2008 (lost to Boston College), Miami in 2009 (lost to Boston University) and Yale in 2013 (defeated Quinnipiac).
Like Yale in 2013, Providence is the 15th overall seed in the tournament and was the last at-large team to get in.
"I think it talks about the parity," said Leaman. "We were hundredths of a point of not making it to this tournament.
"It used to be that if you could get 20 wins, you're pretty much locked in the tournament. But this year we had 22. Bowling Green had 22. And it came down to the two of us to see who was going to get in. There's not a lot that separates teams. And it comes down to a bounce here, bounce there, almost every night."
"We truly believe that once you get in, that's the hard part," said Providence goaltender Jon Gillies. "That any team can take it. So we're very happy to be here and very fortunate to be moving on to Saturday."