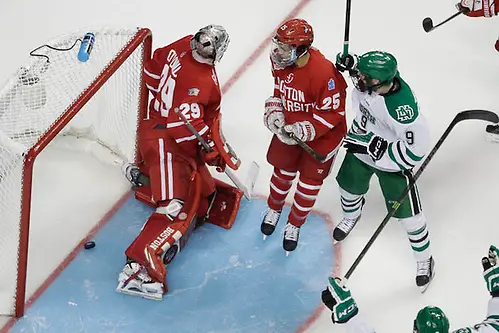 BOSTON — The Boston University Terriers held a 4-1 lead over North Dakota through two periods of the second national semifinal Thursday at the TD Garden.
After goals by Jack Eichel and Brandon Hickey in the first period, North Dakota began the second period with a power play and wasted little time getting back in that game.
Luke Johnson saw an ounce of daylight above the glove of BU netminder Matt O'Connor and roofed a tight shot to pull North Dakota within a goal.
A cross-checking penalty to Hickey at 6:43 gave North Dakota more momentum. But BU's ability to kill the penalty gave the Terriers their first sniff at offense in the frame, and at 11:20 A.J. Greer cashed in.
Greer one-timed a perfect cross-zone pass from Eichel past goaltender Zane McIntyre, a shot that exploded the water bottle off the net's mesh for a 3-1 Terriers lead.
Less than two minutes later, defenseman Doyle Somerby extended the lead, threading a shot through a double screen set by BU's Ahti Oksanen and Greer.
North Dakota held a 25-21 lead in shots on goal through two periods. BU, however, has converted on two of three power plays, while North Dakota is 1-for-3 on the man advantage.