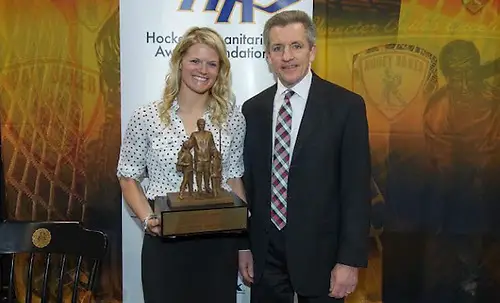 BOSTON — Nary a game of hockey at any level can take place without a key part of the pregame routine.
Roughly an hour before puck drop, there's almost always the repeated thud of a soccer ball being juggled in a circle of players, flailing their legs, keeping the ball airborne, all to loosen up — both physically and mentally — before a game.
2015 Frozen Four
Follow all of USCHO's coverage at Frozen Four Central.
Wisconsin senior Brittany Ammerman was doing just that as her Badgers prepared for their Women's Frozen Four national semifinal against rival Minnesota last month.
Such a simple activity, and yet, a building block of team camaraderie. There's a distilled joy players get from kicking a ball about before a game.
Ammerman, who on Friday was named the 2015 recipient of the BNY Mellon Wealth Management Hockey Humanitarian Award, has turned that simple joy into something much bigger, spearheading the creation of a women's soccer league in rural Kenya.
A pre-med/women's studies double major, she traveled there in June 2013 for an initiative called Nikumbuke Health by Motorbike, working with UW-Madison professor Dr. Araceli Alonso on health education initiatives aimed at women in rural Kenya.
Not only an outstanding student and a tremendous ambassador for the University of Wisconsin, she is a gifted player on the ice — a national champion with the Badgers in 2011 and responsible for the 10th-most goals in Wisconsin program history.
— — —
Sidelined with a concussion during her junior season with the Badgers, Ammerman had considerable worry about the severity of the injury, especially since her hockey career was nearing a close.
"When I began to feel better, I was thinking about what I want to do after hockey," she said. "My mom said to me: 'You're a female athlete. What are you going to do when it ends?'"
Brittany talked to her academic advisor, who steered her toward Alonso's program.
It was by happenstance that, while on the way to their first village stop, Ammerman purchased a soccer ball on a ferry ride to the village: It might be a good way to stay active on the trip (with a new season on the horizon), or to interact with children in local villages.
When she arrived, the ball proved instantly popular, not only with the children but with local women.
[youtube_sc url=https://youtu.be/jrKqtylT05Q]
"The first village we went to, I kind of threw it out there, and the women took a liking to it," Ammerman said. Pickup games brought tremendous joy and a means to connect further with local women during the monthlong stay.
After the students left, Alonso stayed for another week or two at the village, getting a read on what local residents want from the program the next year:
More soccer.
So Ammerman began selling T-shirts online, raising funds to buy uniforms and shoes to outfit two village teams. She planned to return during the summer before her senior season to hand out the kits and inaugurate the league, but terrorist attacks in the region forced her and her mother to cancel their flights just three days before their scheduled departure.
Nevertheless, the jerseys made it. The game went on. And in videos posted online, the pure joy from the participants jumped off the screen.
"I saw the video of the first game the last year, and everyone who's seen that video has cried," Ammerman said.
The game proved so popular and demand proved so great from neighboring villages that several others wanted to start teams and play in the league.
"When I got the video from Dr. Alonso, I called my mom, said we're going to have to do something different," Ammerman said. "Family and friends were kind of worn out at this point. If it costs $1,600 for two teams, how much would it cost for eight teams?"
Enter Julie Foudy. A childhood hero of Ammerman's from the 1999 Women's World Cup, she answered what amounted to a cold call via e-mail, asking for help. Ammerman included a link to the video.
"You had all the women playing with the men watching and cheering them," Foudy said in a February interview. "And there was this really cool dynamic that you could see in the joy in their faces. I'm just so glad that I watched the video and responded. She [Ammerman] has been this great inspiration to me. I tell people all the time, 'Look at what this senior in college is doing.'"
With Foudy's help, the two raised $30,000, enough to outfit eight villages with unique kits, including jerseys, socks and shoes. Foudy has been a mentor for Ammerman through the fundraising process, making connections, developing relationships and selling her story.
"Brittany is a wonderful example of the power of passionate leadership and the dedication to help others," said Foudy. "I've been in awe."
Ammerman even turned down an invitation to practice and train with USA Hockey to focus on making the league a success.
The culmination came just a few weeks ago in a daylong tournament — and this time, Ammerman got to see her hard work come to fruition in person.
It took five days to travel to the villages, in a remote southern part of the country. But she made it there, and it was well worth the trip.
"It was pretty surreal. I'm still trying to process it," Ammerman said of the trip. "We had six teams play last week. We did the tournament over one day, from 8:30 in the morning to 5 o'clock at night."
"Seeing the women when we handed the jerseys out, seeing the pure joy, they were just so grateful. They want more soccer games. They want us to keep coming back."
The league's outlet for recreation, empowerment, healthy habits and –perhaps just as important — joy might prove even more significant in the wake of terrorist attacks in recent years, including one at the beginning of April, right before Ammerman left the country.
The plan is for teams to play a season-long round robin this coming year, even involving kids aged 14 through 16 in mini academies — they want to play as well.
— — —
College has been a transformative experience for Ammerman.
Her future plans include medical school.
"I'm taking the MCAT exam on my birthday in June," she laughed. "My ideal plan is to keep doing the soccer league stuff, go back again next year for the tournament, then to get into medical school. … I'd like to become a surgeon."
Through the last five years, she's experienced more than what most could ever dream of, even if she wasn't already a Division I athlete.
"[College] exceeded anything I thought it would become," Ammerman reminisced. "When I was in high school, I couldn't have seen myself being a top 10 Patty Kazmaier finalist, WCHA champion, a national champion."
She can now add to that impressive resume: Hockey Humanitarian Award winner.