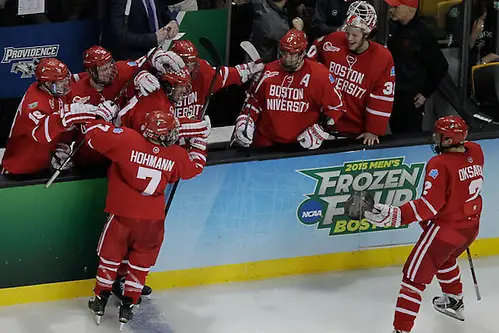 BOSTON — You may think that the fact that the two combatants in Saturday's Frozen Four championship game come from the same conference means there's a solid level of familiarity.
That doesn't seem the case for Boston University and Providence, at least when you talk to the respective coaches. And that shouldn't come as too much of a surprise given these two clubs haven't faced one another since October, when players might not have known all of their teammate, much less their opponents.
2015 Frozen Four
Follow all of USCHO's coverage at Frozen Four Central.
The result on Friday was BU coach David Quinn using Thursday's opponent, North Dakota, to compare and contrast Providence.
And according to Quinn, as much as one might think these are two dissimilar teams, the reality is that both Providence and North Dakota pose similar challenges for the Terriers.
"Both [Providence and North Dakota] have great goalies, they both have mobile D corps," said Quinn. "Their forwards are big, strong, physical."
Conceivably, that may make preparing for Saturday's game a little easier for the Terriers. Or maybe it will be made simpler by the fact that Providence isn't unlike every other opponent BU has faced since the postseason began.
"Seems like we've been playing teams like that all last month, to be honest with you," said Quinn, whose Terriers have gone 7-0 since college hockey's second season began for them on March 13. "And it's going to be as it should be and as it always is when you play for a national championship: You have to be at your best, and we certainly know we have to be at our best tomorrow night."
The fact that Boston University will play for a national championship on Saturday night is somewhat remarkable given where this program was a year ago. Quinn was in his first season after replacing legendary bench boss Jack Parker. And Quinn's first Terriers team fell flat on its face, winning just 10 games, the lowest win total since 1962-63.
BU's opponent Saturday, Providence, isn't in too dissimilar a situation. Granted, last year's Friars team reached the NCAA tournament and the regional final before losing to eventual national champion Union.
But Providence, a school with a rich hockey tradition, is just four years removed from one of the worst three-year stretches in the program's history.
Like BU, the turnaround has been swift under fourth-year coach Nate Leaman. Though Leaman said he didn't set any sort of timetable to bring the Friars hockey program back to prominence, being in Saturday's title game with the chance to earn the school's first ice hockey national championship is something that he said feels incredibly special.
"If you take enough little steps, big things can happen," said Leaman. "We realized we got some bounces to get here. You don't know sometimes when those opportunities are going to arise; you just put your head down and try to keep getting better."
And getting better has been an ongoing process for Providence. Unlike the Terriers, Providence didn't barnstorm to the national title game. The Friars lost in the Hockey East quarterfinals before putting together their three-game run in the NCAA tournament.
That has forced the Friars to worry much more about the hockey that it is playing than focusing too much on the opponent at hand. That won't change on Saturday.
"I think [we're] just sticking together," said Friars senior forward Shane Luke. "We're a pretty tight-knit group. When things don't go the right way, you have to stick together.
"This year, we had a lot of ups and downs, and during the times we were down we came together. And that's a big thing about being back on track is keeping together and sticking in the process."
Still, there is an understanding that the Boston University team that is standing between Providence and a national title isn't just any old hockey team. Star forwards and puck-moving defensemen make this a tough team to contain.
"[BU has] a great transition game," said Leaman. "[Defensemen Matt] Grzelcyk and [Brandon] Fortunato do a great job getting up in the offense. I think they've got a very good power play."
And there's one more thing.
"Obviously, I think they have the premier forward in the country [in Jack Eichel]," said Leaman.