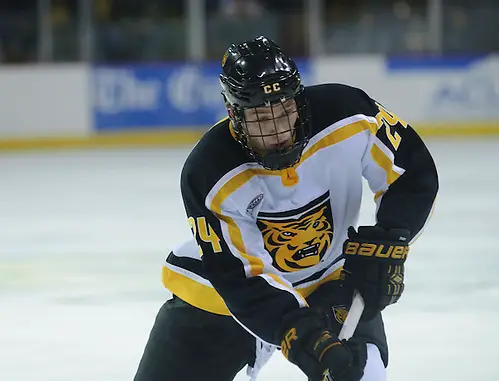 Colorado College senior Jared Hanson is retiring from hockey to focus on medical school, according to a report in the Colorado Springs Gazette.
Hanson made the announcement over the weekend that he will no longer play after an injury-shortened junior season that saw him dress in just nine games.
"Unfortunately, my time as a competitive hockey player is over as a result of concussions," Hanson said in the article. "All too often in athletics, people do not know when to step aside in the game that they love until it is too late. I, however, do not want to be another of those cases. Physically, I feel outstanding and I feel I could step on the ice right now with my teammates and compete at a high level. But at this point in my life, it is not in my best interest … [Playing] hockey has been part of my life since I was two years old.
"It is not an easy decision to make, but is the correct decision for my future. I just always wanted to have the ability to help people and be able to change people's lives through medicine."
While finishing his degree in biochemistry, Hanson will serve as a student assistant coach with the Tigers.
"Obviously, we will miss him on the ice," Tigers coach Mike Haviland said in the report. "Anytime you can get a player like Jared on your team, you're better off. We are pleased he will stay with the program. Jared has a lot to offer to this team. If we recruit a few more Jared Hansons in over the next few years, we will be in good shape."