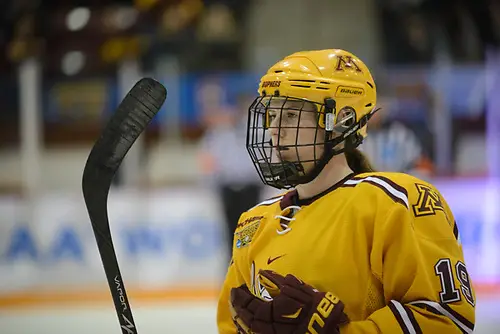 Candace: Well women's college hockey fans, Arlan and I are back for another year, and it's time for us to start up Wednesday Women, our weekly discussion about all the interesting things that are happening in the game we love. I think Arlan, that you would agree the CHA making a push against Hockey East is the topic du jour. Lindenwood beating Northeastern is a minor upset. I watched the Huskies' game against Syracuse Friday, and the defense was a little shaky. On top of that, Northeastern's scoring is still basically Kendall Coyne. In her first three years, she accounted for 50 percent of the goals her team scored, and so far, that seems to be what's happening this season. We know that Lindenwood has Nicole Hensley, a top goaltender, and when she gets hot, anything can happen. Perhaps Northeastern took the Lions a little lightly after edging Syracuse the night before.
Having said that, I don't think either you or I saw Penn State upsetting No. 7 Boston University. To me, that is the shocker of the season so far. Penn State netminder Celine Whitlinger did make 38 saves in the win, but Penn State fired 26 shots of its own. I didn't see the game, so I don't know if Terriers goalie Victoria Hanson was hung out to dry, but Penn State clearly came out strong, scoring 43 seconds in and making 3-0 after the first 10 minutes. Perhaps BU took Penn State lightly as well, but that Terriers defense needs to tighten up. BU pulled to within 3-2 entering the third period, then gave up another two goals in the first seven minutes of the third, so something was up defensively.
What's your take?
Arlan: Lindenwood's wins once were a matter of getting a couple of ugly goals from somewhere and hoping that was enough for Hensley to steal the game. However, Hensley was on the bench and Jolene deBruyn did the honors with 38 saves to send the Huskies down in defeat. Shara Jasper has given the Lions more scoring punch since she transferred from Minnesota-Duluth, as evidenced by her 27 points last season and already 11 points in the current campaign through six games. She had a hat trick to sink Northeastern after a four-point night at New Hampshire. Sophomore Sarah Bobrowski (eight points) and newcomer Shannon Morris-Reade (seven points) are off to good starts as well. I haven't gotten to watch the Lions since Scott Spencer took over, other than a few minutes of Saturday's game, but I'm looking forward to seeing them in person again. He led Lindenwood to 10 wins last year, double the number it achieved the year before. The roster is steadily being upgraded, and it is reflected in the scores of their games. Most are more closely contested than we saw not long ago.
From Northeastern's perspective, I hope it was a case of its defense still coming together. Chloe Desjardins graduated after setting program records for games and minutes played in net, so the Huskies are far less seasoned than in recent seasons. I'd doubt that the Huskies were underestimating anyone, coming off a losing season last year. In any case, they'll need to get the defense tightened up quickly, with Mercyhurst and BU coming up in the next couple of weeks, and Boston College and Harvard looming next month.
I don't know that the Terriers' loss qualifies as a shocker. We've seen this with some frequency over the years, particularly when Marie-Philip Poulin was absent. At present, they aren't getting much from Sarah Lefort or Kayla Tutino, who are a combined minus five with one point. At least they have other options like Rebecca Leslie, Rebecca Russo, Victoria Bach, and freshman Sammy Davis. A bigger issue may be on the blue line where Shannon Doyle, Shannon Stoneburgh, and Caroline Campbell all graduated.
All the coaches are always talking about how the league that they play in is so competitive that they can't take a night off against anyone. If the coach says the same thing to his/her players, then nobody should be taken lightly. In case the message isn't getting through, I'll say it here: "Be ready! Your opponent is good enough to beat you. Don't take them lightly!" There, I've done my part. If teams go out and lose to somebody ranked beneath them, I won't judge them less harshly if they use the "Took 'Em Lightly" defense.
Specifically, don't take Penn State lightly. The Nittany Lions may not be the most talented team around, but they have a lot of seniors and juniors in the rotation. They remind me a little of Bemidji State in some respects, so I doubt many teams will find them fun to face.
That's one of the reasons I'm glad to not be doing the picks contest anymore; there just weren't enough teams I could take lightly. They all looked about the same to me. You started the season like a house afire in your picks. What's been your secret?
Candace: Pure luck? No, generally, I think there haven't been a lot of games that I like to call "coin-flip" games. Plus, I haven't had to try to think of picking games differently than you, so I just go with my gut feel, which is generally better than not. It also seems to work in my NCHC picks against Matthew Semisch, my co-columnist for that conference. I did get four wrong this weekend, but I'm kicking myself for not picking Rensselaer to sweep. RIT tends to start slow, and the Engineers have looked pretty good overall. I also thought about picking Bemidji to sweep against Duluth; I'm not sold on the Bulldogs completely yet, and I think this weekend reflects it.
In some ways, it seems like things are really stratified right now. You have the "haves," which would be Minnesota, Boston College, Wisconsin, Clarkson, and, until proven otherwise, Harvard, plus North Dakota, though the latter has looked a little more vulnerable than the other four that I mentioned that have played. Then there is the second tier, teams that are talented and should do well over the long haul, but are more vulnerable, like Boston University, Northeastern, possibly Quinnipiac, etc.
I am glad to see some of the CHA teams doing better this year. Robert Morris got a sweep this weekend, and the Colonials must be happy to see Brittany Howard have five points in two games, but considering the sweep came against rookie squad Merrimack, the jury is still out. The Colonials looked dreadful the previous weekend in getting swept by Colgate. Mercyhurst was unable to get a win against Quinnipiac, so I'm interested to see how the Lakers fare on the road this weekend against Northeastern, and likewise how the Huskies bounce back from the loss to Northeastern.
I know you were at the games at Ridder this weekend; Minnesota put up 18 goals in two games against St. Cloud. Was the Gophers offense really that terrifyingly good, or was some of it woeful defending from the Huskies?
Arlan: "Yes," and "Yes." In the second period on Saturday, Minnesota scored eight goals on 10 shots. I don't know that I've ever seen anything close to that before, where goalies are only stopping 20 percent of the shots. I know there was the BU and BC game last year where Katie Burt was gone and the BC goalie officially allowed three goals on three shots, but typically, some of the shots hit the goalie. SCSU played a pretty competitive first period on Friday night, and then the Huskies just got whipped for the next four periods. By the third period of the second game, both teams just wanted the game over ASAP.
There were warning signs for the Huskies the weekend before when they allowed Merrimack to debut by scoring on five of nine power plays. You don't often see a team enter a weekend four of nine on the penalty kill and have its percentage drop, but St. Cloud State wasn't able to stop any of Minnesota's five power plays. So the Huskies could use some time to lick their wounds, but instead, they get to host Wisconsin. Oh, joy.
Through three games, the Hannah Brandt line for Minnesota was running like the engine on an expensive sports car that needs a tune-up. You could tell it had some horsepower, but it misfired a lot. Saturday was the first time you could see evidence of what the trio of Brandt, Dani Cameranesi, and Sarah Potomak might accomplish. One game against the Huskies isn't going to establish anything, but it definitely hints at the ceiling being up there a ways. Meanwhile, the second line centered by Kelly Pannek has been scoring, so the early returns are that the Gophers' offense will be okay. I have no idea how well they'll defend, because they didn't cover well in the first period at Penn State and the puck has hardly been in their own zone since then.
Wisconsin has also been bludgeoning teams. Like the Gophers, they have some key sophomores who show obvious improvement from their first year, so despite graduating a number of veteran goal scorers, the Badgers are going to be an NCAA title contender. And I don't mean that in the sense where we are trying to be nice, especially this time of year, and say, "Sure. If the pieces fall into place, they could be a contender." Wisconsin could go through the field like a hot knife through butter. Annie Pankowski and Emily Clark are a nice start to another scary line. The Badgers chewed up Ohio State pretty well, to the tune of 7-0, 8-0.
The bad news for Jenny Potter and the Buckeyes is that Minnesota is up next. The good news is that they don't have to go on the road again for more than a month, so maybe they can take advantage of home cooking to get healthy.
You predicted a pair of 3-1 wins for the Badgers. Were you just being nice, or was it a surprise that OSU was so anemic in Madison?
Candace: I was being nice. It's hard to get a read on certain teams this early in the year. You yourself picked Ohio State to finish sixth, as did the coaches. The Buckeyes had a good run in the WCHA playoffs last year, falling to North Dakota in three games, but they lost five of the top seven scorers from that team, two of whom, sisters Kari and Sara Schmitt, were also their top defensive pair, so it's definitely the case that there will be some growing pains in Ohio. Jenny Potter can't work miracles in just a few weekends, and while freshman Maddy Field has played well so far, we haven't yet seen freshman Jincy Dunne in the line-up. I'm not sure what to make of that considering how highly she is touted.
As for Wisconsin, yes, it was obvious the Badgers would be an NCAA tournament team. I'm not sure you could call them a contender, in the sense of being a team you think would beat Minnesota. If the Gophers were to somehow be upset before the Frozen Four, yes, Wisconsin would be one of 2-4 teams you might expect to win and take advantage, but the Badgers haven't beaten Minnesota since Oct. 14, 2011, a string that now is at 16 games. Every time we've thought the Badgers were getting closer, they've lost to the Gophers. In fact, Minnesota is really the only team they generally don't beat, except for some losses to North Dakota. In each of the last two seasons, Wisconsin has lost to Minnesota five times, though last season one of those was a tie/shootout loss.
Wisconsin does have a lot of talent, especially Pankowski, who is currently tied with Lindenwood's Jasper for the second in the national scoring lead behind BC's Alex Carpenter. In fact, Wisconsin's offense is tops in the country, averaging seven goals a game, but the opponents have been Providence and Ohio State. It's too early to read too much into that.
Let's turn to Bemidji State. Last year's WCHA Final Five runner-up, who was the only team to beat Minnesota twice last year, has gotten off to a good start. You picked the Beavers to finish fifth, behind Minnesota-Duluth, but after this weekend, are you thinking the Beavers might be a home-ice team come the WCHA playoffs?
Arlan: I remember last year when we were a few months into the season and it was still tough to sort out North Dakota, Bemidji State, Minnesota-Duluth, and Ohio State in terms of where each would finish in the standings. It wouldn't surprise me to see something similar, although at this point, OSU has some serious catching up to do. I think that the Beavers and Bulldogs are pretty much a coin flip as to who will wind up being better by season's end.
Yes, the Beavers got the sweep this weekend. But after freshman goalie Maddie Rooney entered 20 minutes into Friday's game for UMD, each team scored once over the next five periods, and then Lauren Miller eventually scored late in overtime to give BSU the second win. Bemidji State is likely a little better right now, but it should be. Maura Crowell is still teaching her systems in Duluth, and there will be some period of transition. Plus, Jim Scanlan has a veteran crew in Bemidji that knows its identity and how it is going to win games. I would expect that the Bulldogs are still trying to figure a lot of things out. So if UMD's goaltending is improved, and early indications are that it will be, then it is too early for me to reverse my preseason guess. I'll get to watch the Bulldogs in a couple of weeks, and if necessary, I'll start waffling then.
Of course, the Bulldogs and Beavers could both be home-ice teams. That figures to be bad news for UND, should it come to pass. And I realize that I'm awarding the Badgers and Gophers home ice all too soon, but barring some sort of catastrophic event, neither has a second-division look to them.
You mentioned Brian Idalski's team look rather vulnerable. That's the half-empty view, but on the optimistic side, it did manage to come out on the winning end all four times even if things were a little wobbly. The goaltending has been rather mediocre thus far, and UND caught fire last year once Shelby Amsley-Benzie started playing like an All-American. If she and Lexie Shaw are just okay, then I don't know that there is enough strength in other areas to make up the difference. Maybe there isn't anything wrong in Grand Forks, and I just think the start is a little slow because I'm not fully appreciating that RPI and Minnesota State have improved. We get a couple more data points on North Dakota's potential this weekend when it plays a home-and-home series with Bemidji State.
My guess is that the Mavericks are, in fact, better. They have three losses in their first six games, but all were essentially one-goal defeats. They weren't able to stay in games with any consistency last year. Perhaps coach John Harrington has his charges feeling more hopeful, at least until the Badgers come calling at the end of the month. In the meantime, MSU has trips to Duluth and Columbus to worry about.
You said that you wanted to pick RPI to sweep. What are you liking about the Engineers thus far?
Candace: A few things actually. First, I thought they were better than their record last year, and had some talent that just didn't quite click. I was also impressed by their games against North Dakota on opening weekend. Last year, they opened in North Dakota with a 7-1 loss. After that, the Engineers had a lot of games they lost by one goal, including to good teams like Quinnipiac, Clarkson, and St. Lawrence. This year, it was two games and holding North Dakota to four in each, while putting up three in the first game for a one-goal loss.
Call it a hunch, but after the North Dakota series, something tells me that the Engineers are going to be dangerous, the type of team they were a few years ago when they upset an unsuspecting Harvard team. Alexa Gruschow is a senior this year, and has five points so far, while junior Laura Horwood also has five points. That's a third of her output her entire sophomore year. The Engineers also have more senior leadership with Mari Mankey, Jenn Godin, and Lauren Walsh, and I think that might help stabilize things for them in the close games they tended to lose last year.
The revelation for RPI so far might be the play of freshman netminder Lovisa Selander, who played in both North Dakota games and made 34 and 41 saves, respectively. While her GAA looks poor at 3.05, her save percentage is better, at .909. If she can improve, RPI could be dangerous. I wouldn't be surprised if they at least split with Robert Morris, if not sweep them, this weekend, given how the Colonials fared against Colgate. We'll know more about the Engineers on Oct. 30 when they face Cornell.
Speaking of Robert Morris, yes, Brittany Howard is starting to play like her old self after missing all of last year with an injury, but is it enough? A couple of years ago, it was Robert Morris breaking the Mercyhurst hegemony in the CHA tournament, but the team has fallen a lot since then. I'm not sure what to make of the Colonials, who did tie Bemidji on the road. Thoughts?
Arlan: As far as RPI's goaltending goes, the Engineers gave senior Sara Till her first career start on Saturday, and she responded by stopping 22 of 23 shots to earn her first win. I realize that is a very small sample size, but her numbers were better than what Selander had the day before, so the job might still be up for grabs. We'll have to keep an eye on how it plays out.
I was in Bemidji when Robert Morris came back to tie with 18 seconds left. Good for the Colonials; they didn't quit and got rewarded. However, it is one of those games where people tend to make too much of it by just looking at the 4-4 score. It is the only game so far this season where Brittni Mowat didn't play, and not coincidentally, the only time BSU has allowed more than one goal. That's the problem when a team has an All-American in net, and the coach tries to get her backup some minutes. Now his best player is sitting on the bench; is it still the same team? So that game is hard to quantify, and then there is the most recent sweep of Merrimack. The Warriors are definitely a moving target, just four games into their history. St. Cloud State outscored Merrimack 12-6 the week before, so after RMU put up a 10-3 advantage, it is likely safe to conclude that the Colonials are a little farther along defensively than the Huskies, but we probably could have guessed that anyway after the Huskies' series in Minneapolis.
So what do I think about Robert Morris? Its freshman class is going to make an impact. I noticed many of them, in a good way, in Bemidji. Goalie Lauren Bailey had a great relief outing that day, but her start at Colgate didn't go very well. Forwards Sarah Quaranta and Amber Rennie rank just behind Howard in scoring, and defensemen Kirsten Welsh and Maggie Lague have contributed as well. There are a couple of other frosh providing some depth. With all of those young kids in the line-up, that sets up well for a team to improve over this season, and given Howard is just a sophomore after her redshirt year, it bodes well for future seasons, too.
Anyway, that sweep at the hands of the Raiders might tell us more about Colgate than it does about RMU. Greg Fargo has brought in some good players, so I'd expect it to start to pay dividends. Maybe not as radically as things turned around at a program like Cornell, but perhaps more on the order of Yale. I wanted to move Colgate up into a playoff spot, but I couldn't find a team to drop down. Dartmouth has some impact seniors, Yale should hold steady if not inch up, and Princeton looks solid. St. Lawrence is winless through six games, but four of those have been versus highly-ranked teams. The Saints have to get their goaltending figured out, but Chris Wells likes to open with a grueling schedule to get his team prepared, and that does look to make it stronger down the road. So that's a long-winded way of saying that I think Colgate is going to be better, but that might not buy the Raiders many places gained in the standings, if any. Colgate could conceivably finish October undefeated, which would be a big departure from Fargo's past seasons, because coming off a bye it plays Providence, Connecticut, Merrimack, Merrimack, Union, and RPI.
I guess I'm kind of weaving all over here. Do you want to finish up the CHA or stay in the ECAC?
Candace: Well we've already covered Lindenwood, Robert Morris, and Penn State, and in a roundabout way RIT, so let's stay with the ECAC. Boston University doesn't really have any time to recover from the surprise loss to Penn State, because this weekend, No. 4 Clarkson is coming to town. The Golden Knights are 5-0. They've looked good in sweeping St. Lawrence in a home-and-home, and in beating Syracuse. I don't know how much you can read into them sweeping Vermont, because the Catamounts are in a rebuilding year.
Cayley Mercer has been putting up points in bunches, averaging 1.6 points per game. Sophomore defenseman Savannah Harmon has also shown no signs of the sophomore slump, with six points so far, second on the team in scoring. On the other end, Shea Tiley has posted impressive numbers with a .750 goals-against  and a .966 save percentage in four games.
What's impressed me about the Golden Knights is senior Erin Ambrose hasn't played for them yet, as she got hurt last month when she was in Canada with the national team. When Ambrose returns, the team will only be stronger. In the meantime, this series with the Terriers in Boston could be a huge one for both teams. If BU doesn't tighten up defensively, expect the Golden Knights to take full advantage.
The other ECAC team to look at is Quinnipiac, which is 3-0-1. After opening with a tie and win against Mercyhurst, the Bobcats went on the road last weekend and swept Maine in impressive fashion. That road trip is never easy. Quinnipiac has an exhibition game this weekend against Western Ontario, which seems curiously timed and could hurt them. The following weekend, they only have a single game against Yale. I wonder if they might lose some momentum.
What is your take?
Arlan: I'm not sure what to make of the Mercyhurst series with Quinnipiac. Those two games were the only ones the Lakers have played thus far. They're coming off an exhibition where they handled the professional Buffalo Beauts, who only had a dozen skaters, quite handily. Erie is another place where the goaltending rotation is likely not entirely set. Sarah McDonnell and Jessica Convery each got a game against the Bobcats.
So was that a good performance for Quinnipiac? Hard to say. Mercyhurst gets Northeastern next, so we should learn a little more from that. In the Maine series, the Black Bears hung tough, only to see the first game slip away late, just as their game versus BU did. The Saturday game got out of control early for Maine.
My guess is that the Bobcats will be as good, if not better, this year, but they usually start well and then fade in the second half, so that's when we'll really start to see if this is a new deal. Taylar Cianfarano has started out hot, as she did last year, but now she has Melissa Samoskevich for a running mate. If Sydney Rossman can settle into the job in net, and with what coach Cassandra Turner has on her blue line with Cydney Roesler, Taryn Baumgardt, Lindsey West, and Kristen Tamberg, Quinnipiac could battle Harvard and Clarkson again. I'm thinking that a light schedule isn't the worst thing for a new coach trying to get as much fine tuning as possible performed before the action heats up. Even that Yale game isn't a conference game, so it lessens the stakes in that regard.
Just to be clear, it was you, not me, that implied Union wasn't worth looking at.
Do you want to look at Hockey East team by team for those that remain, or should we just speculate as to whether or not BC will lose a point all season in league play?
Candace: And here I thought you didn't like BC much, judging by how you taunt Eagles fans on the boards. I think the Eagles have looked good, but not great, so far. There could be a better balance, but it's interesting to compare their two series. In the first , they clamped down defensively, scoring four goals in each game against Minnesota-Duluth. In the second game, right after UMD brought the game to within one, Alex Carpenter scored 51 seconds later to re-establish the two-goal lead. When the Bulldogs made it 3-2 at five minutes of the third, BC played very well defensively and iced it with an empty-netter.
This Sunday-Monday against St. Lawrence, the offense opened up, scoring seven goals in each game, and part of that opening up seemed to be allowing more goals, as the Saints nabbed four and three, respectively. I'm sure BC coach Katie King Crowley would like to see the offense that was present against St. Lawrence combined with the defense against Duluth, but for now, the Eagles are a work in progress, and I think their goal has to be a national championship or bust, especially since this is the last year for Carpenter and Haley Skarupa. BC didn't lose last year until the Beanpot championship game against Harvard, then lost in the Hockey East championship against Boston University, and, for the fifth time, lost in the first game of the Frozen Four, a game where its vaunted offense went AWOL against Harvard. I think for the Eagles, a loss here or there would be fine as long as they are holding the trophy on the ice at Durham, New Hampshire, in March.
I wouldn't be surprised if a BC loses a game during the regular season. At some point, I'm sure either BU or perhaps Northeastern will catch BC unprepared. I do think it likely that the Eagles at least claim the regular season; I don't see anybody else in Hockey East that can win enough to unseat them there.
What are your thoughts?
Arlan: Some clarifications: I don't dislike BC; my interaction with the Eagles' fan base is primarily with one fan, whom I first met almost eight years ago and like as well; and in general, my persona on the boards is more like a happy hour version of myself, while in here, we tend to be more 9-to-5.
Nobody is going to challenge BC in the Hockey East regular season. I said in my league previews that the Hockey East race was the surest thing around this year. All the other favorites have at least one challenger who is very close. In Hockey East, this isn't like last season when the coaches picked BU to take the league title. I don't think there is a circumstance or single injury that would shift the balance of power in Hockey East enough that some other team would win. As far as a one-game scenario goes, I'd never bet my life on any single game where a Hockey East team is involved, or I'd have been dead 100 times.
Other than Harvard, I don't know where the real competition for BC is going to come from before the postseason. From a wins-and-losses standpoint, that's good for the Eagles. In terms of team development, it isn't as good. They've been kind of unlucky as far as scheduling goes the last couple of years. They play some tough teams, but under circumstances such that they aren't really going to get the best game from those opponents. That works out great in the PairWise Rankings, but not as well when a team is trying to see how they measure up to the rest of the country. They played UMD at a time when Crowell is still trying to learn who is who on her roster. They get St. Lawrence while its goaltending situation is still evolving. Just as last season, BC gets Cornell when the Big Red are coming out of the chute, and they don't have the same veteran presence with the forwards they graduated. The only other non-HEA teams BC will see are Syracuse and Harvard. BC has played teams like Clarkson and Quinnipiac in recent years, and it's bad luck for all involved that they aren't playing this year.
Suppose BU or Northeastern does catch the Eagles napping and gets a three-goal lead heading into the first intermission. With the current state of each defensively, do you like its chances to hold that lead for 40 minutes? I don't. A team like Maine or Connecticut would have a better chance to hold the lead, even though they will have trouble skating with BC for 60 minutes, but I don't see the Black Bears or Huskies getting up three goals on BC in the first place.
I expect BC to be the No. 1 seed come March, and I doubt that the Eagles' quarterfinal opponent will be able to stop them, so I see them as a safe bet to be playing in Durham at the Frozen Four. In my mind, that's when their season will truly start, as that should be a tough opponent.
Now that I've just dissed the rest of Hockey East in much the same fashion that you did with Union, do you have any other thoughts on those teams that we haven't discussed yet?
Candace: Well, since you bring up Union, the Dutchwomen do have ties against Connecticut and Minnesota State so far, but haven't won. They are on the road this weekend at Penn State, and this is a trap series for the Nittany Lions, who can't afford to get complacent after their victory over BU last weekend. A loss here for Penn State would be bad. I think, however, that while Union is good defensively, their offense isn't quite in the same league, and expect two tough wins from Penn State.
With that, we'll wait till next week.