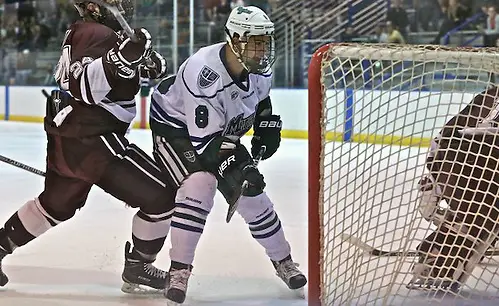 In a league like Atlantic Hockey, the first weekend of the season always represents two distinct feelings. It has the hope and promise of a new season, but its other hand is the constant reminder of the long grind ahead. The outcomes in March, after all, seldom resemble the outcomes in October.
That's what makes starting the season with conference games so unique in its scoreboard results. After the Mercyhurst Lakers opened up the season with a split against then-20th-ranked Colgate on Oct. 3 and 4, they hopped on a bus and headed east for nine hours, taking on the Bentley Falcons last weekend in the first conference games of 2015-16.
With Bentley playing its first games of the season, the slightly-more-seasoned Lakers took a sweep of the Falcons in their Atlantic Hockey quarterfinal rematch, edging them 3-1 and 3-2.
"It was a good weekend for us," said Lakers coach Rick Gotkin. "We took four points on the road from a very tough team in a very tough rink. This early in the season, you just look for things you can take away and start improving. Well, for us we were fortunate enough to go on the road and battle hard against a very good team and take a couple of victories."
For Gotkin's team, it was something of a landmark: It was the Lakers' first sweep of the Falcons in Boston since 2006. It also helped stabilize a team that played a wild weekend of games against ECAC Hockey's Raiders in college hockey's opening weekend.
"The Colgate series was really something," said Gotkin, "because it felt a lot like the playoff series from last season. We were up 7-3 in the third period with 12 minutes left, and then all of a sudden Colgate comes back and scores a bunch of really quick goals. [Colgate coach] Don Vaughan had pulled his goalie and was playing with an extra attacker for much of that period, and when they tied the game, we were reeling.
"I was starting to think about if we could just get the game to overtime because we had already used our timeout," Gotkin continued. "Then we score the game-winning goal 30 seconds later plus an empty-net goal. It was really a bizarre game; when you hear people say college hockey doesn't have any offense, that's one you can point to [as a counterpoint]."
As mentioned on the Atlantic Hockey Blog, this is a young Mercyhurst team replacing the bulk of its production from last season. Having lost over half of their goal scoring to graduation, the Lakers needed to find new heroes to step up this season.
Although it's still only after the first weekend of league play, they've already received four goals from freshman Taylor Best and two from sophomore Kane Elliot. So while the road is still long, it's an encouraging start for the Erie faithful.
"We played OK [against both Colgate and Bentley]," said Gotkin. "Even in the game we lost [5-2 to Colgate on the season's opening night], we felt good about ourselves. This past weekend, we played a very good Bentley team that's very well coached, and we picked up wins in a very tough place to play."
Mount up
In the weekly picks column posted on Friday, I mentioned my surprise at the distance between Niagara and Rochester Institute of Technology and ECAC's North Country New York-based teams at Clarkson and St. Lawrence. RIT sits 220 miles and 210 miles away from the schools, respectively, while Niagara is slightly longer at 297 and 287, respectively.
Outside of the league matchup between Mercyhurst and Bentley (536 miles from Erie, Pa., to Watertown, Mass.), those were the longest road trips last weekend for Atlantic Hockey teams despite that the teams remained in their own state.
American International opened its season by traveling 147 miles between Springfield, Mass., and New Hampshire's Whittemore Center in Durham. Sacred Heart traveled only 151 miles from Fairfield, Conn., to Schenectady, N.Y., to take on Union, while Holy Cross went 93 miles from Worcester, Mass., to Hamden, Conn., to play Quinnipiac. Air Force hopped on a bus to travel 68 miles to complete a home-and-home series between Colorado Springs, Colo., and Denver.
The trips made from Rochester and Niagara Falls also were longer than the distance traveled by Hockey East's Boston College to get to Army West Point. The three-state journey out of New England barely touched the 200-mile mark.
Nothing will compare, however, to the trip AIC embarks upon this weekend. Nearly 4,500 miles separate the Olympia Ice Center from the Carlson Center in Fairbanks, Alaska — the site of this weekend's Alaska Goal Rush.
Not in my house
Sacred Heart scored a huge tie for Atlantic Hockey and a major step forward for the program when it rallied from behind to tie Union 1-1 at Messa Rink last Friday.
Despite being outshot 32-18, the Pioneers tied the game when Jacob Brightbill scored with his net empty and less than two minutes remaining on the clock.
It came as part of a huge third frame for the club, which saw freshman goalie Brett Magnus stop 10 shots in the period alone, and it struck a huge blow for Atlantic Hockey against ECAC Hockey. Union is just one full season removed from winning a national championship, and several pieces from that team still remain on the Dutchmen's roster.
Honoring a Connecticut legend
Coming off their hard-fought tie this past weekend, the Pioneers will play Massachusetts in Amherst on Friday before returning home to the Nutmeg State to take on the newest Division I program, Arizona State, on Saturday.
Saturday's game will be played in nearby Danbury, Conn., at the 3,000-seat Danbury Ice Arena, in memory of Jason Pagni. Pagni was a Connecticut icon who passed away suddenly in 2014, and the game serves as acknowledgment of his legacy within the hockey community of the state. Proceeds will benefit the Gabriella and Madelyn Pagni Education Fund.
This is the second straight year Sacred Heart has honored Pagni, having done so when it played in-state rival Connecticut last November. The Pioneers won that game, which was played at the Taft School in Watertown, Conn., 2-0.
Slow burn to 500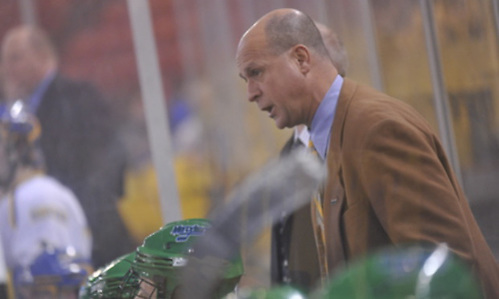 For the second straight weekend, a Mercyhurst game was delayed by a fire alarm. Against Colgate, a young fan at the Mercyhurst Ice Center bumped a fire alarm and caused it to go off.
Last weekend against Bentley, a fire alarm went off twice at Ryan Arena on Friday, the first of which was during game warmups but the second of which was during the game, causing a minutes-long delay.
"When that alarm went off against Bentley," said Lakers coach Rick Gotkin, "I saw the strobe lights and just said, 'This has got to be us.'"
All fire jokes aside, the slow burn to 500 continues for Gotkin, who stands at 496 career wins. Even with a tough series on tap at Michigan this weekend, he could reach the mark as early as an Oct. 23-24 matchup at home with Army West Point.
After Army, there's a two-game series at Ohio State before a return home to play Air Force. Those are really the only other chances to hit 500 at home, since Mercyhurst won't be home after that until Jan. 3 against RIT.
"I don't think about it a lot, to be honest," Gotkin said. "I've been at the right place at the right time, and I know I'm truly blessed to have spent my years at a school like Mercyhurst. I've had some great players and ultra-talented assistants. Whatever we've done here through the years, I'm not the only reason."
Straight outta Haverhill
It's no shock that by virtue of their weekends, both Mercyhurst and Sacred Heart led the way in the weekly honors from the league office in Haverhill, Mass. Here are their choices with one more thrown in for good measure:
Players of the week — Mercyhurst's Taylor Best and Bentley's Andrew McDonald: Best scored three of Mercyhurst's six goals at Bentley over the weekend, including his first multi-goal game on Friday. On the weekend, he posted a plus-3 rating, good enough for league honors.
I throw McDonald in there as my own choice. He scored all three of Bentley's goals on the weekend, including two on Saturday. It was the second multi-goal game of his career, matching an output he had against Holy Cross last year.
Goalie of the week — Mercyhurst's Brandon Wildung: Wildung stopped 54 of 57 shots against the Falcons, good for a .947 save percentage. On the season, he already topped the 100-save mark, becoming the first Atlantic Hockey netminder to do so.
Rookie of the week — Sacred Heart's Brett Magnus: Magnus made his collegiate debut in a huge way, making 31 saves in the 1-1 tie against Union. That's good for a .969 save percentage through his first game and was a good enough contender to make a case to name him goalie of the week in addition to rookie honors.
Defensive player of the week — Sacred Heart's Jacob Brightbill: Brightbill scored the game-tying goal in the Pioneers' tie against the Dutchmen, turning the red light on with his own net empty and 1:20 left on the clock in the third period.